Ms. Najah Erekat, mother of Ahmad Erekat: Interactive dialogue with the Special Rapporteur on the situation of human rights in the Palestinian territories
Ms. Najah Erekat, mother of Ahmad Erekat: Interactive dialogue with the Special Rapporteur on the situation of human rights in the Palestinian territories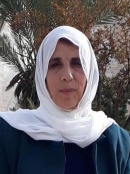 44th Regular Session of the United Nations Human Rights Council
30 June – 20 July 2020
Joint Oral Intervention
Al-Haq, Law in the Service of Man
Adalah – Legal Center for Arab Minority Rights in Israel
Al Mezan Centre for Human Rights
Cairo Institute for Human Rights Studies (CIHRS)
Jerusalem Legal Aid and Human Rights Center (JLAC)
Item 7 – Interactive dialogue with the Special Rapporteur on the situation of human rights in the Palestinian territories occupied since 1967
Speaker: Ms. Najah Erekat, mother of Ahmad Erekat, 26,
who was extrajudicially executed by the Israeli occupying forces on 23 June 2020.[1]
Date: 16 July 2020
I am the mother of Ahmad Erekat who was killed on 23 June 2020 by the Israeli occupying forces at the Container checkpoint, on his sister's wedding day, while he was heading to Bethlehem to decorate the car.
Ahmad struck the booth on the right side of the checkpoint, stepped out of his vehicle and put his hands in the air, indicating that he was unarmed. Yet, the Israeli occupying forces showed him no mercy, shot him five times, and left him to bleed to death for an hour and a half. They denied him medical assistance even though an ambulance was present at the scene.
I am still waiting to receive my son's body. Twenty-three days have passed since the Israeli occupying authorities withheld his body, which they continue to keep in their refrigerators. I also demand the release of the sixty-three Palestinian bodies that are still withheld since 2016.
I call on the international community to investigate the killing of my son Ahmad. Why did they shoot him? A young, unarmed man, who was full of life. A happy man who was about to attend his sister's wedding. A young man who was to be married in two months. Everyone who knew him, knew how good Ahmad was.
I urge the international community to pressure the Israeli occupation to release all the bodies of Palestinians that continue to be illegally withheld and demand the return of my son Ahmad's body.
---
[1] See Al-Haq, "83 Organisations Send Urgent Appeal to UN Special Procedures on the Wilful Killing of Ahmad Erekat, Urging International Justice and Accountability for Israel's Shoot-to-Kill Policy" (14 July 2020), available at: http://www.alhaq.org/advocacy/17112.html.