Don't Buy into Occupation: Exposing the financial flows into illegal Israeli settlements
Don't Buy into Occupation: Exposing the financial flows into illegal Israeli settlements
Download file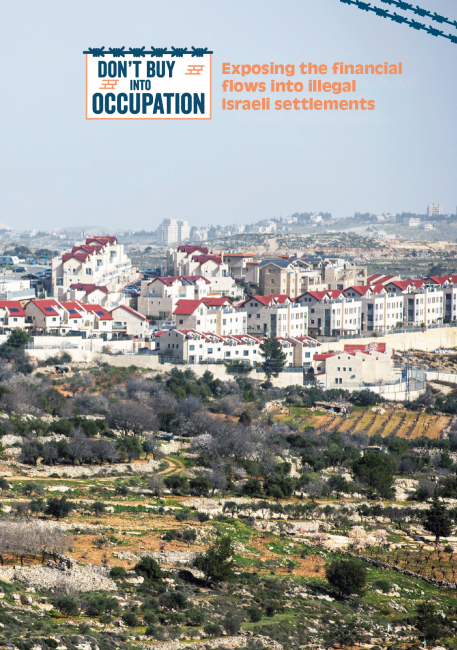 The "Don't Buy into Occupation" (DBIO) coalition is a joint initiative between 25 Palestinian, regional and European organisations based in Belgium, France, Ireland, the Netherlands, Norway, Spain and the United Kingdom (UK). The coalition aims to investigate and highlight the financial relationships between business enterprises involved in the illegal Israeli settlement enterprise in the Occupied Palestinian Territory (OPT) and European Financial Institutions (FIs).
Israeli settlements, their maintenance and expansion are illegal under international law and constitute acts which incur individual criminal liability as war crimes and crimes against humanity under the Rome Statute of the International Criminal Court (ICC). International humanitarian law (IHL), as per the Fourth Geneva Convention, prohibits the Occupying Power from the individual or mass forcible transfer and deportations of protected persons, as well as from transferring parts of its own civilian population into the territory it occupies.1 In addition, the confiscation of land to build or expand settlements in occupied territory is also prohibited, whereas the extensive destruction and appropriation of property for the benefit of settlements violates a number of provisions of IHL, as found in the Hague Regulations of 1907, the Fourth Geneva Convention, and in customary IHL.2
In addition, Israeli settlements have resulted in a myriad of human rights violations against the protected Palestinian population, while fragmenting the West Bank and isolating it from Jerusalem, and rendering sustainable and independent social and economic development for Palestinians in the Occupied Palestinian Territory (OPT) impossible to achieve. As evidenced by legal experts and human rights organisations, settlements are also a key component of Israel's apartheid regime over the Palestinian people, in which Israel administers the territory under two entirely separate legal systems and sets of institutions: a civil administration for Israeli-Jewish communities living in illegal settlements on the one hand, and a military administration for the occupied Palestinian population living in Palestinian towns and villages on the other.
Israeli, European and international business enterprises operating with or providing services to Israeli settlements, play a critical role in facilitating the functioning and growth of settlements. Considering the illegality of settlements, the associated wide range of international humanitarian law violations, severe adverse human rights impacts on the Palestinian population and the obstruction of the development of the Palestinian economy, private actors have a responsibility to ensure that they are not involved in violations of international law and are not complicit in international crimes, and address any adverse human rights impacts arising from their activities and business relationships. However, despite its illegal nature, European financial institutions continue to invest billions into the Israeli settlement enterprise.