Reflections from the Gaza Strip: the Winter After
Reflections from the Gaza Strip: the Winter After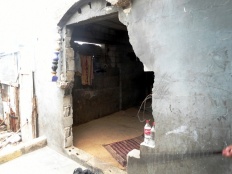 'Ali Younes Abu 'Asi, 36, lives in the Al-Zanna area, east of Khan Younes, with his wife and 9 children. Their house is approximately 2.5 kilometres away from the buffer zone. In the latest Israeli attacks on the Gaza Strip, the area where the family resides was heavily shelled. In the early days of the attack, most residents of the area fled, fearing for their lives. 'Ali and his family sought refuge in an UNRWA school in Khan Younes refugee camp, which they used as a shelter until 26 August 2014. Upon their return home, they found their house had been severely damaged and were then forced to seek shelter at the UNRWA school for another month, while they waited for their house to be reconstructed.
The living conditions at the UNRWA shelter were poor, with crowded, cramped living quarters, a lack of hygiene, food, shelter and a high prevalence of disease being spread. Therefore, Ali decided to reconstruct parts of his house himself, including a bedroom, the kitchen and bathroom, so that he could move back with his family. The house nonetheless remained in poor condition. They covered the bedroom windows with plastic bags, but there were still holes in the walls of the house. With winter approaching, the house was not warm enough for Ali's children.
In the first week of January 2015, the Mediterranean region suffered from harsh weather conditions. As a result, Ali and his family were stuck in their home as it was flooded with rain water. Ali put wooden sheets underneath their mattresses to prevent them from being soaked. Ali helplessly recalls seeing his children shivering inside their home as a result of the cold temperatures.
On Thursday 8 January 2015 at approximately 10:00 pm, Ali noticed that his youngest child, Rahaf, 4 months, was having breathing difficulties and that her body had turned blue. He immediately took her to the Gaza European Hospital in Khan Younis. There, the doctors admitted her to the ICU due to the gravity of her condition. Three hours later, she was declared dead. The doctors informed Ali that Rahaf died as a result of pulmonary oedema due to the harsh cold. Ali, his wife and eight children still live in the same house. (Al-Haq Affidavit No. 10354/2015)
On 10 January 2015, the Palestinian Ministry of Health declared that two more babies had died in the Gaza Strip, due to the cold weather and lack of a adequate shelter. One was named Salma Al-Masri, 3 months, whose family had been temporarily living in the Rashad Al-Shawa shelter, north of the Strip. Their house in Beit Hanoun was demolished during the Israeli attacks on Gaza this past summer. The third baby that passed away was 'Adel Al-Lahham, just 30 days old, whose family live in a house made of Zinc sheets in the Al-Mawasi area, west of Khan Younes. 'Adel also died from pulmonary oedema as a result of the harsh cold.
According to a UN report published in 2012, that unless urgent action is taken, by 2020 the lives of Palestinians in Gaza will severely worsen with no reliable access to safe drinking water, electricity, or proper healthcare and education, making Gaza 'unliveable'. Since the report's publication, there have been two Israeli offensives on the Strip that have only worsened the situation. Although international action was promised after the latest ceasefire, the slow process of reconstruction and the restrictions imposed on bringing in building materials has continued to place civilians' lives at immediate risk.