Special Focus: Israeli Occupying Forces Assault Journalists in the OPT
Special Focus: Israeli Occupying Forces Assault Journalists in the OPT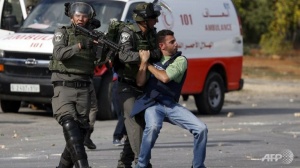 The Israeli Occupying Forces (IOF) have deliberately targeted journalists and press personnel, in clear violation of their rights. According to the Palestinian Centre for Development and Media Freedoms (MADA), since the beginning of October 2015, at least 105 violations against journalists were committed by the IOF in the West Bank, including East Jerusalem, and the Gaza Strip. These violations include injuries by live ammunition, rubber bullets, and tear gas, as well as physical harassment. The attacks carried out by the IOF against journalists, illuminate Israel's disproportionate and indiscriminate use of excessive force against Palestinians in general.
This video was captured and published by Diya Hosheye, a Palestinian journalist, on 30 October 2015. In the video, the IOF appear to be assaulting journalists and pepper spraying Diya while filming the incident. In a separate incident, on 3 November 2015, the IOF raided a Palestinian-run radio station, Manbar Al-Huriyyah, in Hebron and issued a closure order against it for six months. The IOF also confiscated and destroyed equipment from the station's head office.
The following incidents were carried out by the IOF against journalists in the OPT as documented by Al-Haq in October 2015: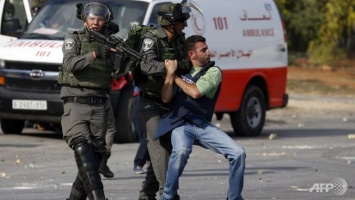 On 2 October 2015, 22-year-old Ahmad Tala'at Hassan, a journalist working for several international news agencies, was covering the weekly peaceful demonstration of Kufr Qaddoum, east of Qalqiliya. Ahmad was carrying his cameras, wearing a helmet and a press vest, as he stood apart from the crowd. Approximately 200 people were participating in the demonstration. Israeli soldiers were spread across the village, some on the northern mountain overlooking the main street, four of whom were snipers pointing their guns in the crowd's direction. Approximately 500 metres from where Ahmad and the demonstrators were standing, an additional 15 Israeli soldiers were blocking the street. Among these 15 soldiers, there were several snipers who were in a closer range of about 150 metres to Ahmad. As Ahmad was documenting the demonstration, he was shot with a live bullet in his right thigh. He was transferred to hospital immediately. (Al-Haq affidavit no. 11066/2015)
On 6 October at approximately 12:30 pm, Palestinians began a peaceful demonstration headed toward the Qalandia checkpoint. A large group of Israeli forces was awaiting the demonstrators as they approached. Once the demonstrators were about 500 metres away from the checkpoint, the IOF started firing tear gas and rubber bullets at them. Salah Addin Ibrahim Ziyad, 33, a photojournalist, was covering the demonstration with his colleague Khaled Al-Faqeeh. After a short while, young Palestinians threw stones as the IOF started shooting live ammunition at the crowd. Initially, Salah and several other journalists hid behind a wall. Six Israeli soldiers stood on the wall above them and therefore could distinguish that they were journalists. The journalists then moved to the other side of the street, away from the soldiers and stone throwers. Once they relocated, one of the soldiers pointed his gun in the direction of the journalists three different times. Suddenly, Salah was shot with a live bullet in his stomach. (Al-Haq affidavit no. 11104/2015)

On 13 October at approximately 10:30 am, several journalists and photojournalists were near the Beit Hanoun Crossing covering a demonstration. Forty-year-old Hussein Abd Al-Jawad Karsou', a photojournalist wearing his press vest, was amongst them. A group of demonstrators were throwing stones at the IOF in the area. The IOF responded by heavily firing tear gas and rubber bullets in their direction. The journalists wore their masks, carried their cameras and approached the crossing's gate in order to document the clashes. As they walked toward the gate, the IOF fired tear gas canisters at Hussein and another journalist, injuring them in the arm and foot respectively. Hussein confirmed that all journalists present were wearing press vests, allowing the IOF to distinguish them easily from the demonstrators. (Al-Haq affidavit no. 11116/2015)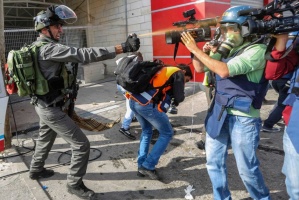 On 23 October, photojournalist Daoud Nimer Abu Al-Kas, 23, was east of Al-Shujaiyya near the buffer zone in the Gaza Strip, covering a demonstration. Daoud was wearing a press vest. Confrontations erupted between Palestinian youth and the IOF on the opposite side of the buffer zone. Israeli forces fired tear gas and bullets heavily as a result. During the confrontations, Daoud saw a young man injured on the ground, lying about 20 metres away from the fence. Daoud approached him to take a picture and was shot in the left thigh with a rubber-coated metal bullet. (Al-Haq affidavit no. 11131/2015)
Since the beginning of 2015, MADA documented at least 450 violations against journalists. While such attacks are recurring,[1] over the past three years, they have increased by 154 per cent.[2] These violations vary and include assault, injury, arrest, detention, raiding and closing media offices, destruction of equipment as well as prevention of journalists from covering incidents.
Al-Haq is gravely concerned about Israel's continuous policy of indiscriminate and disproportionate excessive use of force against Palestinian civilians, including journalists. Intentional use of lethal force should only be applied when other less violent measures were exhausted for the purpose of protecting and respecting the right to life.
Further, Al-Haq stresses on the importance of providing protection and allowing journalists to report during conflict as it is an essential component of the right of freedom of expression stated in Article 19 of the International Covenant on Civil and Political Rights and Article 19 of the Universal Declaration of Human Rights.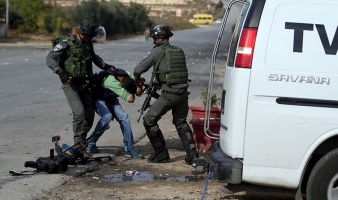 The ICRC Commentary to Rule 34 on Journalists stipulates that, in addition to attacks against journalists being prohibited, journalists in armed conflict must be protected. Furthermore, in May 2015, resolution number 2222 was adopted by the UN Security Council calling and reaffirming its resolution 1738 (2006) on the protection of journalists and media professionals in armed conflicts. Based on this, Israel must refrain from targeting journalists during hostilities and ensure their protection. Israel's deliberate attacks against journalists, who are distinctively dressed as journalists, may amount to a war crime under Article 8(2)(b)(i) of the Rome Statute of the International Criminal Court. This also constitutes a grave breach of the Geneva Conventions and Additional Protocol 1.[3]
In light of this, Al-Haq calls on Israel to cease its attacks against Palestinian civilians, in particular journalists. Al-Haq also calls on the international community to take effective measures to end Israel's arbitrary assaults and indiscriminate excessive use of force against Palestinians.
---
[1] Israel's Indiscriminate attacks on media buildings were a significant feature of the Summer 2014 offensive on the Gaza Strip. During the attacks 17 journalists were killed while another 27 were injured. For more information: Divide and Conquer - A Legal Analysis of Israel's 2014 Military Offensive Against the Gaza Strip, available at: http://www.alhaq.org/publications/publications-index/item/divide-and-conquer