Special Focus on Palestinian Children: Targeting Palestine through its Future
Special Focus on Palestinian Children: Targeting Palestine through its Future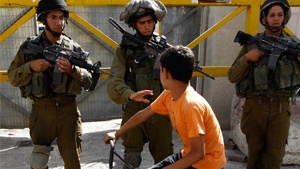 While the Israeli occupation continues to harm and violate the rights of the entire Palestinian population, Palestinian children have been primary victims of Israel's policies and practices. In 2014 alone, 574 children were killed in the Occupied Palestinian Territory (OPT) in what was labeled as the most violent year of the Israeli occupation since 1967. Children in the Gaza Strip were the most affected by this violence, terror and loss. The 2014 Israeli offensive against the Gaza Strip killed 556 children and injured 3,312 others. The destruction and damage to homes affected 125,079 children. Between January and 16 December 2015, 27 children were killed – 22 of whom were killed after 1 October 2015.
Indeed, the deliberate targeting of Palestinian children has become a notable feature of the Israeli occupation in the OPT. Palestinian children also face daily trauma and humiliation by the IOF. The psychological harms of the Israeli occupation are not an unfortunate side-effect of its policies, but rather a tactic utilized by Israel to constantly remind the Palestinian population that it is subjugated and occupied. As a vulnerable group, children should be provided with special protection under the provisions of international law. Despite Israel's obligations under the United Nations Convention on the Rights of the Child (CRC), the Israeli Occupation Forces (IOF) have long killed, beaten, tortured, arrested and arbitrarily detained Palestinian children.
During the recent rise in violence, children have been at the forefront of many of the demonstrations against the occupation across the West Bank, including Occupied East Jerusalem, and the Gaza Strip. These children are part of the generation that has lived under complete Israeli military occupation with no promise of change in the future. The rioting of Palestinian youth against the Israeli occupation is a sign of deep frustration and demonstrates the crisis that Palestinian society is living through as a whole. The current unrest should, therefore, be viewed in the broader context of Israel's colonial occupation and its harmful policies.
Click here to download the full report of " Special Focus on Palestinian Children: Targeting Palestine through its Future"