Israel Deliberately Injures and Maims Palestinian Civilians, Prevents Evacuation of Wounded, and Denies Access to Vital Healthcare Facilities Outside the Gaza Strip
Israel Deliberately Injures and Maims Palestinian Civilians, Prevents Evacuation of Wounded, and Denies Access to Vital Healthcare Facilities Outside the Gaza Strip
- [30 March – 16 April] - Ref Number: 61/2018
18، Apr 2018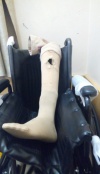 Al-Haq's documentation reveals that many of the injuries sustained from IOF bullets targeted specific body parts of Palestinian protestors in Gaza, causing death or serious and permanent injury. At the same time, paramedics and medical staff were also the subject of the IOF's excessive use of force while in the field fulfilling their duties, attending to the injured. The Palestinian Ministry of Health recorded the injury of 17 paramedics and medical staff on 13 April 2018 during the protests. Moreover, as Gaza remains under an Israeli-imposed closure for more than 11 years now, hospitals therein are at breaking point, given the severe shortages in medical supplies, especially when responding to the IOF's intended and excessive use of force and lethal force against Palestinians.
Injuries, Access to and Provision of Medical Care
On 6 April 2018 at approximately 4:30 pm, as Bilal Muhammad Mas'oud, 27, was taking part in the protests in Talet Abu Saffiya near the buffer zone east of Jabaliya, the IOF shot him in the arm and both legs as he was placing a Palestinian flag on the fence. Youth, situated at distances varying between zero and 300 metres from the fence, were throwing stones at the IOF, or burning tires, while others were carrying Palestinian flags near the fence. Tens of Israeli soldiers were positioned behind sand bags elevated above ground level, approximately five metres from a second fence, which is about 100 metres away from the first fence where the youth reached. Soldiers, some of whom in a sniper position, were heavily shooting at protestors with live fire and tear gas. A small plane would occasionally fire tear gas at the protestors. Bilal also recalls:
While I was putting the flag, the IOF heavily shot live fire towards me. I felt excruciating pain in my left arm and both legs. I saw blood profusely gushing out of me. That is when I started waving to the other youth, indicating that I have been shot with several bullets. Every time the youth would try to come close to me to pull me out, the soldiers would start shooting live fire and tear gas towards them so they would have to retreat. I remained on the ground wounded and bleeding from my left arm and legs for about 20 minutes. Then I crawled to the west away from the fence, for about ten metres, to reach a place where the others would be able to pull me away. I felt dizzy and blacked out.
At hospital, Bilal underwent several surgeries and a platinum plate was inserted in his right leg. He was shot in the left arm, another bullet him in the bone of the left leg, and two others in the right leg. (Al-Haq Affidavit No. 191ISR/2018)
On 30 March 2018, Ibrahim Misbah Abd Al-'Al, 30, was near Al-Shawka town, east of Rafah, helping evacuate the wounded during the protests when he was shot in both his legs by the IOF. Ibrahim was about 100 metres away from the fence when he saw young men approach it, throwing stones at the IOF. Most of the other protestors were at a further distance. The IOF was heavily firing tear gas and shooting at the protestors in the area. Many were wounded. Ibrahim started to help by carrying those injured to ambulances, during which, at approximately 2:30 pm, he was shot with two bullets in his legs. At hospital, Ibrahim underwent a four-hour surgery and his right leg was amputated as one of the bullets had caused fractures and damage to his bones and blood vessels. The other bullet fractured his left leg, in which the doctors inserted platinum plates. Ibrahim states:
I was shocked to see that my leg was amputated. I did not believe that. I feel like my leg still exists and I constantly feel it. I was not expecting that participating in a demonstration would cost me my leg. I remain in hospital in the surgery department. I feel pain. However, the hardest of all is that I often think how I will not be able to lead my life normally after this, and how I will support my wife and children with one leg.
Ibrahim has three children and supported his family by transporting goods and materials on a cart. This was their only source of income. (Al-Had Affidavit No. 190ISR/2018)
On Friday 6 April 2018 at about 5:00 pm, Iyad Manar Al-Dawahid, 28, was shot with two bullets in his legs while participating in protests near the fence east of Jabaliya. When he called on others to help evacuate him into an ambulance, the IOF shot at anyone who approached him. He was on the ground for about ten minutes, bleeding, before he was transferred to hospital. A bullet was shot below the knee of his prosthetic leg, while another bullet rested in his right leg, cutting its main artery. Iyad was transferred to two other hospitals and underwent surgery. In 2014, during the Israeli offensive on Gaza, Iyad was injured in an Israeli shelling and consequently, his leg was amputated. Since then, Iyad had used a wheel chair until he received a donated prosthetic leg, allowing him to walk. Iyad is now unable to use the prosthetic leg as it no longer fits his size due to the injury and damage caused by the bullet in his left leg. Iyad states:
It took me years to be able to receive a prosthetic leg donated by Jordanian doctors. I have now lost the ability to receive another prosthetic limb, and therefore I am unable to move, even restrictively, while standing on my feet. I will remain a prisoner to the wheelchair because of my injury. (Al-Haq Affidavit No. 192ISR/2018)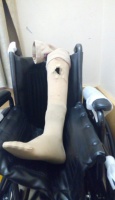 On 30 March 2018, 16-year-old Muhammad Khaled Othman participated in the protests in east of Al-Breij Camp. At one point, Muhammad sat in a hole in the ground, approximately 100 metres away from the fence, to hide from the heavy shooting by the IOF. The IOF excessively fired tear gas towards the hole he was hiding in. Muhammad felt suffocated and started running away from the tear gas. As he ran, he felt something hit his face and nose. He was shot with a bullet that entered through his nose and exited from his left ear. His jaws were crushed and his left cheek bone was fractured. Muhammad has also suffered weakness in his hearing and vision as a result. (Al-Haq Affidavit No. 193ISR/2018)
Critically, Israel, as belligerent occupant in the Gaza Strip, is obliged to conduct law enforcement operations in a manner which minimizes "the risk of injury."[4] However, the three weeks of peaceful protests since 30 March 2018 clearly indicate that there is an emerging pattern of unnecessary and excessive use of force employed by the IOF to disperse peaceful protestors, resulting in killings, extreme casualties, and permanent maiming of Palestinians. Notably, Article 3 of the 1979 Code of Conduct for Law Enforcement Officials (Code of Conduct) stipulates that the use of force may only be resorted to "when strictly necessary." Al-Haq is gravely concerned at the serious and permanent injuries inflicted on civilian protestors. In this vein, Al-Haq recalls that any use of force, which is not strictly necessary, may further amount to cruel, inhuman or degrading treatment or punishment.[5] While Article 5(b) of the 1990 Basic Principles on the Use of Force and Firearms by Law Enforcement Officials (Basic Principles) requires that law enforcement "minimize damage and injury, and respect and preserve human life" in the event that resort to force is necessary.
A list of narrow circumstances where force may be employed to 'shoot to stop' is articulated in Article 9 of the Code of Conduct:
"in self-defence or defence of others against imminent threat of death or serious injury, to prevent the perpetration of a particularly serious crime involving grave threat to life, to arrest a person presenting such a danger and resisting their authority, or to prevent his or her escape, and only when less extreme means are insufficient to achieve these objectives."
Given the large number of casualties in the Gaza Strip since 30 March, which have exceeded 3,400 injuries, this was clearly not the case. For example, Bilal Muhammad Mas'oud was shot as he placed a Palestinian flag on the fence, a symbolic act which did not threaten life in any way. Ibrahim Misbah Abd Al-'Al was shot while helping to evacuate the injured to ambulances, and Muhammad Khaled Othman was shot in the face while escaping excessive tear gas, after he was relentlessly targeted with tear gas canisters in his hiding place in a hole in the ground. None of the actions conducted by Bilal, Ibrahim and Muhammad reached the threshold of warranting a resort to force to 'shoot to stop', making them unlawful.
Furthermore, the systematic targeting of Palestinian protestors by the IOF by shooting them either in the upper parts of their bodies, causing their death or serious injury, or in the lower limbs, causing permanent damage is indicative of deliberate excessive use of force. The excessive nature of the force is further highlighted, where amputations were required following injuries sustained during the protests.
In addition, the IOF employed unnecessary and excessive force at short range near the fence, targeting civilians who were evacuating the injured, leading to significant delays in treatment. Article 5(c) of the Basic Principles requires law enforcement to "ensure that assistance and medical aid are rendered to any injured or affected persons at the earliest possible moment."[6] Contrary to this obligation, Israeli forces continued to shoot for some 20 minutes at Palestinian civilians seeking to give medical assistance to Bilal Muhammad Mas'oud, as he lay injured on the ground. Similarly, the IOF shot at anyone trying to assist Iyad Manar Al-Dawahid for ten minutes, as he lay injured. Meanwhile, the IOF directly shot at Ibrahim Misbah Abd Al-'Al while he was evacuating the injured.[7]
Denial of Travel Permits
The Israeli occupying authorities have punitively banned Palestinians from leaving Gaza in order to receive medical treatment following injuries they sustained during protests, resulting in amputation, as in the case of Muhammad Al-Ajouri and Yousef Karnaz.[8] Israel's policy of denying Palestinians access to medical care is not new but rather represents an ongoing practice against Palestinians in the Gaza Strip, denying them travel permits into the occupied West Bank or to Israel, where medical care is available. A report by the World Health Organisation (WHO) in 2017 reveals that 603 patients from Gaza were requested for security interrogation as a condition to process their permit applications. Only 72 of those patients were granted their permits in time for them to attend their hospital appointments.[9]
Israel's denial of travel permits leading to delays and inability in accessing treatment violates the rights to health and the right to life. In accordance with Article 12 of the International Covenant on Economic, Social and Cultural Rights (ICESCR), Israel is required to guarantee the right to the highest attainable standard of health for the population within its jurisdiction, including by providing equal and timely access to health services. Moreover, Israel's such denial may constitute cruel, inhumane or degrading treatment, in violation of Article 7 of the International Covenant on Civil and Political Rights (ICCPR) and Article 1 of the Convention Against Torture and Other Cruel, Inhuman or Degrading Treatment or Punishment (CAT). Furthermore, wilfully causing great suffering or serious injury to body or health may constitute a grave breach of the Fourth Geneva Convention, and is prosecutable as a war crime under the Rome Statute of the International Criminal Court (Rome Statute).
In addition, where children are target to the IOF's excessive use of force and denial of access to healthcare and treatment, Article 24 of the Convention on the Rights of the Child (CRC) stipulates that States Parties should recognize and provide for "the right of the child to the enjoyment of the highest attainable standard of health and to facilities for the treatment of illness and rehabilitation of health."
Targeting of Health Facilities and Paramedics
Besides protestors, medical staff and paramedics on duty have also been the subject of the IOF's excessive use of force during the Great Return March protests. Since 30 March, a total of 20 paramedics have been injured by the IOF during the protests.[10] Between 9 and 14 April, the WHO stated that six ambulances were targeted by tear gas, whereas 15 ambulance workers were injured, two of whom by direct shots.[11]
For instance, on 9 April 2018, the IOF disproportionately fired tear gas and shot at Palestinian protestors located approximately 300 metres away from the fence in east of Al-Breij. In the same location, the IOF further shot at two Palestinian Red Crescent Society ambulances, injuring a paramedic in his right leg who required surgery. In addition, on Friday 13 April, a medical tent set up in Khan Younis was targeted by the IOF with tear gas, forcing staff to evacuate it, as documented in a video.
Under international humanitarian law, hospitals and health facilities are granted protected status as civilian objects. Under Article 18 of the Fourth Geneva Convention, it is explicitly prohibited to attack, fire upon, or in any way prevent hospitals or medical units from performing their medical and humanitarian duties. The principle of distinction holds that civilians and civilian objects, including hospitals and humanitarian facilities, cannot be subject to attacks, unless compelling evidence suggests that they are being used for other activities "harmful to the enemy," and then the targeting of such objects is permitted, subject to strict limitations. Meanwhile, the principle of proportionality prohibits any "attack which may be expected to cause incidental loss of civilian life, injury to civilians, damage to civilian objects, or a combination thereof, which would be excessive in relation to the concrete and direct military advantage anticipated." Prior to an attack on a hospital or medics, international humanitarian law requires that a warning be issued and the attack be carried out only after the warning has remained unheeded – otherwise the attack is in breach of international law.[12] The intentional targeting of civilians and civilian objects amounts to serious violations of the laws and customs of war and constitutes a war crime in accordance with Articles 8(2)(b)(i), 8(2)(b)(ii), 8(2)(b)(iii), and 8(2)(b)(iv) of the Rome Statute.
Hospitals in the Gaza Strip on the Brink of Collapse
Hospitals and medics in the Gaza Strip have dealt with more than 3,000 injuries since 30 March 2018 and are expected to receive more in the coming weeks, as the Great March of Return continues, all "while on the brink of collapse"[13] and lacking the most basic of needs to survive, serve and save lives. In responding to the IOF's excessive use of force and lethal force, health facilities in Gaza are unable to address the immediate needs of the wounded and patients due to serious deficits in medical equipment and essential drugs, a shortage in health facilities, lack of human resources, and shortages in electricity.[14]
As belligerent occupant, Israel has obligations to ensure the maintenance of civil life in the Gaza Strip, which includes the supply of basic services and infrastructure, such as medical equipment and health facilities, to the civilian population.[15] Over a decade into Israel's imposed closure on Gaza, the inhumane situation has brought Gaza's hospitals to an extremely dire situation. The situation is further exacerbated as a result of the electricity crisis, which continues to affect the functioning of the water and sanitation system in Gaza, seriously impacting the population's health and directly affecting the functioning of healthcare facilities. In fact, in February 2018, 19 healthcare centres, including three hospitals, stopped their services as a result of insufficient fuel to keep their generators running.[16] In addition, the Israeli military has also targeted hospital and health facilities in Gaza, destroying medical infrastructure during its recurring offensives against the Gaza Strip.[17] As such, Israel is also in violation of its obligations under Article 12 of the ICESCR given that it is unwilling to realize the right to health for the Palestinian people despite its available resources.
Al-Haq calls on Israel and international bodies, including the United Nations (UN),[18] to conduct an open, effective, and transparent investigation into the killings and injuries resulting from lethal and non-lethal weapons employed by the IOF during the Great Return March and to hold the perpetrators to account. Al-Haq further calls upon Israel and Third States to immediately end the closure of the Gaza Strip and the occupation of the Palestinian territory at large, and to ensure the right of return of Palestinian refugees to their homes, cities, and villages of origin.
---
[1] In addition to the 28 Palestinians killed during protests, seven were killed as a result of the IOF's shelling and shooting in airstrikes, shelling and shooting. As of 18 April 2018, the total number of Palestinians killed in the Gaza Strip since 30 March 2018 is 35, as provided by Al-Haq's Monitoring and Documentation Department.
[2] Number of injuries retrieved from the Palestinian Ministry of Health.
[3] Number retrieved from the Palestine Red Crescent Society.
[4] Human Rights Council, The Use of Force in Law Enforcement and the Right to Life, the Role of the Human Rights Council, 6, available at: https://www.geneva-academy.ch/joomlatools-files/docman-files/in-brief6_WEB.pdf
[5] ECtHR, Bouyid v Belgium, Grand Chamber, Judgment, 28 September 2015, §§88, 100.
[6] Similarly, the OSCE Guidebook on Democratic Policing, enshrining internationally adopted policing standards, advances that: "Law enforcement officials must ensure that assistance and medical aid are rendered to any injured or affected person at the earliest possible moment."
[7] See also, the killing of Muhammad Kamal Al-Najjar, Sari Waleed Abu Odeh and Hamdan Ismail Abu 'Amsha on 30 March 2018, available at: http://www.alhaq.org/documentation/weekly-focuses/1213-gaza-documenting-wilful-killings-and-injuries-during-the-great-return-march
[8] See more: Adalah, 'Doctors Amputate Legs of 2 Wounded Gaza Youth after Israel Refuses to Allow their Transfer to West Bank Hospital' (11 April 2018) available at: https://www.adalah.org/en/content/view/9470
[9] WHO, 'Monthly Report 'Health Access for Referral Patients from the Gaza Strip' (December 2017) available at: http://www.emro.who.int/images/stories/palestine/documents/WHO_monthly_Gaza_access_report_Dec_2017-final.pdf?ua=1
[10] Al-Mezan, 'One Protestor Killed and 482 Injured in Third Week of Demonstrations in the Gaza Strip' (Press Release, 13 April 2018) available at: http://www.mezan.org/en/post/22659/One+Protester+Killed+and+482+Injured+in+Third+Week+of+Demonstrations+in+the+Gaza+Strip+
[11] WHO 'WHO Special Situation Report – Occupied Palestinian Territory, Gaza 9th-14th April 2018' (17 April 2018) available at: http://www.emro.who.int/images/stories/palestine/documents/WHO-Special-SitRep-on-_Gaza-13th_April.final.pdf?ua=1
[12] See: Al-Haq, 'Targeting of Health Facilities in the Gaza Strip May Amount to War Crimes' (25 July 2014) available at: http://www.alhaq.org/advocacy/topics/gaza/831-targeting-of-health-facilities-in-the-gaza-strip-may-amount-to-war-crimes
[13] WHO, 'WHO Special Situation Report – occupied Palestinian territory, Gaza' (February 2018) available at: http://www.emro.who.int/images/stories/palestine/documents/WHO-Special-Situation-Report-on-_Gaza-Feb.pdf?ua=1
[14] Medical Aid for Palestinians (MAP), 'Gaza Update: 10 Palestinians Killed and Hundreds Injured, MAP's Team Responding' (7 April 2018) available at: https://www.map.org.uk/news/archive/post/821-gaza-update-at-least-8-palestinians-killed-and-hundreds-injured-mapas-team-responding; WHO, 'WHO Concerned Over Increasingly Overwhelmed Health Services in the Gaza Strip' (Press Release, 17 April 2018) available at: http://www.emro.who.int/palestine-press-releases/2018/who-concerned-over-increasingly-overwhelmed-health-services-in-the-gaza-strip-april-2018.html
[15] The Hague Regulations (1907), Article 43.
[16] MAP, 'Gaza Update: "Doctors Used Flashlights to Examine Patients' (23 March 2018) available at: https://www.map.org.uk/news/archive/post/812-gaza-update-adoctors-used-flashlights-to-examine-patientsa
[17] Al-Haq, 'Briefing Note VII: Illegal Attacks on Health Facilities and Hospitals' (11 September 2014) available at: http://www.alhaq.org/advocacy/topics/gaza/855-briefing-note-vii-illegal-attacks-on-health-facilities-and-hospitals; Al-Haq, 'Special Focus: Attacks against Health Facilities and Medical Staff by the IOF' (9 November 2015) available at: http://www.alhaq.org/documentation/field-updates-2015/988-special-focus-attacks-against-health-facilities-and-medical-staff-by-the-iof
[18] UN OHCHR, 'UN Human Rights Experts Condemn Killings of Palestinians near Gaza Fence by Israeli Security Forces' (Press Release, 17 April 2018) available at: http://www.ohchr.org/EN/NewsEvents/Pages/DisplayNews.aspx?NewsID=22950&LangID=E