Al-Haq Field Report on Human Rights Violations in March 2021
Al-Haq Field Report on Human Rights Violations in March 2021
Israeli violations
Killings
On 19 March 2021, Atef Yousef Hanayshi, a 47-year-old resident of the Beit Dajan village east of Nablus city, was killed by a bullet in the head. The Israeli occupying forces opened fire on Palestinian protestors in a weekly demonstration organised by local residents to protect their land at risk of confiscation and settlement expansion east of the village. According to eyewitness accounts, an Israeli soldier laid on the ground, pointed his gun at the protestors, and deliberately targeted Hanayshi.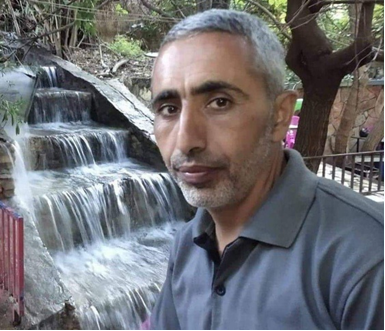 Home demolitions
In March 2021, the Israeli occupying authorities demolished 31 homes. These were distributed across the following Palestinian governorates:
| | |
| --- | --- |
| Jericho | 13 |
| Jerusalem | 7 |
| Nablus | 5 |
| Hebron | 3 |
| Bethlehem | 2 |
| Ramallah and El-Bireh | 1 |
Fifteen homes and 16 Bedouin residential structures were demolished, allegedly under administrative pretexts (not having building permits). While eight were under construction, 23 homes were already finished at the time of demolition.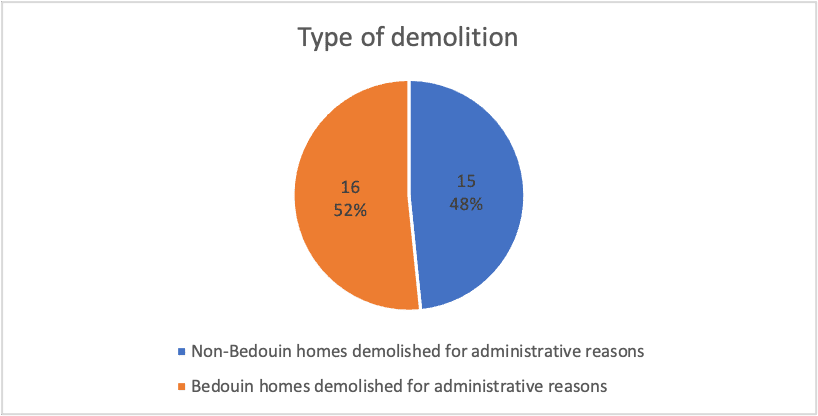 In line with the designation under the Oslo Accords, 26 targeted residential structures were located in Area C and five within the Israeli-declared municipal boundary of Jerusalem. The majority of demolitions took place in the early morning. Five homes were destroyed for at least the second time after they had been reconstructed. Accompanied by IOF soldiers, the Israeli Civil Administration carried out 26 demolitions. While four homes were self-demolished,[1]the Israeli Jerusalem Municipality demolished one home. The Israeli occupying authorities did not allow an opportunity to evacuate 22 homes. Fifteen families did not receive stop-work notices while they were constructing their homes.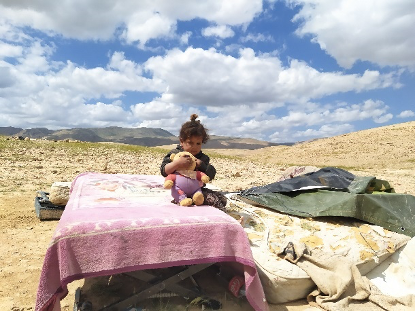 Figure 1: A Palestinian girl on the ruins of her demolished home, An-Nuwei'ma, March 2021
Home demolitions resulted in the displacement of 130 Palestinians, including 58 women, 60 children, and 41 school students. Of these, 12 displaced persons were refugees.
Demolition of private structures
The Israeli occupying authorities demolished 28 Palestinian privately owned structures. These were distributed as follows: Jerusalem (6); Hebron and Jenin (5 each); Bethlehem and Nablus (4 each); Jericho (2); and Salfit and Qalqiliya (1 each).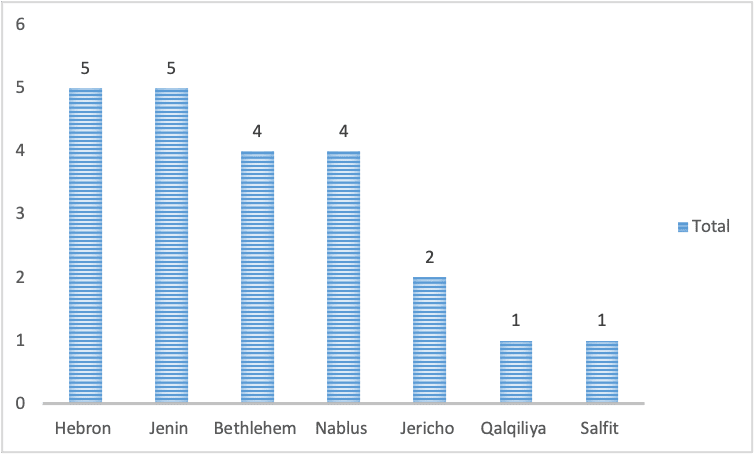 According to the Oslo designation, 24 private structures were located in Area C and four within the Israeli-declared municipal boundary of Jerusalem.
The contents of 10 structures were damaged because relevant owners had not been allowed an opportunity to evacuate their belongings before the demolitions were carried out. All targeted structures were completed and already used. Six affected families reported that they had not been given a chance to challenge demolition orders. Seventeen structures used to provide main sources of livelihoods, causing significant economic losses and adverse psychological consequences to affected family members.
The estimated total cost of the construction of all demolished private structures was over NIS 1.5 million. These covered a surface area of some 7,127 square metres.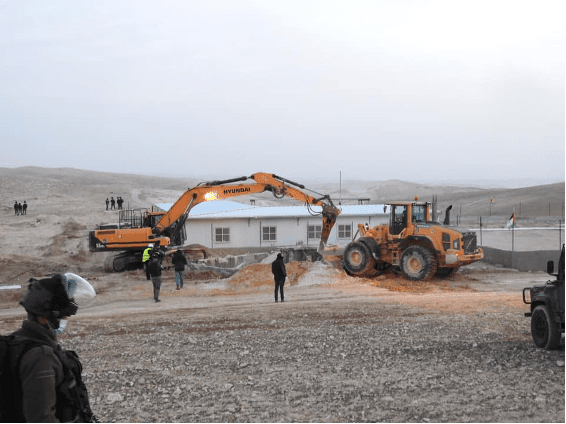 Figure 2: A mosque and water well demolished in the Jordan Valley, January 2021
Other violations[2]
In March 2021, the Israeli occupying authorities and settlers committed many other violations. In addition to opening fire and injuring Palestinians, the Israeli authorities and settlers set fire to vehicles, confiscated property, raided communities, carried out arrest and search operations, levelled land, chased children, physically assaulted civilians, threw stones, pursued and intimidated fishermen, displaced residents, etc.
Israeli settler violence continued. They physically assaulted Palestinian farmers in the Al-Khadr town; burned vehicles in Beit Iksa; and threw stones, committed physical violence, and grazed sheep on agricultural land in the vicinity of the Yatta town. Israeli settlers also levelled and attempted to seize land in the Kisan town; prevented citizens from completing the construction of an agricultural barracks in the Burin town; and opened fire on and attacked civilians with sharp tools in the Bani Na'im town. An Israeli settler vehicle ran over sheep in Tubas. In addition to stone throwing, Israeli settlers partly demolished a house under construction and damaged construction equipment in Burin. Israeli settlers stoned homes and vehicles in Huwwara and grazed sheep on Palestinian agricultural land in Al-Farisiya, Jordan Valley.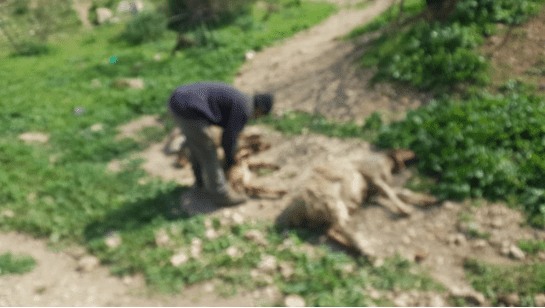 Figure 3: A Palestinian shepherd's sheep run over by an Israeli settler vehicle, Jordan Valley, March 2021
Violations by the Palestinian Authority and de facto authority in the Gaza Strip[3]
During the month of March 2021, Al-Haq documented a number of violations committed by official Palestinian authorities in the West Bank and Gaza Strip. Most notably, in the city of Jenin, Palestinian Police personnel attacked a journalist while he was covering a protest against the Police failure to address incidents of shooting and use of arms in domestic quarrels. Arrested outside the Police station, the journalist was detained for several hours, allegedly because he had not obtained a prior notice to cover the protest.
In the An-Nuseirat town, Gaza Strip, Police personnel assaulted a Palestinian lawyer inside the Police station. Due to severe beating and physical abuse, the lawyer was transported to hospital for medical attention. He was then detained for four days, ostensibly because he attacked Police officers. In his capacity as a lawyer, the lawyer was in company with his brother, who was summoned on account of a criminal case. Later, the lawyer was released on bail.