Al-Haq Field Report on Human Rights Violations in February 2021
Al-Haq Field Report on Human Rights Violations in February 2021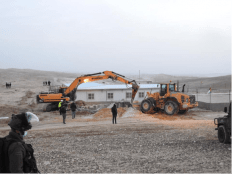 Israeli violations
Killings
On 5 February 2021, an Israeli settler killed Khaled Maher Nofal, 34 years old, claiming that he had attempted to carry out an operation against settlers in the settlement of Dolev. Subsequently, the Israeli occupying authorities withheld the body of Nofal. Since 2016, Nofal's has been the 72nd body withheld by the Israeli authorities. No additional details were provided as eyewitnesses were not on the scene and the incident took place inside a settlement.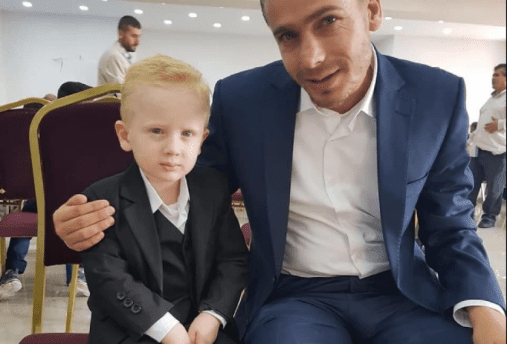 Khaled Nofal and his son
Home demolitions
In February 2021, the Israeli occupying authorities demolished 40 homes. These were distributed across the Palestinian governorates of Hebron, Bethlehem, and Jenin (2 each); Jerusalem (5); and Tubas and the Jordan Valley (29).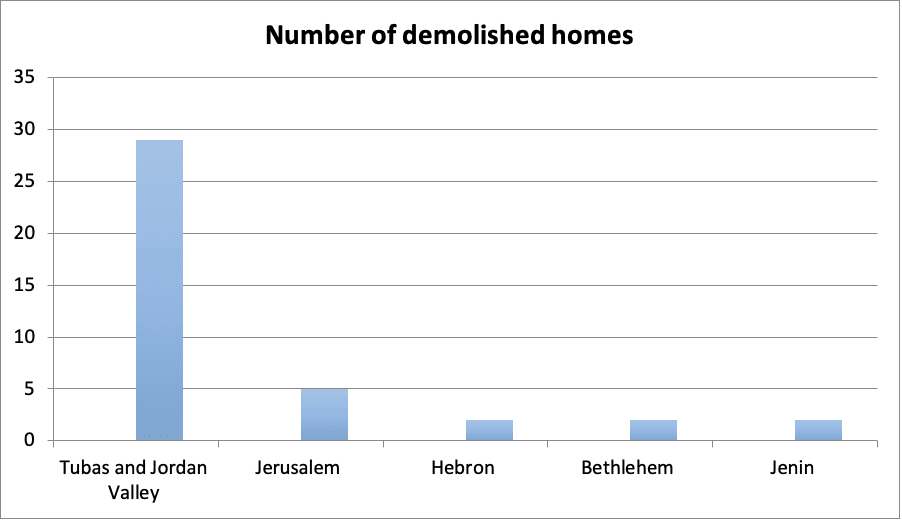 Eleven homes were demolished, allegedly under administrative pretexts. Citing the same claims, 19 Bedouin homes were demolished and their contents confiscated. On punitive grounds, two homes were sealed off because family members had carried out operations against the Israeli occupying forces (IOF). While four were under construction, 36 homes were already finished and inhabited at the time of demolition.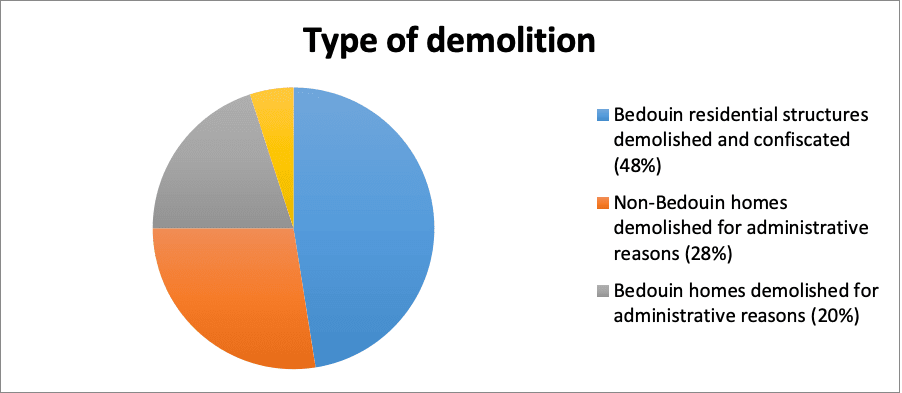 In line with the designation under the Oslo Accords, 33 targeted residential structures were located in Area C, two in Area B of Jerusalem, and five within the Israeli-declared municipal boundary of Jerusalem. Of note, the majority of demolitions took place in the early morning, between 08:00 and 09:00 am. Twenty-nine homes were destroyed for at least the second time after they had been reconstructed. Accompanied by IOF soldiers, the Israeli Civil Administration carried out 33 demolitions. The Israeli occupying authorities did not allow an opportunity to evacuate at least four homes. Eleven families did not receive stop-work notices while they were constructing their homes.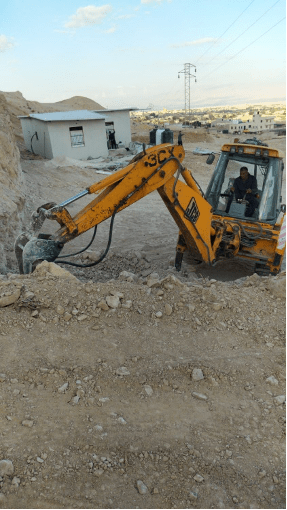 Figure 2: Residential structures demolished in the Ad-Duyuk at-Tahta area, Jericho, March 2021
Home demolitions resulted in the displacement of 222 Palestinians, including 115 children,103 women and 66 school students.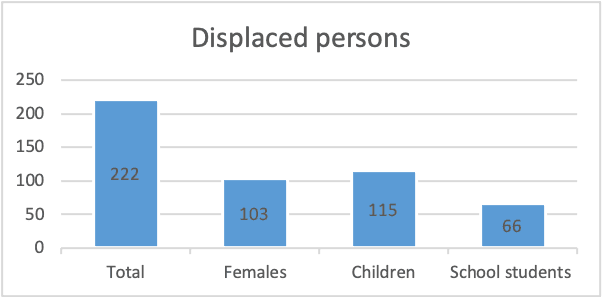 Demolition of private structures[1]
The Israeli occupying authorities demolished 58 Palestinian privately owned structures. These were distributed as follows: Tubas (23), Hebron (10), Jenin (9), Jerusalem (5), Bethlehem (3), Ramallah and El-Bireh (2), Tulkarem (1), and Qalqiliya (1).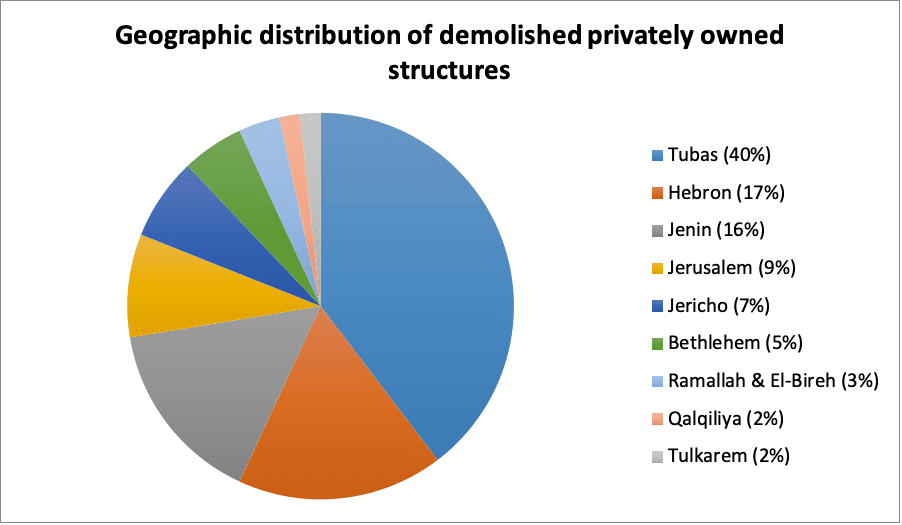 According to the Oslo designation, 54 private structures were located in Area C and four within the Israeli-declared municipal boundary of Jerusalem.
The contents of 28 structures were damaged because relevant owners had not been allowed an opportunity to evacuate their belongings before the demolitions were carried out. Of all demolitions, 50 structures were completed and already used. Nine affected families reported that they had not been given a chance to challenge demolition orders. Forty structures used to provide main sources of livelihoods, causing significant economic losses and adverse psychological consequences to affected family members.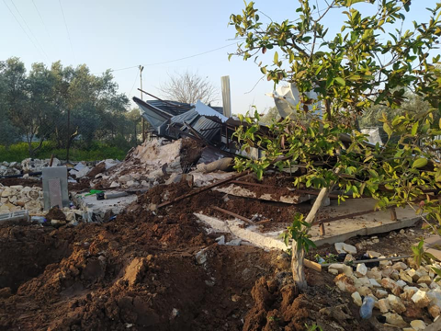 Figure 3: An agricultural holding demolished in Qalqiliya, February 2021
The estimated total cost of the construction of all demolished private structures was close to NIS 900,000. These covered a surface area of some 10,200 square metres.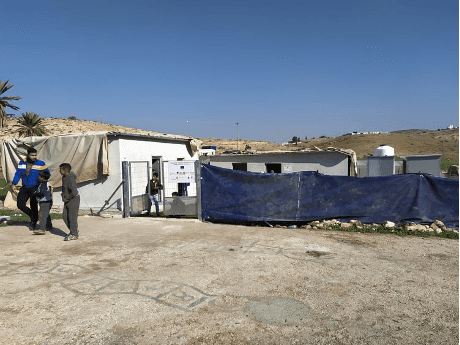 Figure 4: Al-Maleh School in the Northern Jordan Valley under the imminent threat of demolition
The statistic above included private structures in the Humsa al-Foqa community in the Northern Jordan Valley, which the Israeli occupying authorities demolished three times in February 2021. The community is home to approximately 72 Palestinians, including 38 children. Some of these were forced to stay outdoors each time the community was demolished. Others were displaced to other tents in nearby areas. Demonstrating that the area was targeted, the Israeli occupying authorities had also demolished the community structures in November 2020 and as early as in 2014.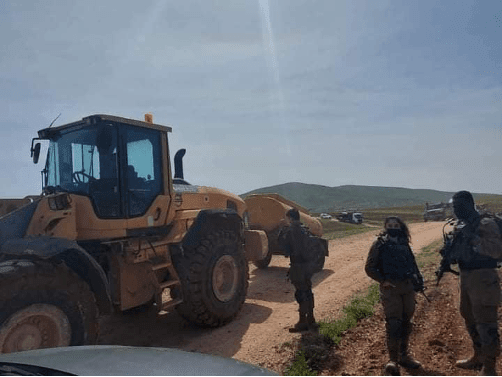 Figure 5: Demolitions in the Humsa al-Foqa community
Other violations[2]
In February 2021, Al-Haq documented dozens of violations committed by the Israeli occupying authorities. Most notably,
The IOF attacked, chased, and damaged fishing equipment belonging to Palestinian fishing boats off the Gaza Strip coast.
Israeli settlers maintained their persistent attempts to seize Palestinian land in many areas, including in the villages of Sinjil and Battir.
The IOF continued to raid Palestinian homes and carry out arrest and search operations on a daily basis.
The IOF increasingly targeted agricultural land near the perimeter fence in the eastern Gaza Strip. The IOF released wastewater into, sprayed pesticides over, and causing damage to this land.
The Israeli occupying authorities warned a number of Palestinians and Palestinian leaders against standing for the upcoming Palestinian legislative elections, namely in the electoral lists of Hamas and Popular Front for the Liberation of Palestine (PFLP). Israel Security Agency (Shabak) told those leaders that they would be arrested if they run as candidates for the aforementioned lists.
Israeli settlers continued to assail Palestinians and stoned Palestinian homes. In addition to expelling Palestinians from their land, Israeli settlers physically assaulted and stole property belonging to Palestinians.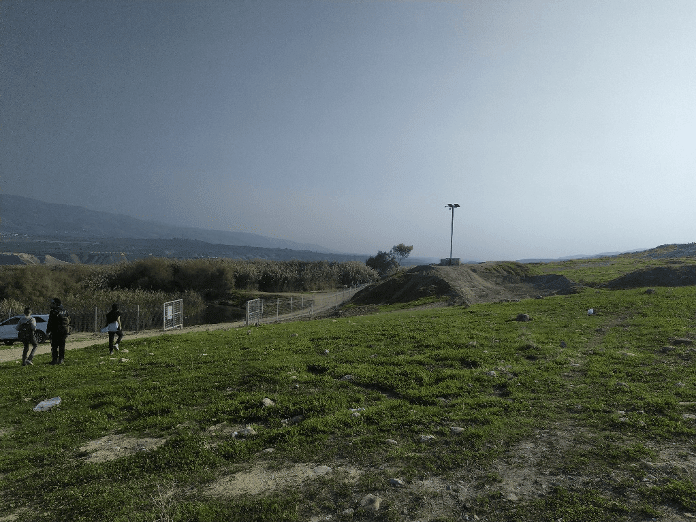 Figure 6: Israeli settlers fencing land and installing surveillance cameras in the Ein as-Sakut area, Northern Jordan Valley
Violations by the Palestinian Authority and de facto authority in the Gaza Strip[3]
During the month of February 2021, Al-Haq documented a number of violations committed by official Palestinian authorities in the West Bank and Gaza Strip. Most notably,
Security agencies in the West Bank and Gaza Strip continued to detain Palestinians on political grounds in spite of a presidential decree on the promotion of public freedoms and positive atmosphere created by legislative elections.
Several violations of the freedom to stand for elections were committed throughout the occupied Palestinian territory. For example, security agencies summoned and intimidated some individuals if they run for elections (e.g. a Hamas leading figure in the city of Qalqiliya). In other cases, an independent electoral list was prevented from organising a conference to announce candidacy (e.g. an independent list of youths in the city of Gaza based on a decision from the Palestinian Police).