Al-Haq Field Report on Human Rights Violations in 2019
Al-Haq Field Report on Human Rights Violations in 2019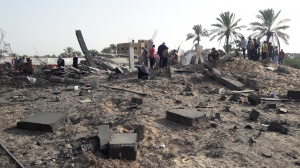 137 Palestinians killed and 4 died in Israeli prisons, including 112 due to their lethal injuries in the upper part of the body.

180 homes, 169 other private structures, and 13 public facilities demolished, displacing 669 Palestinians, including 122 original refugees. Of these, 246 were

located in close proximity to Israeli settlements or planned settlement areas

.
Introduction
The situation of human rights was not better in 2019 than it was in 2018. Any reader of this report will definitely conclude that human rights violations across the Occupied Palestinian Territory (OPT) increased. Compared to the previous year, the human rights situation saw a general decline.
The pace of demolition of Palestinian structures by the Israeli Occupying Forces (IOF) marked a significant rise, mostly affecting in East Jerusalem and Area C. The IOF continued to apply an unrestrained shoot-to-kill policy, killing and injuring many Palestinians. In addition to arrests, the IOF raided Palestinian villages, towns and cities. At the same time, Israeli settler attacks on Palestinian communities escalated. Complementing IOF assaults, Israeli settler violence was part and parcel of everyday encroachments on Palestinians throughout the OPT.
Internally, the human rights situation was not less dire. Apparently, restrictions on, and abuses of, human rights exacerbated both quantitatively and qualitatively. In particular, infringements targeted the right to freedom of opinion and expression, political and human rights activities, freedom of the press, and social media activists.
Below is an account of the human rights situation from the perspective of Al-Haq.
Killings
In 2019, 137 Palestinians were killed by the IOF and 4 died in Israeli prisons. Of these, four Palestinian political prisoners died in Israeli prisons, namely, Bassam al-Sayeh, Nassar Taqatqah, Yasser Shtayyeh, and Sami Abu Dyak. By contrast, 303 Palestinians were killed in 2018.
Almost all Palestinian killed were targeted by the IOF. Two Palestinians were killed by Israeli settlers: Hamdi Taleb Na'san, a resident of the Al-Mughayyir village (Ramallah), and Abed Mohammed Abdul Mun'em Abdul Fattah, a resident of Salfit.
Of all 137 Palestinians who were killed by the IOF, 17 were killed in completely calm circumstances, as the IOF killed these Palestinians in tension-free areas. The remaining Palestinians were killed in tense circumstances or in the context of Israeli attacks on the Gaza Strip. Further, 38 Palestinians were killed while participating in protests against the Israeli occupation or when they were in close proximity to protests, as two Palestinians lost their lives near Israeli checkpoints.

In at least two cases, the IOF hampered Palestinian attempts to evacuate the wounded before they died. However, the vast majority of killed Palestinian in 2019, 114 to be exact, did not receive first aid from the IOF, who shot them.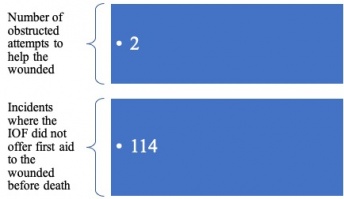 Of the 137 killed Palestinians, two were extra-judicially killed by the IOF. The Israeli occupying authorities announced that decisions had been made to take the lives of Hamed Ahmed al-Khudhari and Baha' Abu al-Ata.
Notably, 112 of the killed Palestinians sustained wounds in the upper part of the body or were hit by multiple injuries, including in the upper part of the body. Eight Palestinians died under the rubble. The rest died of injuries sustained in the lower part of the body only. In other words, the great majority of injuries hit the upper parts of the body, indicating excessive use of force.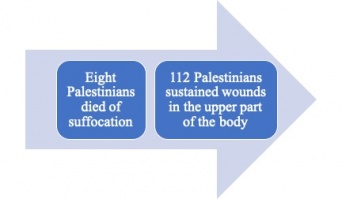 Of all Palestinians killed in 2019, 28 were children and nine were women.
In 2019, a total of 35 Palestinians were killed in the context of the Great Return March (GRM) protests. Of these, towards the end of 2019, 20 Palestinians were after the Report of the United Nations Commission of Inquiry on the 2018 protests in the Occupied Palestinian Territory had been released on 22 March 2019. In 2018, 180 Palestinians were killed in the GRM protests.
Since the GRM demonstrations began in late March 2018, towards the end of 2019, 215 Palestinians were killed. These included forty-seven children, three women, two journalists, four medics, and seven persons with disabilities.
In 2019, the Israeli occupying authorities withheld the bodies of 20 Palestinians. Further, Israel continued to withhold the bodies of 52 Palestinians since October 2015 until the end of 2019.
The IOF launched two military offensives on the Gaza Strip in 2019. In the first offensive, which took place from 3 May 2019 until 5 May 2019, the IOF killed 25 Palestinians. In the second, which also lasted three days from 12 November 2019 until 14 November 2019, 34 Palestinians were murdered by the IOF.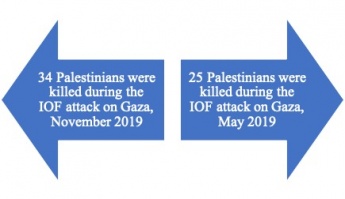 Demolitions
In 2019, the IOF demolished a total of 362 private and public structures across the OPT.
Homes: During the reporting period, the IOF demolished 180 homes, representing a sharp rise of 42.8 percent in comparison to 126 homes destroyed in 2018. The vast majority of affected Palestinian homes (170) were demolished on grounds of lacking Israeli-issued building permits. Of all demolitions, 10 homes were destroyed on punitive grounds, including two in Hebron, one in Kobar (Ramallah), one in Yatta (Hebron), one in Al-Bireh, and four in Beit Kahil (Hebron). The latter resulted in the displacement of 22 Palestinians, including 13 women, one girl, and seven children.

Sixty-four demolished homes were located in the city of Jerusalem, ninety-seven in Area C, nine in Area B, and ten in Area A.
House demolitions resulted in the displacement of 669 persons, including 319 women and girls. Of all those displaced, 271 were children, 163 school students, and 122 original refugees.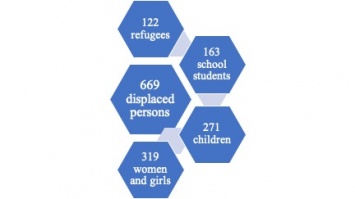 In occupied East Jerusalem, a total of 236 Palestinians were displaced, including 116 women and girls, 122 children, 74 school students, and 28 refugees.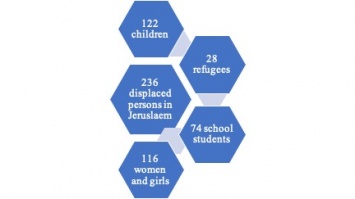 Of those demolished, 130 houses were located in close proximity to Israeli settlements, the Annexation Wall, planned settlement areas, or land under the threat of confiscation. While forty-seven (47) were under still construction, all other demolished houses were completed, as the absolute majority of the latter were inhabited. The Israeli occupying authorities did not allow the house owners of 73 homes to evacuate their belongings before the demolitions were carried out. Having received demolition orders, the owners of 98 homes lodged objections to official Israeli authorities to prevent the demolition of their houses. However, their requests were denied as their houses were demolished. Further, thirty-six (36) houses were demolished at least once prior to the latest demolition. Forty-four (44) families had other houses, which had also been demolished earlier.
During houses demolitions, members of 47 affected families were harassed, attacked, or physically assaulted. Partial curfews were imposed during 30 incidents of house demolitions. At the time of demolition, six demolished houses were not owned by their inhabitants, causing loss for both the residents and the house owners. After their houses had been pulled down, the vast majority of affected families had to rent residential flats or sought refuge in their relatives, friends or neighbours' house until such time they could rent a shelter.
Other private structures: A total of 169 other private structures were demolished in 2019. Of these, 128 structures were located in Area C, so designated by the Oslo Accords, and 41 within the Israeli municipal borders of Jerusalem.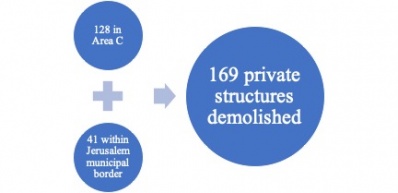 Of all demolished private structures, 112 were located in close proximity to Israeli settlements, settler bypass roads, the Annexation Wall, or planned settlement areas. Critically, 97 structures used to provide a main source of livelihood to affected family members.
At the time of demolition, 11 private structures were under construction, while others were completed buildings. Twenty-seven (27) owners of affected structures had applied for building permits either before construction or before demolition. It is worth noting that this number of permit applications is low due to the fact that the Israeli occupying authorities do not issue building permits. Hence, Palestinians generally do not submit applications for such permits. All the more so, submitted applications did not help relevant applicants receive permits nor protect them against demolition, as they had their structures demolished as well. Forty-eight (48) owners of structures with demolition notices filed requests against the demolition of their property. However, the Israeli occupying authorities rejected these official petitions and demolished all affected structures. This indicates that recourse to the legal mechanisms, which Israel claims that Palestinians can use, does not change the Israeli policy. It demonstrates that the Israeli legal apparatus is complicit with the occupation regime.
Before their private structures had been demolished, 41 affected families were subjected to other abuses and attacks by the IOF. These violations were not necessarily related to demolitions, as the IOF demolished other structures or killed, arrested or assaulted members of these affected families. Of all demolitions, 34 structures were destroyed for at least the second time after they had been reconstructed. The owners of 82 structures reported that the Israeli occupying authorities did not allow them an opportunity to evacuate their possessions before demolitions were carried out.
Public properties: The Israeli occupying authorities demolished 13 public facilities, including 12 in Area C. The demolished properties included nine water wells, two mosques, a tent erected in solidarity with Palestinians, and a school canteen. Eight public properties were located in the areas of Yatta and Masafer Yatta.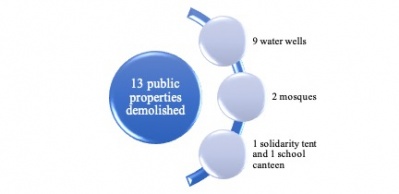 Human rights organisations lodged formal objections against demolition orders, which targeted seven public facilities. These were in vain, however. Demolitions were carried out allegedly because these structures were constructed in closed military zones or on state land. Three of the demolished structures were located on the route of the Annexation Wall and one in a planned settlement area.
Other Israeli violations[1]
The IOF and Israeli settlers committed hundreds of other violations throughout 2019. According to Al-Haq's documentation, in addition to killings and demolitions, the IOF perpetrated a total of 935 abuses, including arrests, confiscation of property, injuries, house raids and searchers, beatings and physical violence, and torture. The IOF also assailed medics, denied access permits or permits to receive medical treatment, and placed restrictions on the right to freedom of movement.
Of all other Israeli violations, Al-Haq documented 236 violations committed by Israeli settlers. Most notably, Israeli settlers attacks on Palestinian houses and pedestrians, leaving many Palestinians with injuries. They also attacked Palestinian communities, sprayed racist graffiti on walls and vehicles, and damaged wheel tyres. Israeli settlers made multiple attempts to seize control of Palestinian privately owned land, harassed and prevented Palestinians from accessing their land. Of particular note, Israeli settlers set fire to Palestinian trees and crops, cut down and uprooted trees, and stole Palestinian harvest.
A major portion of Israeli settler attacks targeted Palestinian villages in the Nablus governorate, particularly Burin, Urif, and Huwwara. Most often, these attacks were carried out by Israeli settlers from the settlement of Yitzhar. Generally, Israeli settler violence affects the protected Palestinian population in the West Bank, including East Jerusalem. Israeli settler abuses targeted as many as 60 Palestinian cities, towns and villages.
Violations by the Palestinian Authority and de facto authority in the Gaza Strip[2]
In 2019, the Palestinian Authority (PA) and de facto authority in the Gaza Strip committed many abuses. Of these, Al-Haq documented 796 violations perpetrated by Palestinian official authorities. Most prominently, compared to 135 in 2018, Al-Haq monitored 192 incidents of arbitrary detention by Palestinian authorities.
Palestinian violations featured 19 incidents of degrading and humiliating treatment. While 27 cases were reported in 2018, summons service to report to security agencies registered a disquieting rise of 61 incidents. Violations also affected the right to humane prison conditions (49); right to freedom of opinion and expression (37); unwarranted house searches and entry (49); ill treatment, torture, beatings and/or physical violence (144); failure to enforce court decisions (9); confiscation of devices (26); and censorship of media outlets or social media platforms (47). Palestinian authorities also committed another 157 violations, including confiscation of property, injuries, abuse of power, severance of pay, and damage to house contents.
Overall, compared to 2018, there was a worrying increase in the number of violations perpetrated by Palestinian authorities in 2019.
Additionally, Palestinian security agencies attacked and/or banned seven peaceful assemblies in 2019. These were as follows:
On 5 January 2019, the police dispersed a gathering for lighting of the flame of memory of the Fatah movement in the Gaza city.

Between 14 and 18 March 2019, a group of security personnel and civilian individuals attacked several demonstrations in the context of "We Want to Live" movement across the Gaza Strip.

On 21 March 2019, security agencies attacked a peaceful sit-in protest in front of the Presidential Compound (Al-Muqata'ah) in the city of Ramallah.

On 23 February 2019, the police and internal security forces assaulted a demonstration in support of President Abbas in the Jabalya refugee camp in the Gaza Strip.

On 24 February 2019, Palestinian police forces attacked a demonstration in support of President Abbas in Al-Maghazi refugee camp in the Gaza Strip.

On 4 September 2019, Palestinian joint security forces placed restrictions on a peaceful assembly organised by retired military personnel.

Over three days, 6-8 November 2019, the Gaza-based security agencies summoned Fatah activists to prevent them from organising an assembly to commemorate the anniversary of the death of late President Yasser Arafat in the Gaza Strip.
Palestinian violations of public freedoms reached a historic peak by blocking the broadcast of dozens of news sites in Palestine. In reference to the Law by Decree on Cybercrime, the Court of Conciliation of Ramallah rendered a decision on the blocking of almost 58 the electronic websites and news portals. At the request of the Attorney General, these sites were blocked, ostensibly for posting images, articles, and expressions that jeopardised "Palestinian national security and public order". The court decision was premised on the provisions of Article 39 of the Law by Decree on Cybercrime No. 10 of 2018.
The assault on the "We Want to Live" movement in the Gaza Strip was probably the most salient violation committed by security agencies of the Hamas de facto authority in Gaza. In this context, dozens of participants were beaten, arbitrarily detained, and subjected to torture and inhuman treatment. Abuses also affected human rights activists and journalists.
In 2019, LGBT community members in Palestine were also subjected to many violations. According to Al-Haq's documentation, a number of LGBT activists were placed in arbitrary detention by security agencies. In addition, the Palestinian police issued a statement against, and banned the activity of, Al Qaws for Sexual and Gender Diversity in Palestinian Society. Furthermore, the An Najah University placed restrictions on, intimidated and established councils for investigating LGBT activists.
Based on documented cases, the majority of human rights violations were committed by the Preventive Security (224), Internal Security (208), Gaza-based Police (148), General Intelligence (104), West Bank-based Police (88), Public Prosecution (36), National Security Forces (29), Military Intelligence (14), Governors (13), and joint security forces (4). Other Palestinian agencies perpetrated an additional 70 human rights abuses.