Symposium Announcement: Revisiting Allende's 1972 UN Speech: The Corporation, Apology, and Exile
Symposium Announcement: Revisiting Allende's 1972 UN Speech: The Corporation, Apology, and Exile
Symposium Announcement:
Revisiting Allende's 1972 UN Speech: The Corporation, Apology, and Exile
Date: 5 December 2022
Time: 12:00-14:00 PM EST
Mode: Online
Languages: English and Spanish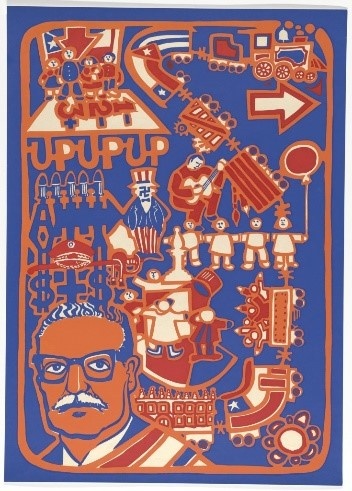 Jorge Barba, '123, U.P U.P U.P (Unidad Popular)', poster celebrating three years of Allende's government, c 1970.

When it comes to the question of Multinational Corporations, the international legal discussion has been systematically toned down to an apologetic tone. Hailing individualist presumptions and the public-private distinction, discussions are cut off from the relevant reality of corporate conduct. When we talk about the corporation and international law, the corporation is presented as an apolitical, private and national actor. These representations are far from expressing the reality of corporate conduct, and it seems that alternative representations which capture the substantial and transnational power of the corporation have been exiled from the language of international law. The demise into apology has sustained the exile of terminologies which were more expressive of the reality of corporate conduct.
This symposium is held in commemoration of the 50th anniversary of the late President Salvador Allende's Speech at the United Nations General Assembly. His monumental speech draws a portrait of corporate role in the sustenance of what can be called economic colonialisation. His speech captured the move from physical coercion to economic coercion, highlighting the insecurities caused by international law's full-fledged subscription to the public-private distinction. Furthermore, his speech also calls out on the political usage of international law, in the service of the status quo. Following his speech, there was a move towards serious engagement with the figure of the corporation evidenced in the established of the UN Centre for Transnational Corporations.
The symposium will focus on that moment in history as a source of discursive critical reflection unto our understanding of the corporate actor today. It seeks to engage with both the historical context and the potentialities of revival and reinvention of the post-colonial agenda for the corporation at the halls of international legal institutions.
This symposium is being initiated by the Al-Haq Center for Applied International Law and the Bisan Center for Research and Development but is open to endorsement by other institutions as well.
If you are interested in presenting during this symposium or would like to endorse this event, please email Wesam Ahmad: wahmad [at] alhaq [dot] org and Ubai Aboudi: ubai [at] bisan [dot] org, by 14 November 2022. The final program will be announced on 23 November 2022 with a link to registration for the event contained therein.
See this announcement in Spanish here.