Al-Haq Successfully Concludes its First Online Summer School
Al-Haq Successfully Concludes its First Online Summer School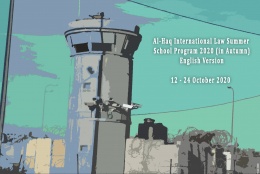 Ramallah, October 27, 2020. The Al-Haq Center for Applied International Law has concluded its 6th International Law Summer School program for 2020. The Course ran for a period of two weeks beginning October 12th and ending on October 24th. It is important to mention that this is the first summer school program designed by the Al-Haq Center to run online. This year Al-Haq has decided to run the summer school using virtual platforms due to the travel restrictions imposed by Covid-19. This has also allowed Al-Haq to include participants that in normal situations would not have had the chance to visit Palestine due to travel restrictions imposed by the Israeli Occupying Authorities.
This year's program included 27 participants from 22 countries, many of whom are legal experts and scholars in the fields of international law and human rights. In the first week, participants joined sessions on the application of international law in the OPT, an introduction to the history of the Palestinian Question, IHL, the humanitarian situation in Gaza and the internal human rights situation in Palestine, Business and Human Rights and Pillage in the Palestinian context covered by members of the Al-Haq team and external partners. Addameer presented on the status of Palestinian prisoners inside Israeli prisons while Badil presented on the status of the Palestinian refugees. Dr. Susan Akram also presented on concept of Palestinians as stateless nationals.
In the second week, participants engaged in a number of discussion on the application of the Apartheid framework on Palestine, the State of Palestine's efforts for insuring accountability for crimes committed against the Palestinian people presented by Assistant Minister for Multilateral affairs Ambassador Ammar Hijazi of MoFA, a virtual field visit on Jerusalem presented by Grassroots Al Quds, Queer realities in Palestine and the status of Palestinian women living under occupation. The second week also included presentations on the Palestinian Nakba, the historic depopulation of Palestinian villages presented by Omar Al Ghubari from Zochrot, and the rights of the Palestinian citizens of Israel presented by Mohammad Zeidan from Nazareth, a virtual field visit to Hebron conducted by Al-Haq's field researcher in Hebron. They also took part in several discussions on shrinking space and the challenges faced by human rights groups in the context of work under occupation and third state responsibilities in international law towards the Palestinian people and the constant denial of the right to self-determination by the Israeli occupying power.
Participants in the course found the program to be of great benefit, especially for Internationals interested in doing advocacy on Palestine. In particular, they enjoyed the diversity of themes covered in the program and the level of organization and structure put into the program. They also shared their interest in visiting Palestine and further expanding their cooperation with human rights groups and organizations working on the Palestinian struggle for freedom in challenging Israel's colonial policies and developments in the region.
-30-