International Law Summer School Launches Online
International Law Summer School Launches Online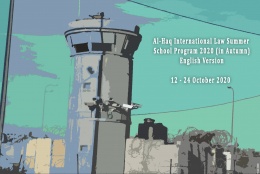 Ramallah – 13 October 2020. Al-Haq Center for Applied International Law has launched its Sixth International Law Summer School on 12 October 2020, which will run until 24 October. The summer school was originally designed to take place in June, and due to COVID-19 restrictions, it was postponed until October and is being implemented through a series of online sessions for professionals, legal researchers, post-graduates and academics in the fields of international law and human rights. In this year's online summer school course, 29 participants from 24 countries have joined the program.
Sessions in this online program are very diverse and tend to cover many topics of interest for legal and human rights workers and academics, including: the different applicable legal frameworks in Palestine; historical overview of the Palestinian struggle; the human rights situation in various communities such as Jerusalem, Hebron and the Gaza Strip; the situation of Palestinian refugees and IDPs; the internal human rights situation; business and human rights in the OPT context; international advocacy and accountability mechanisms carried out by the State of Palestine and various human rights organizations and groups; the situation of the Palestinian people living in Israel and the historic depopulation of Palestinian villages and cities.
Many of the sessions will include virtual field visits to give participants the depth needed to understand the situation of the Palestinian people and their struggle for freedom and achieving their rights. Throughout the period of the summer school program, participants will have the chance to virtually meet many human rights defenders, groups and organizations on the basis of their specialty and the work they do on the ground.