Special Focus: On Palestine Land Day, Al-Haq Highlights the Continued Nakba Through Land Registration Aimed at Mass Forcible Transfer
Special Focus: On Palestine Land Day, Al-Haq Highlights the Continued Nakba Through Land Registration Aimed at Mass Forcible Transfer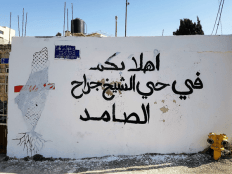 Every year since 1976, Palestinians everywhere mark Land Day on 30 March, to commemorate the killing of six Palestinians and the injuring of over 70 others by Israeli forces on 30 March 1976 during demonstrations protesting Israel's plans to appropriate thousands of dunams of land in Al-Jalil (Galilee). From Al-Jalil to Al-Naqab, Palestinians organized marches and general strikes against Israel's land appropriation and forcible displacement policies, which are central in establishing Israel's apartheid and settler colonial regime. Today, 46 years on, the same unjust and discriminatory Israeli Land appropriation policies and practices continue unabated, in a manifestation of Israel's intention to maintain its apartheid regime of racial domination and of systematic oppression over the Palestinian people as a whole. This land day, Al-Haq draws attention to Israel's new land registration measures, intended to force the mass transfer of Palestinians from their homes and lands in Jerusalem, Palestine's capital city.
Illegal annexation of Jerusalem
Despite the city of Jerusalem being accorded a special protected status under international law, Israel illegally annexed West Jerusalem in 1948, forcibly displacing and dispossessing around 60,000 Palestinians from the western part of the city and its neighbouring villages, in violation of the collective Palestinian right of self-determination and permanent sovereignty. In 1967, Israel occupied the West Bank, including East Jerusalem, and the Gaza Strip, and illegally annexed occupied East Jerusalem and the occupied Syrian Golan. Ever since, Israeli policies governing Jerusalem have sought to achieve one main goal: alteration of the character, status, and composition of Jerusalem in favour of an Israeli-Jewish demographic majority, through the forcible transfer of Palestinian residents from the city.[1]
As part of Israel's continuous plan to permanently annex Jerusalem, it unlawfully applies its discriminatory domestic land law and regulations to the occupied Palestinian territory, in violation of the most basic tenets of occupation law, prohibiting the Occupying Power from applying its domestic law to its administering of occupied territory.[2] For example, on 13 May 2018, the Israeli government passed resolution No. 3790 under the duplicitous title "reducing socio-economic disparities and economic development in East Jerusalem". Under the clause 'Planning and Registration of Land', approximately USD 15.5m will be dispensed over the course of six years (2018-2023) for land title settlement and registration of Palestinian lands located in annexed East Jerusalem.[3] On 13 May 2018, the former Israeli Minister of Justice and current Israeli Interior Minister, Ayelet Shaked, stated in reference to the resolution, "[a] day before strengthening Jerusalem through moving the American embassy to it, and after decades of Israeli sovereignty, we are de facto applying sovereignty over East Jerusalem through land registration regulations."[4]
The annexationist regulations were adopted in "light of the need to strengthen the ability of the residents of East Jerusalem to integrate into Israeli society", in manifest breach of the UN Charter provisions on territorial integrity, and in violation of Article 47 of the Fourth Geneva Convention, prohibiting the Occupying Power from annexing any part of the occupied territory. Even if Palestinians manage to prove their ownership of their properties, they will be required according to the illegal application of Israel's domestic tax regime to pay property taxes from 1967 until this day, which most Palestinians cannot afford, leading ultimately to the mass forcible transfer of the occupied population. Approximately, one third of the Palestinian houses in eastern Jerusalem lack an Israeli-issued building permit, hence, nearly one third of the Palestinian population in eastern Jerusalem, of over 100,000 Palestinian residents, are potentially at risk of being displaced, through the application of a coercive environment to force their transfer.[5]
The process, in violation of international law, has already started in several Palestinian neighborhoods in Jerusalem, including, inter alia, Beit Hanina, Sur Baher, Issawiya, Hizma, At-Tur and Sheikh Jarrah.[6]
Living in constant fear of forcible transfer – the case of Sheikh Jarrah and Silwan
Today, eight families residing in Karm Al-Ja'ouni area of Sheikh Jarrah neighbourhood, and seven families in the Batn Al-Hawa neighbourhood of Silwan are facing imminent threat of displacement. Notably, most of these families are refugees previously displaced during the Nakba of 1948. Prompted by settler organisations, Nahalat Shimon International and Ateret Cohanim, the forcible transfers of Palestinians from Karm Al-Ja'ouni and Batn Al-Hawa respectively have been facilitated by Israel's Legal and Administrative Matters Law, which exclusively allows Jews to pursue claims of ownership to properties allegedly owned by Jews before 1948, while denying Palestinians the same for properties they lost in 1948 Nakba and 1967 Naksa.[7] Critically, the application of Israel's domestic law to transfer private property rights, breaches Article 43 of the Hague Regulations (1907) requiring that the Occupying Power maintain the status quo of the laws in force in the occupied territory, and Articles 46 of the Hague Regulations governing private property, in addition to amounting to acts of forcible transfer, a war crime and grave breach of the Fourth Geneva Convention (1949).[8]
Solidarity protests against the imminent evictions and forcible transfer in Sheikh Jarrah were organized, which later sparked the Unity Intifada in May 2021, and were met with violent suppression by the Israeli Occupying Forces (IOF) and armed Israeli settlers. The attacks against the Palestinian families and other supporters included raiding and damaging houses, firing tear gas canisters, sound bombs and skunk water (a chemically enhanced type of sewage water), and arbitrary arrests.[9]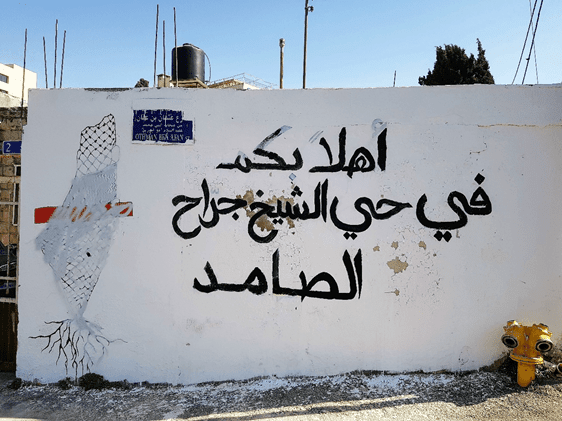 A painting on a wall in Sheikh Jarrah taken during the Unity Intifada in May 2021. It reads,
"Welcome to Sheikh Jarrah neighborhood that is still standing".
The forced displacement in Sheikh Jarrah, Silwan, as well as in other Jerusalem neighborhoods is still ongoing.[10] According to data collected by OCHA in 2020, an estimated 218 Palestinian households (comprising 970 Palestinians, 424 of whom are children) across East Jerusalem are at risk of displacement by the Israeli authorities.[11] The evictions are lawless and brutal as this particular case highlights: On 19 January 2022 in the early hours of the morning, the forcible transfer and eviction by Israeli authorities of the Al-Salhiye family in Sheikh Jarrah left them homeless, in minus two-degree weather. Family members (including children) were beaten and arrested by the IOF. The family's two adjacent properties and neighboring livelihood (a plant nursery and two storage structures) were both demolished even though the municipality had only received permission from the court to clear the property.[12] The court had been due to hear an urgent request to stop the eviction prior to the demolition.[13]
Al-Salhiye family home in Sheikh Jarrah after it had been bulldozed by the IOF. [14]
'Land-Apartheid' legislation and policies
The settler organizations rely on Israel's discriminatory land-apartheid legislation in lawsuits aimed at the eviction and permanent forcible displacement of Palestinian families, in acts amounting to war crimes and inhumane acts of apartheid, a crime against humanity. Such inherently discriminatory Israeli laws include the Israeli Land Settlement Ordinance (1969), the Absentee Property Law (1950), as well as the Legal and Administrative Matters Law (1970). The latter, for example, exclusively allows Jews to pursue claims to land and property allegedly owned by Jews in East Jerusalem before the establishment of the State of Israel in 1948. Meanwhile, Palestinian refugees and other persons displaced and exiled in the diaspora have been denied their inalienable right to return since 1948, while their lands have been appropriated and redistributed to Israeli Jews illegally transferred in to colonize the City.[15] All of these laws cement Palestinian dispossession and displacement in East Jerusalem. They form a much bigger picture of enabling Israel to maintain and expand its settler-colonial apartheid regime under the guise of legality.[16]
To the international community - speak truth to power
Israel has been enabled by the international community to continue persistently with its willful disregard for international law. A culture of impunity allows Israel to maintain its apartheid regime over the Palestinian people through policies and practices, such as the strategic fragmentation of the Palestinian people, including by denying Palestinian refugees and other persons displaced, their inalienable right to return, and the appropriation of their homes, lands, and property, coupled with the creation of a coercive environment designed to drive the ongoing transfer of Palestinians, particularly from Jerusalem, the capital of Palestine.[17]
Many diplomatic missions and consulates are housed in Sheikh Jarrah, yet even under their watch, Israel still acts with impunity to dispossess and displace Palestinians in East Jerusalem. While Third States watch on, and fail in their international responsibilities to cooperate to bring the illegal situation to an end, Israel continues to entrench its apartheid regime and settler colonization, in disregard of UN Security Council and General Assembly resolutions and the Palestinian people's inalienable rights of return and self-determination.[18] Third States must act condemn Israel's apartheid and settler colonization and work towards dismantling the discriminatory regime and ensure the realization of the inalienable right of self-determination and return of Palestinians on both side of the Green Line and in the diaspora.
---