Extrajudicial Killing of Mohammad Salima: Paradigm Needs to Be Shifted Over Israel Military's Excessive Force that Deprives Palestinians of Their Right to Life
Extrajudicial Killing of Mohammad Salima: Paradigm Needs to Be Shifted Over Israel Military's Excessive Force that Deprives Palestinians of Their Right to Life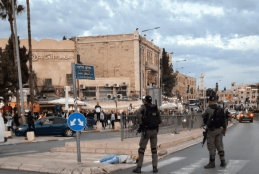 Introduction
Over the past few months, Israel, the Occupying Power has escalated its oppressive policies and practices against Palestinian residents of Jerusalem, in particular in the neighborhoods of Silwan and Sheikh Jarrah, and in the Old City.[i] Such acts have included killings, raids, arbitrary arrests, state-condoned settler violence, and house demolitions.[ii]
On 4 December 2021, at approximately 4:30 in the afternoon, Mohammad Shwkat Salima, 25, was shot at point blank range and killed by the Israeli Occupying Forces (IOF) at the traffic circle that faces Damascus Gate, one of the main gates of Jerusalem's Old City, and a major social hub for the Palestinian community.[iii] This report provides a legal analysis of Mohammad Salima's extrajudicial killing by the Israeli Occupying Forces through the lens of international law, placing it within the context of Israel's overall strategy to oppress and suppress the Palestinian people. Israel's infringements on the right to life may amount to an inhuman act of apartheid, a crime against humanity carried out in the furtherance of a widespread and systematic attack on the civilian population.
Mohammad Salima's Execution on 4 December 2021
On 4 December 2021, a white-garbed, Palestinian young man walked across a pedestrian crossing in the vicinity of Damascus Gate, one of the main entrances of Jerusalem's Old City. An ultra-Orthodox Jewish Israeli man is seen moving in his direction. The Palestinian young man suddenly turns around and punches him several times, allegedly stabbing him with a knife. He then runs towards two Israeli police officers that directly respond with live bullets. Bystander footage shows the young Palestinian man lying prone on a sidewalk, while the IOF fire several bullets on him at point-blank range.
Al-Haq documented that the IOF also suppressed the nearby crowds, firing rubber bullets at them, sound bombs and tear gas, and injuring 40 people, including 10 with rubber bullets.[1]
[Video 1]
The Palestinian man is later identified as Mohammad Salima, 25, from Salfit city, in the occupied West Bank.[iv] He was shot dead by two members of the IOF, close to Damascus Gate, Jerusalem's Old City in the occupied Palestinian territory. The two Israeli officers beat him to the ground, before shooting him to death, and leaving him to suffer on the ground. After he fell, the IOF shot him with three bullets. A third member of the IOF is seen ordering them to stop firing.
[Video 2]
According to the Palestinian Red Crescent, the IOF prevented the medical crew from attending and providing urgent care to the injured and three other Palestinians who had been lightly wounded during the confrontation with the IOF.[v]
[Video 3]
A 20-year-old Israeli man received medical care at a hospital where he was said to be in a "moderate to severe condition."[vi] His visible, but superficial neck wound did not result in any loss of consciousness and he was seen walking around the police cars after the incident.
Collective Punishment in Salfit
Following Mohammad's extrajudicial killing, a large number of Israeli soldiers raided his hometown, on 5 December 2021.[vii] They searched his house, firing tear gas and throwing stun grenades around the house, interrogated neighbors and finally arrested his brother, Ahmad Salima.[viii] The Israeli Ministry of Justice claimed to have summoned two police officers for interrogation. They were released without conditions.[ix]
Israel's border police chief allegedly supported that the IOF reaction which "resulted in the neutralization of the terrorist and preventing him from further harming fighters and civilians at the scene."[x] Israeli Prime Minister Naftali Bennett further stated that "the border police on the ground reacted very quickly to neutralize the terrorist who attempted to assassinate an Israeli citizen" and "express[ed] [his] full support," adding that "Jerusalem, our capital has unfortunately become a hotbed of terrorism."[xi]
The United Nations Human Rights Office in Palestine condemned the extrajudicial killing of Mohammad Salima, expressing that "[e]xtra-judicial killings such as this are the consequence of the regular resort to lethal force by well-armed and well-protected Israeli security personnel against Palestinians, and the almost total lack of accountability for killings and injuries of Palestinians by Israeli forces."
Israel's Extrajudicial Killings, A Gross Violation of the Right to Life
Israel, the Occupying Power, is bound by international humanitarian and human rights laws in the occupied Palestinian territory.[xii] The right to life enshrined in Article 6(1) of the International Covenant on Civil and Political Rights (ICCPR),[xiii] is considered a "supreme right from which no derogation is permitted even in situations of armed conflict and other public emergencies."[xiv] Any deprivation of life "must represent a method of last resort after other alternatives have been exhausted or deemed inadequate."[xv] Furthermore, the "threat responded to [must involve] imminent death or serious injury."[xvi] It is complemented by the United Nations Basic Principles on the Use of Force and Firearms by Law Enforcement Officials, "intentional lethal use of firearms may only be made when strictly unavoidable in order to protect life," and "when less extreme means are insufficient to achieve these objectives."[xvii]
Mohammad Salima was executed while lying on the floor, and no longer – if at all - constituting a threat to life or serious injury of the fully-armed occupying forces. While completely incapacitated and defenseless, he was shot with lethal force, and without prior warning before the IOF resorted to live fire. Although Israel is permitted to "take all necessary measures intended to prevent arbitrary deprivations of life by their law enforcement officials, including soldiers charged with law enforcement missions,[xviii] Mohammad Salima's extrajudicial killing clearly represents the latest expression of Israel's shoot to kill policy.[xix]
As per Article 6(1) of the ICCPR, Israel must investigate into and prosecute any arbitrary deprivation of life.[xx] Such investigation "must always be independent, impartial, prompt, thorough, effective, credible and transparent."[xxi] Five days after the execution, the Israeli Police's investigation department closed its investigation into two police officers and confirmed their self-defense claimed, then justifying its fatal shooting.[xxii] Such expeditious, partial and oriented investigation would not seriously and convincingly pass the threshold prescribed under Article 6(1). It comes to reinforce and confirm claims made by human rights organizations that Israel's investigations into extrajudicial executions and excessive use of force constitute a whitewashing mechanism to legitimize its shoot to kill policy.[xxiii]
Conclusion: Extrajudicial Killings Are Acts of Israel's Apartheid Regime
Since its inception in 1948, Israel has imposed an ever-increasing coercive environment over Jerusalem and its indigenous Palestinian residents in order to gradually forcibly transfer the Palestinian people and entrench its colonial annexation of their lands. Israel's domination over Jerusalem has taken the shape of a series of coercive laws, policies and practices including aimed at consolidating annexation, dispossession, displacement and appropriation.[xxiv]
Israel's systemic and systematic resort to lethal force against Palestinians is to be framed within the broader context of its institutionalized apartheid regime of systematic racial oppression and domination over the Palestinian people, as enshrined under Article 7(2)(h) of the Rome Statute of the International Criminal Court, and the 1973 Apartheid Convention.[xxv] Mohammad Salima was not 'neutralized' but extrajudicially executed following the Israeli Occupying Forces' excessive use of force, an act that may also amount to an inhumane act of apartheid.
In light of the above, Al-Haq calls on the international community, civil society organizations, states and governments to:
Recognize and condemn Israel's policies and practices against the Palestinian people, including extrajudicial killings, as amounting to unlawful acts of apartheid aimed at entrenching colonization;

Act promptly and exert its good offices to pressure Israel into immediately cease its criminal acts in the OPT, and provide protection to the Palestinian people, especially residents of Jerusalem;

Call on the International Criminal Court to examine the incident as part of Israel's systemic policy of extrajudicial killings intended to subdue the Palestinian people as a whole.
---
[1] Al-Haq Field Report, 6 December 2021.
---