Urgent Appeal to Safeguard Palestinian Prisoners' Rights against Collective Punishment by the Israeli Prison Services
Urgent Appeal to Safeguard Palestinian Prisoners' Rights against Collective Punishment by the Israeli Prison Services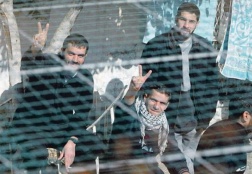 On Saturday 11 September, Al-Haq and partners submitted an urgent appeal to the UN special procedures calling for their urgent intervention to protect the lives of Palestinian prisoner escapees. On the evening of Friday 10 September, the Israeli occupation forces (IOF) captured two of the six Palestinian prisoners' escapees from Gilboa Prison on Monday 6 September, Yacoub Qadri, 49 years old, and Mahmoud Abdullah Al-Aridah, 46 years old, in Al-Qafzeh Mountain, Nazareth city, and earlier this morning, Zakaria Zubeidi, 46 years old, and Mohammad Qasem Al-Aridah, 39 years old, were also captured near Al-Tur Mountain near Om Al-Ghanam village.
Our organizations stress our grave concern for the lives of the captured Palestinian prisoners who are now at imminent risk of torture and ill-treatment following their capture, especially given past documented Shabak torture practices, inflicting intentional severe pain and suffering. Further, our organizations remain deeply concerned at the use of collective punishment measures orchestrated by the Israeli authorities against all Palestinian prisoners under Israel's effective control, as a reprisal for the six escapees.
Despite the entrenched and absolute prohibition of torture under Article 5 of the Universal Declaration of Human Rights, Article 2(2) of the Convention against Torture, which Israel ratified on 3 October 1991, and Article 32 of the Fourth Geneva Convention, the Israeli apartheid regime systematically through its policies and practices places detainees under severe physical and psychological ill treatment and degrading punishment. This includes forcing the detainees into torture stress positions for prolonged hours, beatings, physical assault, and sleep deprivation, which often leads to the detainees' collapse. These acts amount to war crimes and grave breaches under the Geneva Conventions, acts for which there is universal jurisdiction, and which are prosecutable at the International Criminal Court.
Our organizations remind that the institution of a series of collective, punitive, retaliatory, and arbitrary measures by Israeli occupation authorities against Palestinian political prisoners—comprising over 4,700 Palestinian prisoners—arbitrarily held in Israeli prisons, as well as the targeting of the protected Palestinian civilian population residing in the occupied Palestinian territory, amounts to collective punishment, which is absolutely prohibited under Article 50 of Hague Regulations and Article 33 of the Fourth Geneva Convention. In particular, our organizations condemn the widespread and systematic mass arrest and illegal imprisonment of the Palestinian population, as inhumane acts of apartheid, acts amounting to crimes against humanity.
We call on the international community to urgently intervene to protect the lives and health of the Palestinian prisoners, further reminding third States of their obligations to ensure the prohibition of torture as a jus cogens norm of international law, and to cooperate to bring the illegal situation to an end.
Please find urgent appeal attached here