Al-Haq Publishes Updated Q&A on the Situation in the State of Palestine at the International Criminal Court
Al-Haq Publishes Updated Q&A on the Situation in the State of Palestine at the International Criminal Court
Download file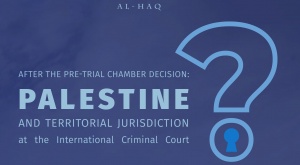 On 13 March 2021, Al-Haq published its Q&A, titled After the Pre-Trial Chamber Decision: Palestine and Territorial Jurisdiction at the International Criminal Court, an accessible but comprehensive introduction to the 'Situation in the State of Palestine' before the International Criminal Court.
An updated version of an earlier publication, this Q&A provides an overview into recent developments at the ICC in light of the Pre-Trial Chamber's recent ruling that the Court has full territorial jurisdiction over the West Bank, including East Jerusalem, and the Gaza Strip, and the Office of the Prosecutor's subsequent opening of a criminal investigation into all international crimes committed in the Occupied Palestinian Territory.
Al-Haq presents this updated Q&A to provide a digestible but rigorous understanding of the working of the Court in the Palestine context, focusing on Pre-Trial Chamber I's February 2021 decision on territorial jurisdiction.