15 May 2018: Wilful Killing of Two Palestinians, including a Child, and Injury of 78 in Nakba Day Protests in the Gaza Strip
15 May 2018: Wilful Killing of Two Palestinians, including a Child, and Injury of 78 in Nakba Day Protests in the Gaza Strip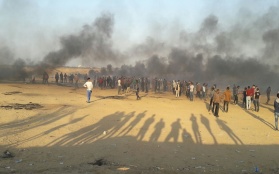 Protesters began arriving to the eastern areas in the afternoon hours, increasing in numbers after 3:00 pm and gathering around the return camp tents set up since 30 March 2018. Hundreds of Palestinians gathered, including children, women, and the elderly. They waved Palestinian flags and chanted national slogans. The IOF were positioned behind the fence, on sand hills elevated above ground level, as per their usual practice, and in military jeeps at distances varying from 30 to 60 metres beyond the main fence, opposite each of the five protest locations in the Gaza Strip. The IOF shot live and rubber bullets, and fired gas canisters directly at the protesters, resulting in the killing of two Palstinians including a child in protests east of Al-Breij.
At around 4:30 pm on Tuesday, 15 May 2018, the IOF shot and killed Nasser Ahmad Mahmoud Ghurab, 51, a resident of Nusseirat area in the Central Governorate, with a live bullet in the chest, east of Al-Breij camp. At around 7:00 pm the IOF further shot and killed Bilal Badir Hussein Al-Ashram, 17, also a resident of Nusseirat, during the same protest east of Al-Breij. Bilal was also shot by two live bullets, one in the chest and the other in the right leg. Both of them were located some 100-200 metres from the fence when they were targeted, shot, and killed by the IOF.
Overall, the IOF injured 78 Palestinians during protests across the Gaza Strip, including 41 by live ammunition. Amongst the injured were seven children, two paramedics, and a journalist. The IOF again used drones to drop tear gas canisters on crowds of protesters and in the return camp areas, leading to tens of injuries as a result of exposure to gas, including cases of fainting, as previously documented, which were treated in the field. In addition, the IOF arrested four Palestinian youths as they attempted to cross the fence in the eastern Gaza Governorate, and took them to an unknown location.
Al-Haq reiterates its utmost condemnation of the IOF's excessive use of force, including lethal force, and premeditated targeting of peaceful Palestinian protesters, including children. Al-Haq calls for an end to the unlawful closure of the Gaza Strip, which amounts to collective punishment in violation of international law, and for the realisation of Palestinian refugees' right of return, 70 years since their forcible expulsion in and around 1948.