The Palestinian President Meets with Representatives of the Palestinian Civil Society Organizations and Affirms Support against Israeli Attacks
The Palestinian President Meets with Representatives of the Palestinian Civil Society Organizations and Affirms Support against Israeli Attacks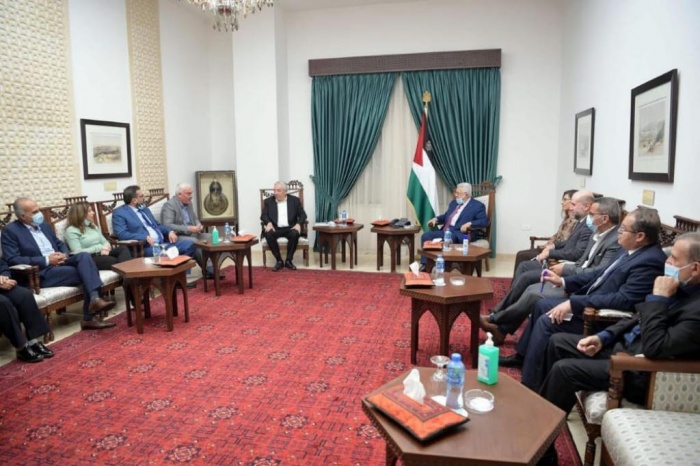 On Monday, 25 October 2021, the Palestinian President held a meeting with the representatives of the civil society organizations that were designated by the Israeli Ministry of "Defense" as "terrorist organizations". The meeting aimed at discussing the practical steps that should be taken at both the national and international levels to address this systematic attack by the Israeli settler colonial occupation and its practices against the Palestinian people, including Palestinian NGOs and human rights organizations.
The president has clearly refused and condemned this designation of the six Palestinian NGOs and confirmed that the Palestinian Authority supports these national organizations that work to expose the occupation's crimes to the world. He also added that there will be an official Palestinian response on the international level against this decision.
Furthermore, the president stressed that Israel has no right to intervene in the work of these organizations as they operate in accordance with the Palestinian law, emphasizing the need to intensify the Palestinian efforts to face this challenge imposed by the Israeli occupation.
Similarly, the Palestinian organizations participating in the meeting emphasized that this decision comes in a series of institutionalized practices aiming at smearing Palestinian human rights NGOs and human rights defenders, silencing them on the international level and draining their work in monitoring and documenting of the Israeli violations against Palestinians. Despite all the measures taken against them in violation of international humanitarian and human rights law, the organizations stated that they will continue their work in protecting and promoting the inalienable rights of Palestinians including their right to self- determination, and holding accountable all Israeli war criminals.
Representatives of Al-Haq Law in the Service of Man (Al-Haq), Addameer Prisoner Support and Human Rights Association, Defense for Children International-Palestine (DCI-P), the Union of Agricultural Work Committees (UAWC), and the Union of Palestinian Women's Committees (UPWC) have attended the meeting.