Israel's Destructive Attacks in the West Bank
Israel's Destructive Attacks in the West Bank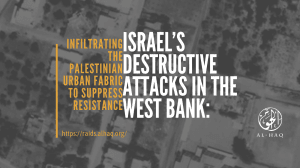 ISRAEL'S DESTRUCTIVE ATTACKS IN THE OCCUPIED WEST BANK: Infiltrating the Palestinian Urban Fabric to Suppress Resistance
Launch platform here.
Less than a week after the most recent Israeli attack on Nablus on May 4 2023 and with the support of Forensic Architecture in London, Al-Haq has launched an interactive urban narrative that studies and analyzes two deadly Israeli attacks on Jenin and Nablus in January and February of this year.
By geo-locating and plotting original and exclusive footage collected by Al-Haq from Jenin and Nablus within hours of the raids, this interactive platform shows how the Israeli Occupying Forces [IOF] repeatedly used undercover soldiers in civilian disguise to infiltrate the urban fabric of Palestinian cities and refugee camps. Our findings reveal how the familial layout of raided homes is rearranged by the IOF, effectively turning them into a military concealment base and risking the lives of families inside. This destructive practice by the IOF is followed by the full encirclement of the building under attack, with the launching of anti-structure missiles inflicting extensive damage to civilian areas.
Moreover, the interactive investigation documents how the IOF utilises a tactic known as the pressure cooker procedure. This extrajudicial execution method involves progressively escalating the use of force against a targeted structure, in an attempt to compel any individuals inside to surrender. If they fail to do so, the IOF may ultimately demolish the building, resulting in the killing of all those present.
Our analysis reveals that the distribution of Israeli military vehicles is intended to obstruct all access to the area attacked, while other vehicles suppress protesters. The positioning of Israeli military vehicles, therefore, creates a blockade that prevents access to or exit from the area attacked.
Background
Since early 2022, Israel has intensified its military raids and attacks, and campaign of mass arrests, and has increased its utilization of its shoot-to-kill policy, and collective punishment practices against Palestinians in the occupied West Bank, including the eastern part of annexed Jerusalem, with the intention of suppressing the growing Palestinian resistance, particularly in the Governorates of Jenin and Nablus.
Israel's recurring raids on Palestinian cities, which are an almost daily reality, have severely escalated and intensified since the start of 2022. Throughout that year, 192 Palestinians, including 44 children were killed by the IOF and Israeli settlers throughout the occupied Palestinian territory.
These attacks are widespread and part of a pattern of collective punishment designed to suppress any form of resistance to Israel's settler-colonial and apartheid regime.

This investigation is the third major project conducted by Al-Haq's newly established Forensic Architecture Investigation Unit (FAI Unit). The first of its kind in the Middle East, the FAI Unit employs Forensic Architecture's established methodologies and techniques for monitoring and documenting violations against Palestinians for the purposes of legal accountability and public advocacy. In so doing, the FAI Unit aims to produce a new generation of visual investigations led by Palestinian practitioners.
For more information please contact: [email protected]