Irish Centre for Human Rights confers Al-Haq's General Director Distinguished Graduate Award
Irish Centre for Human Rights confers Al-Haq's General Director Distinguished Graduate Award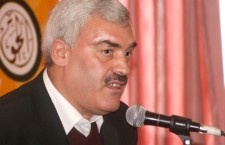 Upon accepting the award, Shawan delivered a speech thanking the Centre for such an important recognition. Sadly, he could not attend the ceremony and was forced to accept the award via video link as Israeli authorities prevented him from leaving the West Bank on account of a travel ban that has been imposed upon him since 2006.
Despite the expected unfounded comments made by the Israeli Embassy in Dublin, the award and the prevention of Shawan's travel garnered significant attention in Ireland. Officials of the Irish government intervened with the Israeli authorities asking for the travel ban to be lifted and the media reported on Shawan's case. Al-Haq highly appreciates the constant support demonstrated by the Irish government and the Irish people.
Through the years, Al-Haq has developed a solid relationship with the Centre, having staff members study at the Centre and interns as well as researchers coming to work for Al-Haq upon completion of their studies. Al-Haq is honoured of its relationship with the Centre and praises its determination in selecting Shawan as its distinguished graduate among the hundreds of exceptional graduates it has produced over the past 10 years despite the pressure against such a recognition.
Al-Haq congratulates the Centre for its 10th anniversary and encourages its continued efforts in promoting knowledge and respect for human rights.

- Ends -
---
Some of the articles published by Irish media: