Human rights organisations call on Israel to lift travel ban on Shawan Jabarin
Human rights organisations call on Israel to lift travel ban on Shawan Jabarin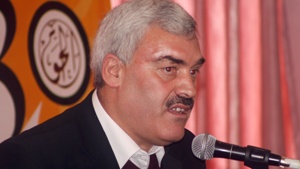 Israeli authorities violated Jabarin's due process rights in imposing the ban and have not produced any evidence that would justify continuing to restrict him from travel, the groups said.
The ban has prevented Jabarin from leaving the West Bank to receive a prestigious human rights prize from the Danish PL Foundation, participate in a European Union forum on human rights, and attend a Human Rights Watch advisory committee meeting in New York City. Jabarin attempted to travel yesterday, but told the rights groups that Israeli authorities turned him back at the Allenby Bridge crossing with Jordan, citing the travel ban.
"The ban preventing Shawan Jabarin from traveling abroad to receive an award is emblematic of the arbitrary restrictions placed on Palestinian human rights defenders and civil society activists," said Philip Luther, Amnesty International's interim MENA Programme Director. "It must be lifted, and the Israeli authorities must stop using unspecified security concerns to obstruct the work of Palestinian human rights activists."
Israel, which controls all border crossings between the West Bank and Israel as well as Jordan, has prohibited Jabarin from traveling outside the West Bank since 2006, when he became director of Al-Haq, a leading human rights organization in the West Bank. Israel had allowed Jabarin to travel abroad eight times in the previous seven years.
The Israeli military previously claimed in court that Jabarin was an activist in the Popular Front for the Liberation of Palestine, which Israel considers a terrorist organization, and that his travel abroad for even a limited period would endanger Israel's security. However, Israeli authorities have not charged Jabarin with any crime or given him an opportunity to confront the allegations against him. The Israeli High Court of Justice has upheld Jabarin's travel ban on security grounds, but did so based on secret information that Jabarin and his lawyer were not allowed to see or challenge.
"It is hard to believe any claim that Jabarin's travel to Denmark to receive a human rights award would harm Israeli security, the more so when any evidence is kept secret," said Sarah Leah Whitson, Middle East director at Human Rights Watch. "While civil society groups recognize Jabarin's courageous work, Israel is punishing him with a travel ban."
Under Jabarin's leadership, Al-Haq has frequently criticized rights violations by Israel and the Palestinian Authority (PA). Jabarin, for instance, last year confronted PA officials over allegations of torture on an Al Jazeera broadcast.
The Danish PL Foundation awarded its 2011 Prize for Freedom jointly to Al-Haq and the Israeli rights group B'Tselem. The Foundation was established in 1984 by Poul Lauritzen, a Danish businessman and member of the Danish resistance during World War II. Previous recipients of the foundation's annual prize include a Turkish playwright, Polish Solidarity members, and human rights activist Moncef Marzouki, currently the interim president of Tunisia.
"I deeply regret that at this important occasion, held in appreciation of the struggle for human rights, I will stand without Shawan at my side," said Jessica Montell, executive director of B'Tselem. "Shawan's absence is an example of the ongoing severe violation of the freedom of movement of hundreds of thousands of Palestinians."
In 2010, Al-Haq and B'Tselem were also jointly awarded the Geuzen Medal, an annual human rights prize given by a Dutch group that had resisted the Nazi occupation in World War II. Israel barred Jabarin from traveling to the Netherlands to receive the award.
The PL Foundation prize ceremony will be held in Copenhagen on November 29. Nina Atallah, the head of Al-Haq's monitoring and documentation department, will try to travel to the prize ceremony.
Human Rights Watch will host a meeting of its Middle East and North Africa Division's advisory committee, of which Jabarin is a member, in New York City on December 6 to discuss the organization's work in the region. The advisory committee is comprised of independent human rights activists, legal scholars, journalists, and others from around the region.
On December 8 the EU-NGO Forum on Human Rights will convene EU states, institutions, and nongovernmental groups in Brussels. According to the invitation Jabarin received, the forum, organized by the European Commission and the European External Action Service, will discuss the implementation of the EU's guidelines on international humanitarian law and its human rights strategy.
Article 12 of the International Convention on Civil and Political Rights, which the International Court of Justice and other legal bodies have determined applies to the occupied Palestinian territories, states that everyone shall be free to leave any country, including his or her own.