Al-Haq condemns Israeli raids against Palestinian organisations in Ramallah
Al-Haq condemns Israeli raids against Palestinian organisations in Ramallah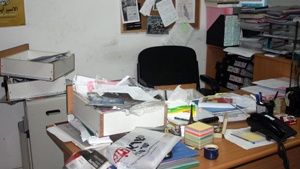 The offices of Addameer Prisoner Support and Human Rights, the Union of Palestinian Women's Committee (UPWC) and the Palestinian NGO Network were broken into by Israeli soldiers who destroyed furniture and office appliances and ransacked filing cabinets, leaving documents and files scattered. From an initial estimation of the damage, Addameer found that, along with some documents, at least four laptops, one hard disk and a video camera have been confiscated. From the offices of UPWC seven laptops, three hard disks, the main server, two memory cards, some documents and 3,000 NIS (approximately 790 USD) have been seized.
Al-Haq strongly condemns the attacks against Palestinian civil society organisations at the hands of the Israeli armed forces as they constitute a violation of the right of freedom of association and expression, which Israel, as the Occupying Power in the OPT, must respect. These recent raids also constitute a form of intimidation and threat against Palestinian human rights defenders who tirelessly work to promote the rights of the occupied population, including those arbitrarily deprived of their freedom. It is worth recalling that one of Addameer's employees, Ayman Nasser, was arrested on 15 October 2012 and is currently detained in solitary confinement accused of encouraging the support and solidarity of Palestinian prisoners in Israeli jails, participating in the annual Palestinian Prisoners Day on 17 April and in solidarity activities during the prisoners' hunger strikes.
While expressing its solidarity and support to the victims of Israeli raids, Al-Haq also calls on the diplomatic community, in particular on State donors of the attacked organisations, to demand that Israel explains the reasons of these assaults against human rights defenders and to immediately return the material and appliances confiscated. Israel must also provide reparation for the damage caused during the raids.
- Ends -