Al-Haq Presents on Ireland's Control of Economic Activities (Occupied Territories) Bill, 2018, to Prohibit the Import of Settlement Products and Services to Ireland and Urges Support of all Parties on 28 November
Al-Haq Presents on Ireland's Control of Economic Activities (Occupied Territories) Bill, 2018, to Prohibit the Import of Settlement Products and Services to Ireland and Urges Support of all Parties on 28 November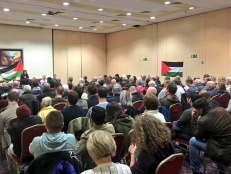 Niall Collins, presented a compelling account of his tour into Israeli residential and industrial settlements, where he saw first hand the presence of international corporations on land appropriated from Palestinians. He conveyed the impacts of Israel's discriminatory planning and zoning regime, recalling the stark contrast between highly developed Israeli city settlements such as Ma'ale Adumim and the obvious discrimination towards Palestinian residents in neighboring Abu Nuwwar, who are denied the most basic services. Collins recounted his visit to Hebron with Breaking the Silence and the ongoing colonization he witnessed there. Importantly, Collins reiterated Fianna Fáil party support for the Control of Economic Activities in Occupied Territories Bill, 2018 as it moves into committee stage for vote in the Irish Senate. Paul Gavan, TD emphasized that his party, Sinn Féin would also continue to support the Bill.
Senator Frances Black delivered a grave account of her visit to the Gaza Strip. She relayed how she was shocked at the devastating conditions brought about by Israel's forced de-development and military siege, amounting to collective punishment of the people of Gaza. She noted that every aspect of life in Gaza is crippled by Israel - the economy, healthcare, sanitation, electricity infrastructure, gravely impacting the mental and physical health of 2 million residents in the Gaza Strip.
Conor O'Neill explained that the Bill would apply to all settlements in occupied territories, underscoring the broad application of the Bill to other conflict affected areas. He further highlighted that the Bill is consistent with Irish law, which prohibits the appropriation of property, destruction of property and forcible transfer as crimes under the International Criminal Court Act, 2006 and the Geneva Conventions Act, 1962. Gerry Liston outlined that the legislation "would restrict the import and sale of goods produced in such settlements, Irish involvement in the provision of services in such settlements, and the extraction of resources from occupied territories without the consent of the legitimate authority of that territory".Susan Power elaborated on the impact of 70 years of continuing Nakba and 51 years of occupation, and the failure of the international community to intervene to prevent grave breaches of international law, including the forcible transfer of the protected Palestinian population, and erasure of Palestinian presence. As Palestine becomes more fragmented by increasingly aggressive settlement expansion, Al-Haq urges full support of all Senators for the Control of Economic Activities in Occupied Territories Bill on 28 November 2018.
[1] Teachta Dála (Member of the Irish Parliament)