Al-Haq Thanks Irish Senators for Voting in Solidarity with the Palestinian People and Urges Continued Support for the Occupied Territories Bill, 2018
Al-Haq Thanks Irish Senators for Voting in Solidarity with the Palestinian People and Urges Continued Support for the Occupied Territories Bill, 2018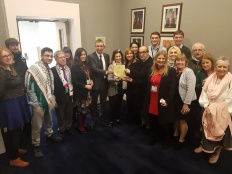 The Occupied Territories Bill represents a historic first step in national legislatures differentiating between and prohibiting the import of unlawful settlement goods and services into Ireland. The Bill builds on normative regional and international practice in this regard. In 2014, the UN Working Group on the Issue of Human Rights and Transnational Corporations advised that companies consider terminating their business operations in areas with settlements, where there is a heightened risk of negative human rights impacts.[1] Following this, in 2015, the EU decided, "to ban dairy and other products of animal origin produced in Israeli settlements in the West Bank, including East Jerusalem, and in the occupied Syrian Golan".[2]
Critically, in 2016, the United Nations (UN) Security Council in resolution 2334 (2016), called on "all States … to distinguish, in their relevant dealings, between the territory of the State of Israel and the territories occupied since 1967." Significantly, the UN Guiding Principles on Business and Human Rights (UNGPs) further obligates States as a foundational principle of law to, "protect against human rights abuse within their territory and/or jurisdiction by third parties, including business enterprises. This requires taking appropriate steps to prevent, investigate, punish and redress such abuse through effective policies, legislation, regulations and adjudication".[3]
Al-Haq wishes to extend its sincere appreciation to Senator Frances Black and Senator Alice Mary Higgins, the Seanad CEG, the Fianna Fáil party, in particular, Micheál Martin, TD, Niall Collins, TD, and Billy Kelleher, TD, in addition to the Labour party, in particular Senator Ivana Bacik, the Sinn Féin party, including Paul Gavan, TD, the Green party, including Senator Grace O'Sullivan and independent Senators who voted in favour of the Occupied Territories Bill, including Senator Colette Kelleher, Senator Gerard Craughwell and Senator David Norris. Finally, Al-Haq urges continued support for the Bill as it continues through the Committee stages in the Seanad and to the Dáil.
[1] A/HRC/28/43, (12 January 2014) para. 22, available at: https://documents-dds-ny.un.org/doc/UNDOC/GEN/G15/003/10/PDF/G1500310.pdf?OpenElement
[2] UN Human Rights Council, Report of the Secretary-General, Israeli Settlements in the Occupied Palestinian Territory, including East Jerusalem, and in the Occupied Syrian Golan, 9 March 2015, UN Doc. A/HRC/28/44, para. 15; see also European Parliament, Parliamentary questions, "EU ban on imports of dairy products and other products of animal origin from Israeli agri-food businesses in the occupied territories", 14 October 2014, available at: http://www.europarl.europa.eu/doceo/document/E-8-2014-007918_EN.html?redirect.
[3] Principle 13 of the UNGPs requires corporations to take all necessary measures to ensure that they do not cause or contribute to adverse human rights impacts in conflict-affected areas. See: https://www.ohchr.org/Documents/Publications/GuidingPrinciplesBusinessHR_EN.pdf.