UN HIGH COMMISSIONER MUST RELEASE DATABASE ON COMPANIES INVOLVED IN ISRAELI SETTLEMENTS
UN HIGH COMMISSIONER MUST RELEASE DATABASE ON COMPANIES INVOLVED IN ISRAELI SETTLEMENTS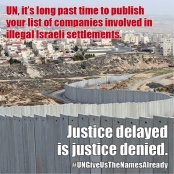 In 2016, the UN Human Rights Council voted in favour of establishing a database of companies involved in business activities with Israeli settlements in the Occupied Palestinian Territory (OPT). Israeli settlements are illegal under international law; a database of businesses with activities or relationships in settlements would provide transparency for States, businesses, and the public, and can be used to ensure that companies are not complicit in human rights violations and grave breaches of international humanitarian law.
Almost three years since the resolution calling for the Database, the UN has yet to publish the result of its work; this is reportedly due to political pressure from Israel, the United States and some European states. On 4 March 2019, the High Commissioner issued a letter stating that "further consideration is necessary" to fulfil the mandate, and that her Office will continue to finalize the "mandate in the coming months."
These delays allow international and Israeli businesses to continue to exploit Palestinian natural resources, and contribute to and profit from Israel's impunity for its expanding colonial settlement enterprise and human rights violations.
Join our action alert.
Together we can end corporate complicity in international crimes in the OPT.
#UNGiveUsTheNamesAlready
Use the sample tweets and meme below with the following hashtags: #UNGiveUsTheNamesAlready, #StandUp4HumanRights and #BizHumanRights
.@MBachelet @UNHumanRights: Each delay in publishing the database of companies profiting from Israel's illegal settlements entrenches corporate involvement in systematic human rights abuses & war crimes. #UNGiveUsTheNamesAlready (Click to Tweet)
.@MBachelet @UNHumanRights: In order to #StandUp4HumanRights we must end corporate complicity. Civil society and states need to know which companies are profiting from Israeli war crimes & prolonged occupation. #UNGiveUstheNamesAlready (Click to Tweet)
It has been three years since @UNHumanRights committed to publishing a list of companies profiting from Israeli war crimes. Enough is enough. Palestinian civil society calls on the UN to #StandUp4HumanRights @MBachelet We demand: #UNGiveUsTheNamesAlready (Click to Tweet)
The @UNHumanRights must live up to its commitments and publish the list of companies operating in settlements. By not doing so it is setting a precedent of capitulating to state pressure and failing to protect Palestinian human rights. #UNGiveUsTheNamesAlready (Click to Tweet)
.@UNHumanRights: Your three-year delay has allowed companies to continue to profit from a situation of prolonged occupation and injustice, while avoiding accountability for complicity in violations & war crimes. #UNGiveUsTheNamesAlready of companies profiting from Israel's illegal settlements. (Click to Tweet)
You can also:
Make a banner with the hashtag #UNGiveUsTheNamesAlready;
Take a photo of yourself or your group holding the sign;
Post the photo on social media using the hashtag #UNGiveUsTheNamesAlready tagging @MBachelet and @UNHumanRights
For further information on the UN database of companies engaged in activities related to Israeli settlements: