Al-Haq Honors the work of UN Special Rapporteur on the Occupied Palestinian Territory as the term of his Mandate Comes to an End
Al-Haq Honors the work of UN Special Rapporteur on the Occupied Palestinian Territory as the term of his Mandate Comes to an End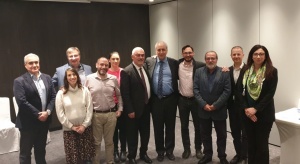 On 25 March 2022, Al-Haq held a celebratory event in Geneva honoring the work of professor Michael Lynk, as the term of his six-year mandate (2016-2022) as the UN Special Rapporteur on the situation of human rights in the Palestinian Territory Occupied since 1967 comes to an end, celebrating his courage, professionalism and commitment to the true spirit of the law in defending and advancing the rights of the Palestinian people. The event included representatives from international, regional and Palestinian civil society organizations, and the Palestinian mission to the United Nations Office in Geneva.
During the event, Professor Lynk was presented with a collection of Palestinian products from several Palestinian cities and towns, including from Hebron, Ramallah, Jerusalem, Nablus, as well as a produce of the village of Iqrith depopulated in the Nakba and destroyed on Christmas Eve in 1951. The event also presented professor Lynk with a video of a compilation of messages recorded by the staff of several Palestinian and regional organizations, who have worked closely with Professor Lynk throughout his mandate, including a video recording from Al-Haq's staff and co-founder advocate Raja Shehadeh.
The event took place during the convening of the UN Human Rights Council 49th session in Geneva, during which Special Rapporteur Lynk presented his report concluding that the Israeli authorities are committing the crime of apartheid in the occupied Palestinian territory.