Letter to Prosecutor Bensouda Re: Situation in Palestine: Sheikh Jarrah – Communication from Legal Scholars & Advocates
Letter to Prosecutor Bensouda Re: Situation in Palestine: Sheikh Jarrah – Communication from Legal Scholars & Advocates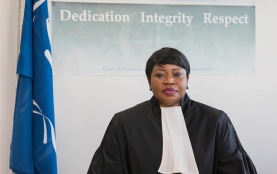 Ms. Fatou Bensouda,
Prosecutor
Office of the Prosecutor International Criminal Court
Oude Waalsdorperweg 10
The Hague,
The Netherlands
11 May 2021
Re: Situation in Palestine: Sheikh Jarrah – Communication from Legal Scholars & Advocates
Dear Prosecutor Bensouda,
The world is watching as a war crime unfolds in front of our very eyes, and as those who are entrusted with the upkeep of international law take no meaningful action.
Palestinian families are being forcibly transferred from their homes in Sheikh Jarrah, East Jerusalem and their property appropriated by Jewish settlers with the full support and backing of the Israeli State, its judiciary and armed forces. Israel has unlawfully annexed East Jerusalem into its jurisdiction and works systematically to drive the Palestinian residents out of the area. What is now occurring is the latest in a series of gross injustices that together may be construed as a continuation of the Nakba of 1948, and the Naksa of 1967, rendering millions of Palestinian people refugees. For many of the families now being forcibly transferred from Sheikh Jarrah, this is their second and third forced displacement.
The international community has an obligation to uphold the law, and to protect refugees and displaced people, and communities living under military occupation. The Office of the Prosecutor of the ICC now plays an important role in this process.
Therefore, we call on you to use all means at your disposal to put an end to this crime: to publicly condemn these forced evictions and put the Israeli authorities and the perpetrators on notice that they may be investigated and prosecuted, to forestall any further displacement of the Palestinian residents of East Jerusalem and to ensure a process of restoration of their land and homes. We add our voices to those of the 500 Palestinian residents of Sheikh Jarrah and the 191 supporting organisations who wrote to you on 22 April 2021. We call on you to urgently investigate this case within the overall investigation into related war crimes and crimes against humanity in Palestine, including forcible transfer, unlawful appropriation of property, crimes of apartheid, and other inhumane acts arising from these forced evictions.
Yours sincerely,
Suzanne Adely, President-Elect, National Lawyers Guild, United States
Yasmine Ahmed, UK Director, Human Rights Watch, United Kingdom
Dania Majid, President, Arab Canadian Lawyers Association, Canada
Raji Sourani, Director, Palestinian Centre for Human Rights, Palestine
Dr. Susan Power, Head of Legal Research and Advocacy, Al-Haq, Palestine
Rebecca Riddell, Co-Director, Human Rights & Privatization Project, New York University School of Law, United States
Dr Gearóid Ó Cuinn, Director, Global Legal Action Network, United Kingdom
Aonghus Kelly, Executive Director, Irish Rule of Law International, Ireland
Prof. Em. Eric David, Université Libre de Bruxelles, Belgium
Prof. Em. George Bisharat, University of California Hastings College of the Law, United States
Prof. Em. Jan Pronk, International Institute of Social Studies, The Hague, the Netherlands
Prof. Em. John Dugard, Leiden University; former UN Special Rapporteur on Human Rights in Palestine
Prof. Em. Paul De Waart, VU Amsterdam, the Netherlands
Prof. Em. Richard Falk, Princeton University; former UN Special Rapporteur on Human Rights in Palestine
Prof. Alessandro Tesauro, Dipartimento di Giurisprudenza di Palermo, Italy
Prof. Antony Anghie, National University of Singapore & University of Utah, United States
Prof. Aslı Bâli, UCLA School of Law, United States
Prof. Babe Howell, CUNY School of Law, United States
Prof. Bill Bowring, Birkbeck College, University of London, United Kingdom
Prof. Carmen Huertas-Noble, CUNY School of Law, United States
Prof. Chantal Meloni, University of Milan, Italy
Prof. Colin Harvey, Queen's University Belfast, United Kingdom
Prof. Cyra Akila Choudhury, Florida International University, United States
Prof. E. Tendayi Achiume, UCLA School of Law, United States
Prof. Eyal Weizman, Goldsmiths, University of London, United Kingdom
Prof. Faisal Bhabha, Osgoode Hall Law School, York University, Canada
Prof. Geertrui Van Overwalle, University of Leuven, Belgium
Prof. Kathleen Cavanaugh, University of Chicago, United States
Prof. Laurens Jan Brinkhorst, Former Vice-Prime Minister of the Netherlands, the Netherlands
Prof. Lisa Hajjar, University of California - Santa Barbara, United States
Prof. Louise Mallinder, Queen's University Belfast, United Kingdom
Prof. Lynn Welchman, SOAS University of London, United Kingdom
Prof. Mandy Turner, University of Manchester, United Kingdom
Prof. Marco Brigaglia, Università degli Studi di Palermo, Italy
Prof. Neve Gordon, School of Law, Queen Mary University of London, United Kingdom
Prof. Obiora Okafor, York University, Canada
Prof. Radha D'Souza, School of Law, University of Westminster, United Kingdom
Prof. Ray Murphy, NUI Galway, Ireland
Prof. Shane Darcy, Irish Centre for Human Rights, NUI Galway, Ireland
Prof. Stephen Loffredo, CUNY School of Law, United States
Prof. Steven Zeidman, CUNY School of Law, United States
Prof. Tally Kritzman-Amir, Boston University School of Law, United States
Prof. Tarek Z. Ismail, CUNY School of Law, United States
Prof. Vasuki Nesiah, The Gallatin School, NYU, United States
Associate Prof. Amar Bhatia, Osgoode Law, York University, Canada
Associate Prof. Brenna Bhandar, Allard Law Faculty, UBC, Canada
Associate Prof. Charisa Smith, City University of New York School of Law, United States
Associate Prof. Jeena Shah, CUNY School of Law, United States
Associate Prof. John Whitlow, CUNY School of Law, United States
Associate Prof. Julia Hernández, CUNY School of Law, United States
Associate Prof. Laura Betancur-Restrepo, Universidad de los Andes, Colombia
Associate Prof. Liam Thornton, School of Law, University College Dublin, Ireland
Associate Prof. Nadia Ahmad, Barry University, United States
Associate Prof. Noura Erakat, Rutgers University, New Brunswick, United States
Associate Prof. Richard Collins, School of Law, University College Dublin, Ireland
Associate Prof. Vidya Kumar, Leicester University, United Kingdom
Dr. Adil Hasan Khan, Melbourne Law School, Australia
Dr. Adrian Smith, York University, Canada
Dr. Ali Hammoudi, NUS, Singapore
Dr. Alice Panepinto, Queen's University Belfast, United Kingdom
Dr. Amin Sharifi Isaloo, University College Cork, Ireland
Dr. Amina Adanan, NUI Maynooth, Ireland
Dr. Ardi Imseis, Faculty of Law, Queen's University, Canada
Dr. Brendan Browne, Trinity College Dublin, Ireland
Dr. Carola Lingaas, VID Specialized University, Norway
Dr. Catherine Connolly, School of Law and Government, Dublin City University, Ireland
Dr. Catriona Drew, SOAS University of London, United Kingdom
Dr. Christiane Wilke, Carleton University, Canada
Dr. Christina Lienen, Cornerstone Barristers, United Kingdom
Dr. Clare Patton, Queen's University Belfast, United Kingdom
Dr. Clíodhna Murphy, NUI Maynooth, Ireland
Dr. Dina M Sidd, New York University, United States
Dr. Edel Hughes, NUI Galway, Ireland
Dr. Emilio Dabed, York University, Canada
Dr. Erika Biagini, Dublin City University, Ireland
Dr. Frederiek de Vlaming, Amsterdam Centre for International Law, the Netherlands
Dr. Gene Carolan, Technological University Dublin, Ireland
Dr. Giulia Pinzauti, Leiden University, the Netherlands
Dr. Hadeel Abu Hussein, University of Oxford, United Kingdom
Dr. Hadeel Alsana, PHR-I, Israel
Dr. Hana Asfour, Independent Researcher, United Kingdom
Dr. Hasret Cetinkaya, Irish Centre for Human Rights, NUI Galway, Ireland
Dr. Illan rua Wall, University of Warwick, United Kingdom
Dr. Ioannis Kalpouzos, Boston University School of Law, United States
Dr. Itamar Mann, The University of Haifa Law School, Israel
Dr. Iza Hussin, University of Cambridge, United Kingdom
Dr. James Gallen, School of Law and Government, Dublin City University, Ireland
Dr. Jeff Handmaker, Erasmus University Rotterdam, the Netherlands
Dr. John Reynolds, NUI Maynooth, Ireland
Dr. Joseph Powderly, Leiden University, the Netherlands
Dr. Joshua Curtis, University of Adelaide, Australia
Dr. Karin Loevy, NYU, United States
Dr. Kevin Hearty, School of Law, Queen's University Belfast, United Kingdom
Dr. Letizia Palumbo, Ca' Foscari University Venice, Italy
Dr. Lex Takkenberg, ARDD, Austria
Dr. Lino Agbalaka, Lawyer, Germany
Dr. Luigi Daniele, Nottingham Law School, NTU, United Kingdom
Dr. Luis Eslava, Kent Law School, University of Kent, United Kingdom
Dr. Manoj Dias-Abey, School of Law, University of Bristol, United Kingdom
Dr. Marco Longobardo, University of Westminster, United Kingdom
Dr. Mariagiulia Giuffré, Edge Hill University, United Kingdom
Dr. Markus Gunneflo, Faculty of Law, Lund University, Sweden
Dr. Mazen Masri, City, University of London, United Kingdom
Dr. Michael Fakhri, University of Oregon School of Law, United States
Dr. Michelle Burgis-Kasthala, University of Edinburgh, Scotland
Dr. Michelle Farrell, University of Liverpool, United Kingdom
Dr. Michiel Bot, Tilburg Law School, the Netherlands
Dr. Mo Afshary, Kent Law School, University of Kent, United Kingdom
Dr. Nathan Derejko, University of Essex School of Law and Human Rights Centre, United Kingdom
Dr. Nicola Perugini, University of Edinburgh, United Kingdom
Dr. Nikolaos van Dam, Ambassador (retired), the Netherlands
Dr. Nimer Sultany, SOAS University of London, United Kingdom
Dr. Noemi Magugliani, Irish Centre for Human Rights, NUI Galway, Ireland
Dr. Paola Rivetti, School of Law and Government, Dublin City University, Ireland
Dr. Paolo Cuttitta, Université Sorbonne Paris Nord, France
Dr. Rachel Killean, School of Law, Queen's University Belfast, United Kingdom
Dr. Rob Faure Walker, SOAS University of London, United Kingdom
Dr. Rose Parfitt, Kent Law School, University of Kent, United Kingdom
Dr. Sadia Saeed, University of San Francisco, United States
Dr. Samia Bano, SOAS University of London, United Kingdom
Dr. Silvia Gagliardi, University College Dublin, Ireland
Dr. Sultan Doughan, Elie Wiesel Center for Jewish Studies, Boston University, United States
Dr. Tanzil Chowdhury, Queen Mary University of London, United Kingdom
Dr. Tomaso Ferrando, Faculty of Law & Institute of Development Policy, University of Antwerp, Belgium
Dr. Triestino Mariniello, Liverpool John Moores University, United Kingdom
Dr. Umut Özsu, Carleton University, Canada
Dr. Usha Natarajan, Edward W Said Fellow, Columbia University, United States
Dr. Valentina Azarova, Manchester International Law Centre, United Kingdom
Dr. Vanja Hamzić, SOAS University of London, United Kingdom
Dr. Victoria Mason, Murdoch University, Australia
Dr. Yasmine Nahlawi, Legal Consultant, United Kingdom
Dr. Yonit Percival, SOAS University of London, United Kingdom
Abby Hamdan, Hamdan Lawyers, Australia
Abid Islam, Abbott solicitors, United Kingdom
Abida Huda, Barrister, One Pump Court Chambers, United Kingdom
Akriti Gaur, Independent legal researcher and lawyer, India
Al-Ifran Hossain Mollah, Senior Lecturer in Law, Independent University, Bangladesh
Alessandra Spadaro, Institute of International and Development Studies, Switzerland
Alia Azmi, In-house Counsel, United Kingdom
Amanda Munoz de Toro, Fenix Humanitarian Legal Aid, Greece
Ambar Kahrod, LL.M, University of Birmingham, United Kingdom
Amber Smith, University of Lincoln, United Kingdom
Amean Elgadhy, One Pump Court Chambers, United Kingdom
Anamika Misra, PhD Candidate, University of Kent, United Kingdom
Anas Tanwir, Advocate on Record, Supreme Court of India, India
Annahita Moradi, Barrister, One Pump Court Chambers, United Kingdom
Asma Jaber, Harvard Law School, United States
Asma Nizami, One Pump Court Chambers, United Kingdom
Ata Hindi, Research Fellow in International Law, Institute of Law at Birzeit University, Palestine
Azka Fakhre Alam, Queen Mary University of London, United Kingdom
Bethany Shiner, Middlesex University London and University of Oxford, United Kingdom
Calyssa Zellars, Esq., Chief Counsel for Impact Litigation, the Decarceration Collective, United States
Carly A. Krakow, PhD Candidate, Department of Law, London School of Economics, United Kingdom
Carolyn Edgerton, Independent Consultant, the Netherlands
Charoula Melliou, Attorney-at-Law, Greece
Claire Raissian, Irish Centre for Human Rights, NUI Galway, Ireland
Clémentine Faget, MSF, France
Costanza Pizzo, Università Ca'Foscari, Italy
Diana Buttu, Lawyer, Private Practice, Palestine
Dimitri Lascaris, Lawyer, Green Left Canada, Canada
Eeman Talha, LL.M, Queen Mary University of London, United Kingdom
Émilie Max, Researcher, Geneva Academy of International Humanitarian Law and Human Rights, Switzerland
Enas Alsaffadi, Human Rights Attorney, New York, United States
Evelien Wauters, KU Leuven, Belgium
Faisal Saleem Rahman, Senator, Senate of Pakistan, Pakistan
Faiza Mukith, Head of Legal, Islamophobia Response Unit, MEND, United Kingdom
Favour Offia, Irish Centre for Human Rights, NUI Galway, Ireland
Fiammetta Bonfigli, Universidade Federal do Espírito Santo, Brazil
Francesca Feruglio, Human Rights Researcher, Italy
Francesca P Albanese, Affiliate Scholar, Georgetown University (ISIM), Italy
Gary Daly, Gary Daly and Company Solicitors, Ireland
Genevieve Zingg, Specialist in Human Rights and International Law, Canada
Ghislain Poissonnier, Magistrate, France
Giovanni Fassina, European Legal Support Center, the Netherlands
Gizem Ulic Karaagacli, Legal Consultant, Germany
Guglielmo Leoni, Università degli Studi di Milano, Italy
Hadi Enayat, SOAS University of London, United Kingdom
Hugh Macleod, Barrister, MSt, Visiting Lecturer, The University of Law, United Kingdom
Inessa Hadjivayanis, Legal Adviser at SOAS University of London, United Kingdom, and Advocate at the High Court of Zanzibar, Tanzania
James Bhandary-Alexander, Clinical Lecturer in Law, Yale Law School, United States
Jamil Dakwar, International Human Rights Lawyer and Lecturer, United States
Jawahar Raja, Advocate, India
Jelena Kalik, Hamdan Lawyers, Australia
Jenny Boylan, LL.M, Ireland
Jessica Boulet, Legal consultant, United States
Jindan-Karena Mann, PhD Researcher, University of Amsterdam, the Netherlands
Joya Al Daccache, Lebanese University, Lebanon
Judit Villena Rodó, Irish Centre for Human Rights, NUI Galway, Ireland
Karen Nawar, King's College London, United Kingdom
Katherine McDonnell, Independent Consultant, Ireland
Keelin Barry, NUI Galway, Ireland
Khalid Mansoor, Senior Civil Judge, Pakistan
Laiba Sikandar, LLB University of London, Pakistan
Lama Almoayed, Human Rights Advocate, New Zealand
Lamis J. Deek, Global Justice Human & Rights Law Center, United States
Lauranne Duffaut, Human Rights Lawyer, Mali
Lizaveta Tarasevich, PhD Candidate, University of Geneva, Switzerland
Lotte van Diepen, Attorney-at-Law, the Netherlands
Lucia Kula, SOAS University of London, United Kingdom
Maha Abdallah, Legal Researcher and Human Rights Advocate, Palestine
Majid Mahmood, Solicitor Advocate, United Kingdom
Manal Hazzan, Human Rights Advocate, Israel
Marco Ragusa, Università degli studi di Palermo, Italy
Marya Farah, Lawyer/Human Rights Advocate, United States
Matthew Moriarty, Barrister, United Kingdom
Mehmood Ali Khan, Barrister, Peshawar High Court, Pakistan
Mehwish Jabin, Solicitor and a member of Muslim Lawyer Action Group, United Kingdom
Mona Sabella, Human Rights Advocate, Palestine
Muhammad Mamoon Khan, University of London, Pakistan
Muhammad Shoaib, Human Rights fellow, Queen Mary University of London, Pakistan
Nada Ahmed, Ulster University, United Kingdom
Nessma Bashi, Legal Fellow, Syria Justice and Accountability Centre, United States
Owen Kai Combey, Hardiman PhD Researcher, Irish Centre for Human Rights, NUI Galway, Ireland
Pearce Clancy, PhD Candidate, Irish Centre for Human Rights, NUI Galway, Ireland
Rachel Francis, One Pump Court Chambers, United Kingdom
Ramsha Khalid Malik, Lawyer, Pakistan
Rania Muhareb, NUI Galway, Ireland
Rawan Arraf, Principal Lawyer, Australian Centre for International Justice, Australia
Rehab Jaffer, Garden Court Chambers, United Kingdom
Renuka Joshi, Queen Mary University of London, India
Rizvan Mussa, Solicitor, United Kingdom
Rudolph Spurling, One Pump Court Chambers, United Kingdom
Ruqayyah Siddiqui, Masters of Law, City Law School, United Kingdom
Salma Waheedi, Harvard Law School, United States
Samah Saleh, An-Najah National University, Palestine
Sara Saleh, Human Rights Campaigner, Australia
Shafaq Qayyum, University of London, Pakistan
Shaharbano Sohail, The Institute of Legal Studies, Islamabad, Pakistan
Shaila Pal, King's College London, United Kingdom
Shatha Abdulsamad, American University in Cairo, Egypt
Sheru Abdulhusein, Lawyer, Canada
Shivangi Misra, Feminist Alliance for International Action, Canada
Shreshtha Das, Independent Researcher, India
Sima Aljallad, Visiting Professional, ICC, Palestine
Sofia Khalid, University of London, United Kingdom
Sue Willman, King's College London, United Kingdom
Summi Ullah Afzal, Corporate Lawyer at Shifa International Hospitals Ltd., Pakistan
Tessa Lambrich, Lawyer, Germany
Thamina Kabir, Lawyer, United Kingdom
Thomas Becker, Senior Supervisor, University Network for Human Rights, United States
Turkan Akbas, Solicitor, United Kingdom
Vanina Trojan, Human Rights Advocate, Italy
Waleed Riaz Qazi, University of London, Pakistan
Walid Madhoun, Private Practice, Canada
Weihui Wang, Protection Advocate, Singapore
Yasmin Hoque, AL-HQ Law Consultancy, United Kingdom
Zaha Hassan, Carnegie Endowment for International Peace, United States
Zainab Zaeem-Sattar, Associate Solicitor, Muslim Lawyers Action Group, United Kingdom
Zeenat Islam, Barrister, One Pump Court Chambers, United Kingdom
Zeina Jallad, Columbia University, New York, United States