Civil Society Organisations Urge for the Annual Updates of the Database of Businesses Involved Illegal Settlement Enterprise
Civil Society Organisations Urge for the Annual Updates of the Database of Businesses Involved Illegal Settlement Enterprise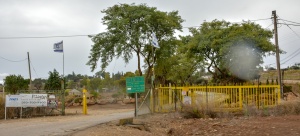 Geneva – on 15 June 2020, the Cairo Institute for Human Rights Studies (CIHRS) delivered the joint civil society statement on behalf of 41 Palestinian, regional, international civil society organisations on importance of release of the Database as a corporate accountability tool for the human rights violations in the Occupied Palestinian Territory (OPT) as well its 'annual updates', under supervision of the High Commissioner and the Office of the High Commissioner for Human Rights (OHCHR).
Joint Oral Intervention
United Nations Human Rights Council – 43rd Session
Item 7: General Debate
Madam President,
Let me begin by commending the High Commissioner and her office for the initial release of the report on the database of businesses involved in Israel's illegal settlement enterprise, despite undue political pressure on her office to suppress this important tool.
The database represents a historic touchstone and important precedent in broader efforts to ensure corporate accountability, including in the areas of environmental rights and violations of international humanitarian law. In line with HRC resolution 31/36, we urge the OHCHR to ensure that the database is updated annually and made publicly accessible until illegal settlements are dismantled, Israel's prolonged military occupation comes to an end, and the Palestinian people are able to fully exercise their right to self-determination, including sovereignty over their natural resources.
Your Excellency,
As states present today are struggling with the current pandemic sweeping the globe, the government of Israel continues to exploit an occupied population and its resources, in part to blunt the impact of the virus to their economy.
Such a blatant case of illegal colonial exploitation being treated as "business as usual" deeply undermines international order based on the rule of law. The progress made over the years in the development of international humanitarian law and the eradication of colonialism, will continue to be threatened so long as Israel is able to continue to exploit occupied territory and its civilian population as a "business venture."
As such, support by UN member states in the development and updating of the database, including by ensuring the allocation of sufficient resources to carry out this work, will play an important role in challenging Israeli practices in the occupied Palestinian territory and in preserving the integrity of the rule of law over corporate profit.
Signatories:
11.11.11

Addameer Prisoner Support and Human Rights Association

Alataa Charitable Society

Al-Haq

Al Dameer Association for Human Rights

Al Mezan Centre for Human Rights

Arab Network for tolerance

Association des Universitaires Pour le Respect du Droit International en Palestine (AURDIP)

Association France Palestine Solidarité

Cairo Institute for Human Rights Studies

Center for Arab Unity Studies

Center for Defense of Liberties and Civil Rights (Hurryyat)

Centro de Estudios Legales y Sociales (CELS)

Collectif Judéo Arabe et Citoyen pour la Palestine

Community Action Center, Al-Quds University

Conectas Direitos Humanos

CNCD - 11.11.11

DefendDefenders

Defence for Children International - Palestine

Fares Al Arab for Development and Charity Works

Forsan Al-Ghad Youth Association‏

Housing and Land Rights Network – Habitat International Coalition

Human Rights & Democracy Media Center (SHAMS)

International Federation for Human Rights (FIDH)

International Service for Human Rights

Just Peace Advocates

MA'AN Development Center

MRAP (Mouvement contre le Racisme et pour l'Amitié entre les Peuples)

Nuseirat Rehabilitation and Social Training Association (NRSTA)

Palestinian Agricultural Development Association

Palestinian Centre for Human Rights (PCHR)

Palestinian NGO Network

Ramallah Center for Human Rights Studies (RCHRS)

Stars of Hope

The Civic Coalition for Palestinians right in Jerusalem

The Palestine Institute for Public Policy

The National Society for Rehabilitation

Union Juive Française pour la Paix (UJFP)

Union of Health Care Committees

Youth Political Forum

Zakher Association