Congratulations to DCIP on being Awarded Rafto Prize
Congratulations to DCIP on being Awarded Rafto Prize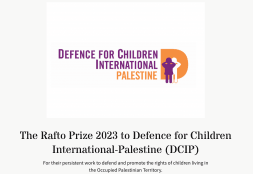 To our respected colleagues at Defense for Children International-Palestine (DCIP),
Al-Haq represented by all its team members, Board of Directors and General Assembly extend their congratulations to the entire team and colleagues at DCI Palestine, for being awarded the human rights award - the Rafto Prize 2023*, which was granted for your persistent work to defend and promote the rights of children living in the Occupied Palestinian Territory (OPT).
At Al-Haq, we could not think of more worthy winners of this prestigious human rights award, than you, our dear friends and partners in the struggle against the oppression of the Palestinian people. Your unwavering commitment and dedication in defending and promoting the rights of the most vulnerable in our society, our children, while facing continuous attacks by Israel's settler-colonial and apartheid regime, is an inspiration for human rights defenders worldwide.
You are a champion of the rights of the child, as the only Palestinian human rights organisation focusing solely on this, defending and empowering Palestinian children, monitoring violations carried out against them and advocating on their behalf.
We congratulate you again and look forward to continuing to work together in our shared struggle for justice and the protection of human rights in Palestine.
Warmest regards,
Your friends at Al-Haq
*The Rafto Prize is an annual award which has been conferred upon human rights defenders worldwide since 1987, and recognises the outstanding work of those fighting against oppression.