Al-Haq Field Report on Human Rights Violations in August 2021
Al-Haq Field Report on Human Rights Violations in August 2021
Al-Haq Field Report on Human Rights Violations in August 2021
Israeli Violations
Killings
In August 2021, nine Palestinians were killed by the Israeli occupying forces (IOF). They were geographically distributed as follows: five were killed in Jenin; two in Nablus and two in Gaza. Two of them were killed during an armed clash with the IOF, while seven were killed during protests and confrontations with the IOF.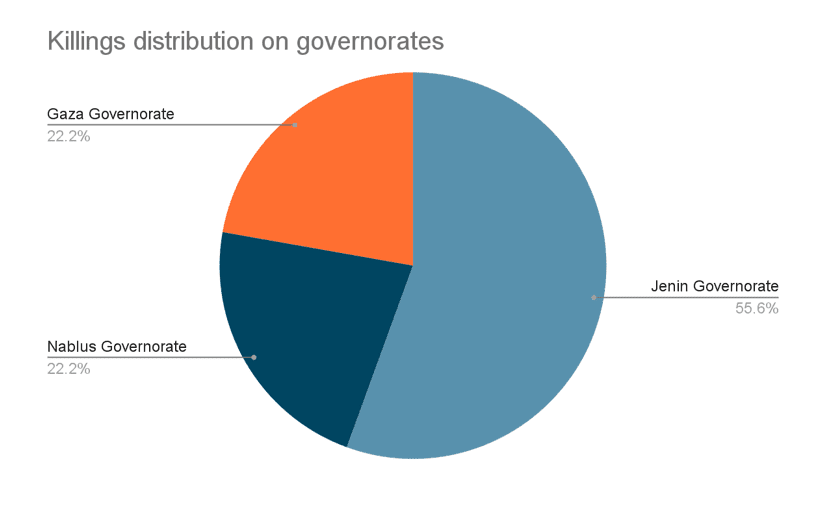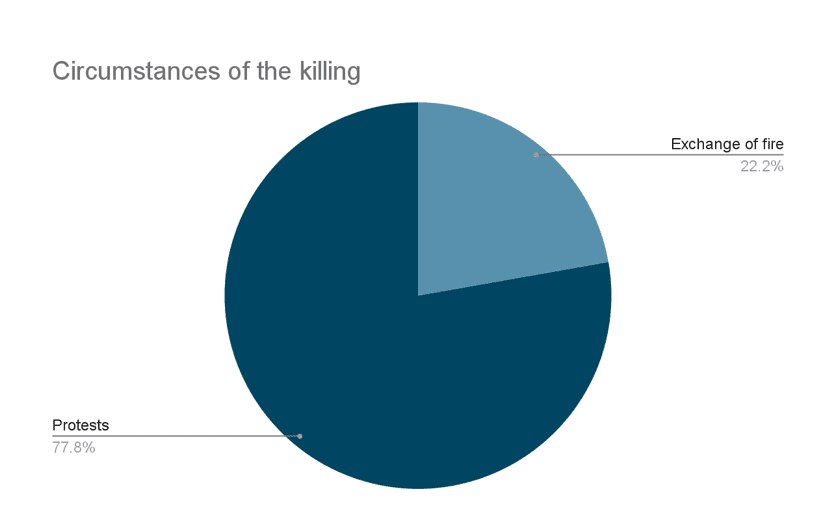 The IOF personnel obstructed the Palestinian ambulance from accessing two of the injured. The victims were injured in the upper part of their bodies, except for two of them who were injured in their bottom part. The Israeli authorities have withheld the bodies of two Palestinians; Nour-al-Din 'Abd-allah Muhammad Jarrar (19 years old) – Jenin, and, Amjad Iyad 'Azmi al-Husniyya 19 years old – Jenin Ref. Camp
Home Demolitions
In August 2021, the Israeli occupying authorities demolished 27 homes, geographically distributed as follows: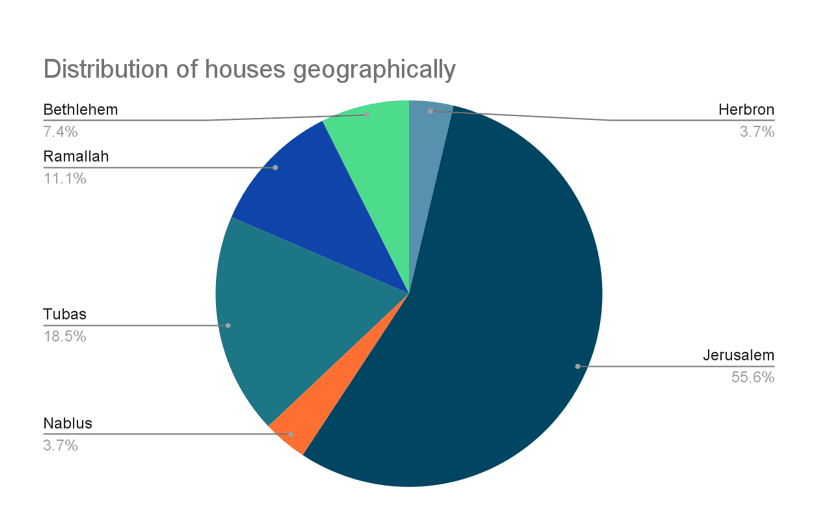 Regarding the demolition type, all of the homes that were demolished allegedly under administrative pretexts. Twenty-three homes were already finished while four homes were under construction at the time of demolition. In line with the designation under the Oslo Accords, 13 targeted residential structures were located in Area C, while 14 were located within the Israeli-declared municipal boundary of Jerusalem.
Seven of the demolished homes were previously demolished at least one time. The Israeli occupying authorities did not allow an opportunity to evacuate all homes, noting that 18 families did not receive stop-work notices while they were constructing their homes.
Home demolitions resulted in the displacement of 125 Palestinians, including 75 children, 61 women, 47 school students and 70 refugees of the total number.
Demolition of private structures[1]
The Israeli occupying authorities demolished 61 Palestinian privately owned structures, distributed according to governorates as follows: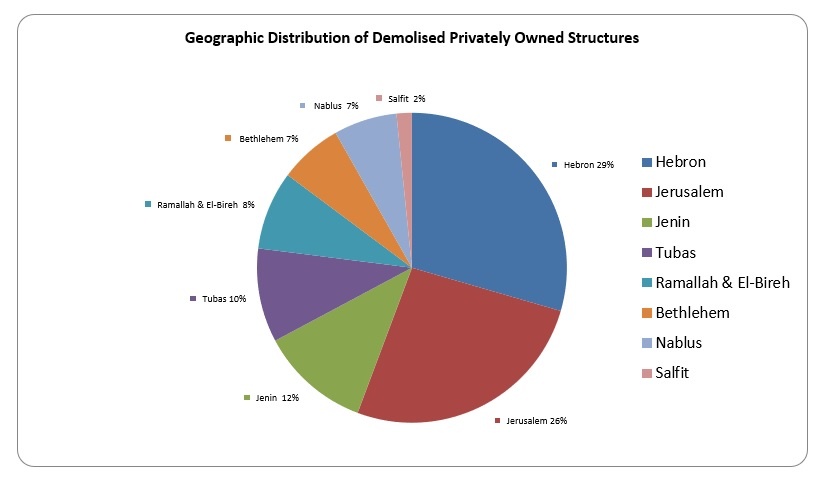 According to the Oslo designation, the demolished privately-owned structures are distributed as follows: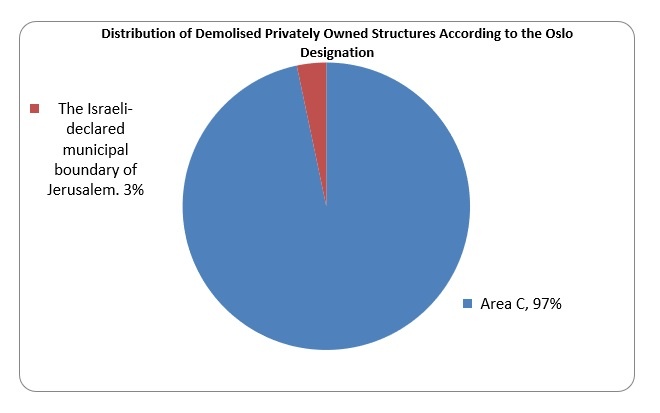 The contents of 21 structures were damaged because relevant owners had not been allowed an opportunity to evacuate their belongings before the demolitions were carried out. Of all demolitions, 59 structures were completed and already used. 23 affected families reported that they had not been given a chance to challenge demolition orders. 37 structures provide main sources of livelihoods, causing significant economic losses and adverse psychological consequences to affected family members.
Other violations[2]
In August 2021, Al-Haq documented dozens of violations committed by the Israeli occupying authorities, as follows:
| | | |
| --- | --- | --- |
| Location | Date | Violation |
| Jenin | 3/8/2021 | One Palestinian was shot and wounded. During clashes between the IOF and Palestinian youth and children in the industrial area in Jenin. |
| Beita | 6/8/2021 | A journalist was wounded with a rubber bullet by an Israeli soldier while he was covering the clashed that took place in Jabal Sbeih (Mount Sbeih), south of Beita, southeast of Nablus. |
| Jab'a | 6/8/2021 | A group of Israeli colonial settlers cut down eight olive trees from a land owned by M.T. in the area of Jab'a, south of Bethlehem. |
| Hebron | 8/8/2021 | Israeli colonial settlers stoned a Palestinian home. The IOF personnel assaulted two brothers, one of whom is a minor, living near a settlement colony outpost in Hebron; they arrested the minor without any justifications. |
| Tubas | 10/8/2021 | The Israeli colonial settlers raided the home of A.D. looking for stolen cows. They assaulted Rasmi Awwad Ayoub while he was working there. |
| Tubas | 15/8/2021 | The IOF, accompanied by the Civil Administration, confiscated solar cells of a farmer and his brother. |
| Silat al-Dhahr | 18/8/2021 | A group of Israeli colonial settlers assaulted a Palestinian child by bounding and beating him, spraying pepper gas on him and assaulting him with a sharp object while he was at the ruins of the Israeli evacuated colony-settlement of "Homesh", near the town of Silat al-Dhahr, south of Jenin. |
| Tayasir | 18/8/2021 | A young man was shot during a raid by the IOF of the city of Tubas and the town of Tayasir. |
| Yitma | 18/8/2021 | A farmer was denied access to his own land after the Israeli colonial settles established the colony outpost of "Eviatar" outpost near his land. They cut down a number of olive, fig, almond and cactus trees planted in the surrounding area village of Yitma, south of Nablus. |
| Gaza | 21/08/2022 | A Palestinian child was shot and wounded by IOF soldiers in his left leg during his participation in a peaceful march near the "border fence" in Malaka area, east of Gaza. |
| Gaza | 21/8/2021 | A young man was shot by the IOF in his right thigh and right hand, while he was participating in a peaceful march near the "border fence" in Malaka area, east of Gaza. |
| Gaza | 21/8/2021 | A journalist was wounded with a bullet fragment while covering peaceful protests near the border fence in Malaka area, east of Gaza. |
| Sebastia | 23/8/2021 | The IOF confiscated a container used for storing supplies and equipment for a Hydrated Lime factory, under the pretext of building without a permit, in Al-Mahatta street on the southern entrance of Sebastia, northwest of Nablus. |
| Ein Shibli | 24/8/2021 | A young man had sustained bruises and was subjected to extreme fear due to an attack by Israeli soldiers during his arrest. |
| Bait Fajjar | 25/8/2021 | The IOF raided the town of Bait Fajjar and arrested one young man. |
Violations by the Palestinian Authority and de facto authority in the Gaza Strip
During the month of August 2021, Al-Haq documented a number of violations committed by Palestinian Authorities in the West Bank and Gaza Strip. Most notably:
| | | |
| --- | --- | --- |
| Location | Date | Violation |
| Bethlehem | 10/8/2021 | The Preventive Security Services detained a Palestinian man without a warrant in Bethlehem. |
| Hebron | 10/8/2021 | The Palestinian intelligence called the activist B.F. for an interview on the grounds of participating in activities demanding justice for Nizar Banat and political reform. During the interview the forces threatened him and attempted to force him to sign a pledge not to participate in any future events. |
| Jenin | 11/8/2021 | Armed Palestinians fired live ammunition at the home of a dentist in Jenin and shot him directly, which threatened the lives of women and children who were in the home. However, the Palestinian security services dealt with negligence with the case despite the known identities and addresses of the perpetrators |
| Tulkarem | 15/8/2021 | The Preventive Security Service detained a Palestinian man on the grounds of his Facebook posts denouncing the killing of Nizar Banat. They have also dispersed a peaceful assembly in front of the District and Magistrate Court of Tulkarem, in support of the detained man. |
| | | |
| Nuseirat Camp | 21/8/2021 | The Security services raided a house without a search warrant and detained two children without an arrest warrant. |
| | | |
| Ramallah | 21/8/2021 | Members of the Palestinian police, in uniform and civilian attire, physically assaulted while he was in Ramallah, heading to participate in a peaceful assembly denouncing the killing of Nizar Banat. |
| Ramallah | 22/8/2021 | The Palestinian police arbitrarily arrested two persons before organizing a demonstration against the killing of Nizar Banat. |
| El-Bireh | 29/8/2021 | The Palestinian Presidential Guard and the PA Intelligence forced Arafat Banat to stop working in a shop he owns in partnership with others in Al-Balou neighborhood of El-Bireh, for its proximity to the president's house. He was arrested by the Intelligence Service for about 18 hours, during which he was investigated for the family's activities in pursuit of justice for the late Nizar, and was forced to sign an undertaking not to return to work in his place. |
Special Focus
The Israeli Authorities are targeting Jenin
Four young men were killed by Israeli occupying snipers, at dawn of Monday, August 16, 2021. The IOF raided Jenin camp with a military force of 20-25 soldiers. They headed on foot to Al-Hawasheen neighborhood in the middle of Jenin camp to carry out an arrest of a young man resident in the camp. Meanwhile, another Israeli force headed to a building known as "Al-Jamal Building", consisting of four floors and two entrances about eight- ten sniper soldiers took position in the building.
By the time the first force had completed the arrest of the young man, which took about 20 minutes, news of the IOF's presence in the camp spread, leading young people to prepare to confront them. Noor-Aldin Abdullah Mohammad Jarrar (19 years), a resident of Jenin city, started shooting on the Israeli soldiers without knowing that Israeli occupation snipers are stationed at Al-Jamal building. At 3:50 A.M, an Israeli sniper shot Noor from a distance of no more than 10 to 15 aerial meters.
As Noor fell on the ground, Amjad Eyad Azmi Al-Husnia (19 years) attempted to move Nour [out of shooting range], when another shooting took place, in which Amjad was shot and killed from the same distance. Another young man hurried to the place to help Amjad, when a sniper shot and missed him. Meanwhile, Raed Ziad Abu Saif (21 years) has arrived at the scene, as he was hiding behind a food cart. Investigations with witnesses indicated that he was exposed to the snipers, who were about 35-40 meters away from him. A sniper targeted the young man with two bullets; the first in the right side of his chest and the second in his left waist. The wounds caused severe internal bleeding, thus, Raed was pronounced dead minutes after he arrived to the hospital.
The death of Raed Abu Saif coincided with the arrival of another young man, Saleh Ahmad Mahmud Ammar (18 years), who has arrived at the place where Noor and Amjad were killed. Saleh did not realize the snipers were present in Al Jamal building opposite to him, as one sniper targeted him while he was on his motorbike and shot him in the head. He fell on the ground and died instantly.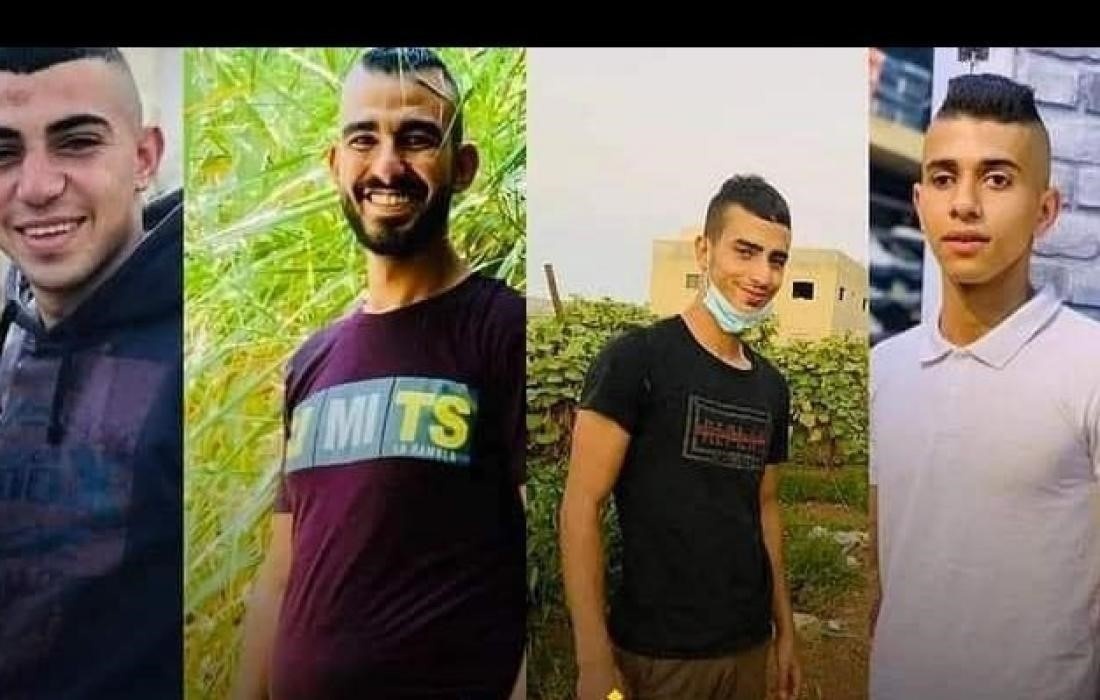 It is clear that the Israeli authorities have deliberately targeted unarmed young civilians who were only witnessing the events. This comes as IOF attempt to intimidate and collectively punish the inhabitants of the city of Jenin in response to their resistance activities targeting the occupying forces who raid the city and the camp on a near- daily basis.
---