Al-Haq's Oral Statement at the 30th Session of the Human Rights Council
Al-Haq's Oral Statement at the 30th Session of the Human Rights Council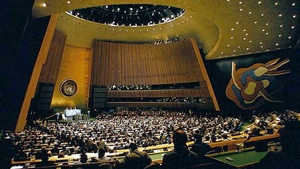 The statement addressed the excessive use force by Israeli Occupying Forces in the Occupied Palestinian Territory, including Occupied East Jerusalem, and called on member states to reconsider their relations with Israel and to participate in and endorse agenda item 7.
Al-Haq's Statement:
"Mr. President, Distinguished Members of the Council,
Hadeel Al-Hashlamon was killed last week at an Israeli checkpoint in the Occupied Palestinian Territory. She bled to death after being shot several times by Israeli soldiers. They shot her in the right knee, left heel, and several times in the abdomen and chest. Evidence shows that Hadeel was 'extrajudicially executed'.
In recent statements, the unlawful practice of excessive use of force has been institutionalized by Israeli law, permitting Israeli soldiers greater latitude in opening fire against Palestinians.
The recent attacks and provocations at Al-Aqsa Mosque Compound and tensions in Occupied East Jerusalem are also emblematic of this excessive use of force – particularly in Israeli attacks against women and journalists. The holy site has also been the target of violent Israeli settlers who enjoy impunity granted by the Israeli government.
At the same time, Israel imposes daily restrictions on Palestinian access to the Compound. More so, approximately four million Palestinians are prohibited from entering Occupied East Jerusalem due to Israel's apartheid-like system of checkpoints and the Annexation Wall.
Al-Haq calls on member states to undertake more systematic reviews of their aid, support and recognition of Israeli unlawful acts including Israel's legally unfounded need to maintain military control over Palestinian territory resulting in grave violations of international law, including the flagrant denial of the Palestinians right to self-determination.
A stronger set of restrictive measures needs to be adopted by third party states and actors vis- à-vis Israeli wrongdoing; economic, legal and political demands for compliance including an immediate halt of all settlement activity.
We again call on the European Union and all member States of the Council to fully and effectively participate in agenda item 7. As long as Israeli officials and citizens continue to enjoy impunity, Israel's prolonged occupation – and its colonial objectives – will persist unabated opening the floodgates for increased escalation in violence."