Israeli Occupying Forces Kill Three Palestinians in Gaza, Injure More than Two Hundred, as Palestinians Continue Protests in Gaza
Israeli Occupying Forces Kill Three Palestinians in Gaza, Injure More than Two Hundred, as Palestinians Continue Protests in Gaza
- [29 June 2018 – 6 July 2018]
10، Jul 2018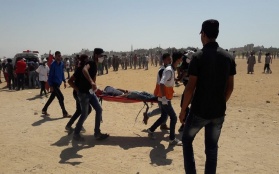 At approximately 18:30, Muhammad Fawzi Al-Hamaidah, 24, was shot with live ammunition in the abdomen by the IOF, east of Al-Shawka near Rafah City. Muhammad was participating in the protests, at a distance of about 100-150 metres from the fence. Muhammad was pronounced dead upon his arrival to the Yousef Al-Najjar Hospital in Rafah City.
On the same day, at approximately 19:00, twelve-year-old Yasser Amjad Abu Al-Naja was shot in the head, from a distance of about 100 metres, as he peacefully demonstrated, east of Khan Younis. The injury caused damage to Yasser's brain and he was pronounced dead upon his arrival at the Gaza European Hospital in Khan Younis.
Tuesday, 3 July 2018
On 3 July 2018 at approximately 17:00, hundreds of Palestinian women gathered near the fence to protest against Israel's imposed closure and blockade of the Gaza Strip, as well as to assert the Palestinian right to return. The event included several activities, including a Dabke show (Palestinian folk dance) and Palestinian female and male figures giving speeches against Israeli violations and reaffirming the Palestinian right to return. While peacefully demonstrating from a safe distance, the IOF, situated on top of dirt mounds behind the fence, opened fire at the participants, using live ammunition, followed by firing tens of tear gas canisters from Israeli military vehicles, also situated behind the fence.
As a result, 16 demonstrators were injured, 11 of whom by live ammunition. Filistin Muhammad Abu Sabla, 24, was shot in her left thigh by a live bullet while protesting near the fence, whereas Niveen Sa'di Khalifa, 22, was shot in the stomach by a live bullet. Other injuries included a freelance journalist, Muhammad Imad Al-Za'noun, 32, who was injured in his left leg and right arm from bullet fragments. Five others were directly hit with tear gas canisters, leading to injuries, including Mu'tasim Ahmad Al-Khatib, 25, a Palestinian Ministry of Health paramedic; Fox News journalist Nabil Iyad Darabeh, 22; and Khawla Mahmoud Suhweil, 30. Moreover, 35 others were transferred to Al-Quds Hospital located in the city of Gaza for medical treatment from suffocation and loss of consciousness due to tear gas inhalation.
Friday, 6 July 2018
On 6 July 2018, and for the 15th consecutive week, the IOF continued the deliberate targeting of Palestinian protestors near the fence in Gaza, killing one and injuring 111, two of whom critically injured, 24 children and five paramedics. On that day, between 3:00 and 8:00 pm, thousands of protestors had gathered in the five points near the fence across the Strip: east Rafah, east of Khuza'a in Khan Younis, east of Al-Breij Refugee Camp in the Central governorate, east of Al-Zaytoun neighbourhood in Gaza City, and east Jabaliyya in the Northern governorate. The protestors carried Palestinian flags, burnt tires, and chanted for Palestine, while tens more approached the fence and tried to cut it, and some threw stones at the IOF. The IOF, who were stationed behind the fence in military vehicles and on dirt mounds, excessively fired live bullets and gas canisters at protestors.
At about 7:00 pm, the IOF shot at Muhammad Jamal Abu Halima, 22, injuring him in the right side of his chest, who was protesting approximately 100-150 metres away from the fence east of Al-Shawka, east of Rafah. Muhammad was transferred to Dar Al-Shifa Hospital in Gaza city. Muhammad was pronounced dead at approximately 7:35 pm that evening.
In the Northern governorate, 22 were injured, including nine children and a paramedic. Of the 22, 16 were shot with live ammunition and six sustained direct injuries from tear gas canisters, including a paramedic. In Gaza, 35 were injured with live ammunition and tear gas canisters, including four children and one paramedic; whereas in the Central governorate, 14 were injured, including one child and one journalist. Meanwhile, in Khan Younis, 28 were injured, including six children and two paramedics; and in Rafah 12 were injured, including four children and a paramedic. In all locations, hundreds of others also suffered suffocation, lost consciousness and suffered seizures as a result of inhaling tear gas, some of whom required transfer to hospitals.
Al-Haq strongly condemns the IOF's continued suppression of the Great Return March and warns against Israel's persistent unnecessary, indiscriminate and disproportionate use of lethal force against Palestinians and peaceful protestors in Gaza. The continued use of excessive force and the killing of peaceful Palestinian protesters in Gaza constitutes a clear violation of, among numerous others, Israel's obligations under Article 6 of the International Covenant on Civil and Political Rights (ICCPR), which provides that "no one shall be arbitrarily deprived of his life.2 Al-Haq is further particularly concerned about Israel's continued attacks against journalists3 and paramedics4 during the Great Return Much.
---
1See Al-Haq's list of documentation and publications on the Gaza Strip since the start of the Great Return March on 30 March 2018 at: http://www.alhaq.org/advocacy/topics/gaza
2Article 6, ICCPR.
3Al-Haq: 4 May 2018: IOF Continue to Deliberately Injure Palestinians, Expose Peaceful Protesters, Paramedics, and Journalists to Tear Gas Causing Fainting and Seizures, 6 May 2018, http://www.alhaq.org/advocacy/topics/gaza/1227-4-may-2018-iof-continue-to-deliberately-injure-palestinians-expose-peaceful-protesters-paramedics-and-journalists-to-tear-gas-causing-fainting-and-seizures ; Al-Haq, Israeli Occupying Forces Target Journalists Covering Gaza Protests, Killing One and Injuring Others, 12 April 2018, http://www.alhaq.org/documentation/weekly-focuses/1214-israeli-occupying-forces-target-journalists-covering-gaza-protests-killing-one-and-injuring-others
4See: Al-Haq, Israeli Forces Kill Paramedic and Injure 100 Palestinians as Great Return March Enters 10th Week, 3 June 2018, http://www.alhaq.org/advocacy/topics/gaza/1266-israeli-forces-kill-paramedic-and-injure-100-palestinians-as-great-return-march-enters-10th-week ; Al-Haq, Sham Investigation by Israel's Military Advocate General into IOF Killing of Razan Al-Najjar, 13 June 2018, http://www.alhaq.org/advocacy/topics/gaza/1271-sham-investigation-by-israels-military-advocate-general-into-iof-killing-of-razan-al-najjar