Swedish State Secretary Meets with Human Rights Organizations at Al-Haq
Swedish State Secretary Meets with Human Rights Organizations at Al-Haq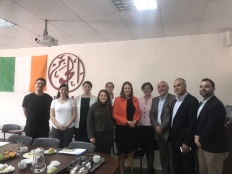 During the visit, State Secretary Annika Söder confirmed to Al-Haq that Sweden was and is an old friend to Palestine. She recalled that Sweden recognized the State of Palestine in 2014 and stressed that Sweden remains engaged on the Palestine question and will continue to support Palestinian civil society in an effort to bring justice to Palestinians in their struggle for freedom. "We have an obligation to work with the Palestinian society and support nation-building, which is why it is important to listen to you," Söder affirmed. She added that Sweden shares its aspirations for Palestinian self-determination along with other Members States of the European Union, emphasizing her Government's support for human rights organizations in Palestine in this new era of change.
The meeting was attended by Al-Haq's General Director and partners, including Khaled Quzmar, Director of Defence for Children International – Palestine, Lubnah Shomali of BADIL Resource Center for Palestinian Residency and Refugee Rights, Omar Shakir, Israel and Palestine Director at Human Rights Watch, and Saleh Hijazi, Deputy Regional Director at Amnesty International. In addition, Raji Sourani, the founder and director of the Palestinian Center for Human Rights, addressed the delegation from Gaza over video conference.
The human rights groups addressed the dire situation in the Gaza Strip as a result of Israel's prolonged closure and international crimes being committed against Palestinians by Israel, the Occupying Power, during the Great Return March, in addition to internal Palestinian divisions exacerbating the situation. The groups also addressed the Palestinian refugee question, with and praised Sweden for its principled position on the plight of Palestinian refugees and support for the United Nations Relief and Works Agency for Palestine Refugees in the Near East (UNRWA).
Moreover, the human rights organizations raised concerns as to shrinking space for civil society organizations operating in Israel and in the Occupied Palestinian Territory (OPT), calling on Sweden to take action at the European level to counter smear and defamation campaigns against human rights defenders. Furthermore, the representatives of human rights organizations highlighted incidents of torture by the Palestinian Authority and Hamas, in addition to violations of the right of peaceful assembly and freedom of expression by the Palestinian security services in the West Bank and Gaza Strip. The group also conveyed to the delegation the unsettling silence of the international community as to the deteriorating state of affairs in the region.
At the close of the meeting, Al-Haq's Shawan Jabarin emphasized the urgent need for accountability within the prevailing climate of impunity, and praising Sweden's principled stance in support of the rights of Palestinians.