Al-Haq concludes an orientation course for Internationals in the OPT
Al-Haq concludes an orientation course for Internationals in the OPT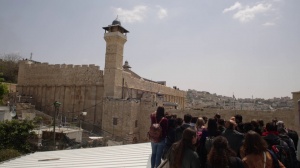 The course also involved two field visits; to the old city of Hebron (H2), in which the situation on the ground was examined closely in light of human rights violations that were witnessed and documented by Al-Haq. The second field visit was organized in the Jordan Valley, in which forcible transfer and access to natural recourses by Palestinians were observed especially in Al Jiftlik, Khirbet Makhoul and Al-Oja communities, which are located in (Area C) of the OPT. This was an opportunity for professionals to enhance their understanding of the OPT legal context, impact of occupation and settlement expansion policies on the human rights situation, and expand their knowledge on the applicability of the different international legal framework applied in the OPT and some of the key violations taking place.
Throughout the course, Al-Haq legal and professional staff presented sessions, looking at Israeli human rights violations committed in the Occupied Palestinian Territory (OPT), including Israel's exploitation and pillage of Palestinian natural resources, house demolitions, and access to water and land by Palestinians, settlements expansion and methods used by the Israeli occupation to control more lands.
The course addressed the human rights situation locally, and the violation committed by the local Palestinian Authorities and examined the situation of the judiciary and the performance of the Supreme Court of Justice. Looking at human rights violations committed by the Palestinian Authority, Al-Haq focused on arbitrary detentions and arrests in addition to violations on the rights to freedom of expression and peaceful assembly.
Al-Haq Center for Applied International Law specializes in the practical application of international law and aims to combine theory and practice to enhance the capabilities of human rights defenders by providing them with essential applied knowledge for defending human rights issues at the national, regional and international levels.
For media enquires please contact: Bassam Almohor, [email protected], t. 02-2954646