Reoccurring Demolitions in the West Bank
Reoccurring Demolitions in the West Bank
- [3-9] October - Ref.: 332/2011
13، Oct 2011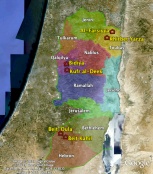 Hebron Governorate:
On the morning of 4 October, an Israeli military force accompanied by bulldozers and diggers entered an area in the west of Beit Oula village and leveled around 15 dunums of agricultural land. During this operation, 500 trees were uprooted, four water wells were demolished and the irrigation pipe systemwas destroyed. Additionally, a number of structures used for agricultural purposes were demolished.
Two days later, at around 9:00 am, the Israeli military re-entered Beit Oula and leveled around 12 dunums of agricultural land in the Um al-Khanazir area. They uprooted 250 olive trees and almond saplings and destroyed agricultural structures.
Salfit Governorat:
On 4 October, at around 10:00 am, Israeli occupying forces raided the southern side of Bidiya village and demolished four houses and fences used for grazing cattle. The demolition operation displaced a family of 23, nine of which are children. This family had been previously displaced in 2002 when they were living in an area that was annexed for the purpose of constructing the Annexation Wall.
That same day, two agricultural shelters and a well were destroyed in a similar operation near Kufr al-Deek village. The cost of this damage was estimated at NIS 34,000.
The Jordan Valley:
At around 8:30am on 6 October, a group of 15 Israeli military jeeps; vehicles of the Israeli 'building regulation unit'; and two bulldozers raided three communities in Toubas governorate in the northern part of Jordan Valley. In al-Farsiyya, the jeeps were used to demolish two sheds and two tents, which had previously been demolished twice in 2010 and were home to a large Palestinian family.
Two tents were also demolished in the nearby communities of al-Himma and al-Burj. The residents of al-Burj reported that these tents have previously been demolished at least seven times by the Israeli occupying forces.
Although beyond the time frame of this report, another incident of note was the demolitionof a mosque for the third time in the Bedouin community of Khirbet Yarza. The village is situated in the Toubas governorate in the northern Jordan Valley and consists of 12 families. At around 7:00am on 11 October, three military jeeps accompanied a bulldozer stormed into the village and demolished the 120 square metre mosque.
Jordan Valley - Background:
The Jordan Valley, which constitutes 25 per cent of the West Bank, is an area of particular concern. Demolitions occur regularly as part of Israeli policies aimed at annexing Palestinian land. The Israeli military controls the vast majority of the area and inflict heavy restriction on Palestinians' access to natural resources; freedom of movement and adequate housing.
Al-Haq's full report on the Jordan Valley, featuring a full factual and legal analysis will be published soon.