Tamer Khaled Taher al-Astal – al-Mawasi – Khan Yunis
Tamer Khaled Taher al-Astal – al-Mawasi – Khan Yunis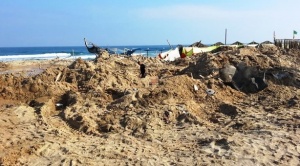 Tamer Khaled Taher al-Astal – al-Mawasi – Khan Yunis

On 9 July 2014 at approximately 10:30 P.M., Tamer, 28, went to Waqt al-Marah coffee shop located on al-Qarara beach, northwest of Khan Yunis governorate, as he usually does. The coffee shop is about 100 metres east to Tamer's residence.
When he arrived, Tamer saw 11 people, including three children, in the coffee shop. There were three people from the Sawali family, two brothers from the Qanan family, a young man from the Farawnah family, and five of Tamer's relatives. They sat at tables and watched the news on television as they waited for the World Cup match to start at 11:00 pm.
Tamer performed evening prayers beside the table where his relatives were sitting. As soon as he finished praying, Tamer heard a heavy sound similar to that of a tin sheet falling from a high place. It was a very loud noise. Tamer fell unconscious. When he came round, he found himself on a bed and saw a number of his relatives around him. Tamer felt severe pain all over his body. His relatives told him that he was at the Nasser Hospital in Khan Yunis and that he had sustained bruises and numbness in the limbs. They also informed him that an Israeli military aircraft had bombed the coffee shop where he had been that night. Tamer had been unconscious since the attack on the coffee shop which was completely destroyed.
Of those who were with Tamer at the coffee shop, nine people were killed: Ibrahim Khalil Qanan (24) and his brother Mohammed Khalil Qanan (26); Mohammed Ihsan Mohammed Farawnah (18); Hamdi Badee' Kamel Sawali (20) and his two brothers Ibrahim Badee' Kamel Sawali (28) and Saleem Badee' Kamel Sawali (23); and Tamer's relatives Mousa Mohammed Taher "Ziyadi" al-Astal (15), and Suleiman Saleem Mousa al-Astal (17) and his brother Ahmed Saleem Mousa al-Astal (18). Two other relatives of Tamer were injured.
That night and at approximately 9:00 pm, two and a half hours before the coffee shop was shelled, Israeli navy boats had fired a missile on the Layalina coffee shop, 150 metres south of the Waqt al-Marah coffee shop. It was empty and no one was injured. At that time, Tamer along with the rest of the 11 people evacuated the coffee shop but came back about an hour later thinking then that it was safe. (Al-Haq Affidavit No. 9779/2014)