Israeli Occupying Forces Assault and Leave Palestinian to Die in Jericho Night Raid
Israeli Occupying Forces Assault and Leave Palestinian to Die in Jericho Night Raid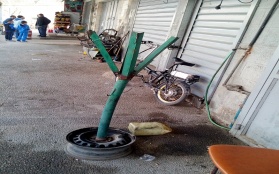 Security camera footage of the incident shows Yassin running towards the IOF and then being shot at and assaulted by one of the soldiers. The soldier is then joined by two more soldiers who are seen kicking Yassin with their boots and beating him with their rifles. Five more soldiers appear at the scene surrounding Yassin, who is now incapacitated on the ground. The IOF are then seen dragging Yassin for a distance of about five metres to the alleyway in the image below.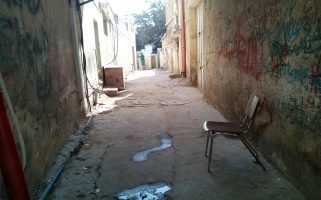 After being dragged to the second location, several soldiers continued to assault Yassin, as seen in further surveillance camera footage shared by Al-Haq below. The IOF gathered around him, while he lay on the ground, and continued to surround Yassin for at least ten minutes without providing him with medical assistance. An eyewitness told Al-Haq's field researcher:
After I went up to the roof of my home, I noticed that Yassin was no longer moving. I saw some of the soldiers approaching Yassin and touching him. I think they were checking whether he was still alive. Then they heavily fired tear gas in different directions. I saw them pulling Yassin with their hands and dragging him on the ground until they reached a military jeep at the entrance to the alleyway. Then I saw the IOF carrying him into the jeep and withdrawing from the scene.
The video footage below confirms this eyewitness account and shows tear gas being fired in the alleyway at around 2:26 am, producing white fog. A military jeep arrives at the scene at 2:44 am and the IOF are seen carrying Yassin, who is no longer moving, into the vehicle. According to sources close to Yassin, the 35-year-old had approached the IOF after soldiers raided his elderly uncle, Muhammad Hassan Barahme's family home, earlier that night. Yassin's cousin told Al-Haq that at around 1:20 am on Thursday the IOF had raided his family home and proceeded to search it for half an hour while interrogating his family members.[2]
Yassin's family consented for an autopsy to be performed by the Israeli authorities under the condition that a Palestinian physician be present. On the evening of Friday, 23 February 2018, the Israeli media released preliminary information revealed by the autopsy carried out at Israel's Institute of Forensic Medicine in the presence of a Palestinian physician, which determined that Yassin was killed by a bullet shot sustained in his abdomen. Signs of beating were also revealed by the autopsy, although they were ruled out as the cause of death.[3] According to the same news report, the soldiers involved in the incident are expected to be investigated on Sunday, 25 February 2018.[4]
Legal Analysis
By virtue of its effective control over the Occupied Palestinian Territory (OPT), Israel is obliged to respect, protect, and fulfil the right to life of the Palestinian population, including in Area A of the West Bank.[5] Failure to call for medical assistance for Yassin Saradih, who was left dead or dying for at least ten minutes, is a violation of Israel's obligation protect the right to life. Such failure further breaches the Basic Principles on the Use of Force and Firearms by Law Enforcement Officials, which require the IOF to "[e]nsure that assistance and medical aid are rendered to any injured or affected persons at the earliest possible moment".[6] Although the Israeli army has stated that Yassin "was evacuated by the force from the scene to receive medical treatment",[7] this claim remains unsubstantiated and does not explain why Yassin was left lying on the ground, injured, for at least ten minutes before being transported by an IOF vehicle.
Al-Haq condemns the killing of Yassin Saradih by the IOF on 22 February 2018, which may amount to a wilful killing, constituting a grave breach of the Fourth Geneva Convention[8] and a war crime,[9] giving rise to individual criminal responsibility at the International Criminal Court. Accordingly, Al-Haq calls on Israel to carry out an independent, impartial, prompt, thorough, effective, credible, and transparent investigation[10] into the incident and ensure that the soldiers responsible are held accountable for the killing and beating of Yassin Saradih.
---
[1] Adam Rasgon, "Palestinian killed after attacking Israeli soldiers, military says" (22 February 2018), available at:http://www.jpost.com/Arab-Israeli-Conflict/Israeli-soldiers-killed-Palestinian-after-he-attacked-them-military-says-543369.
[2] Al-Haq Field Report, 22 February 2018.
[3] Ynet reporters, "Autopsy indicates Jericho terrorist killed by gunfire" (23 February 2018), available at: https://www.ynetnews.com/articles/0,7340,L-5128184,00.html.
[4] Ynet reporters, "Autopsy indicates Jericho terrorist killed by gunfire" (23 February 2018), available at: https://www.ynetnews.com/articles/0,7340,L-5128184,00.html.
[5]International Covenant on Civil and Political Rights (adopted 16 December 1966, entered into force 23 March 1976) 999 UNTS 171 (hereinafter ICCPR), Article 6(1).
[6]Basic Principles on the Use of Force and Firearms by Law Enforcement Officials, adopted by the Eighth UN Congress on the Prevention of Crime and the Treatment of Offenders, Havana, Cuba, 27 August to 07 September 1990, Article 5(c).
[7] Jack Khoury and Yaniv Kubovich, "Palestinian Beaten, Dies During Arrest; Israeli Army Claims He Charged Soldiers" (22 February 2018), available at: https://www.haaretz.com/israel-news/palestinian-man-reportedly-dies-after-being-arrested-by-israel-1.5844417.
[8]Geneva Convention relative to the protection of civilian persons in time of war (adopted 12 August1949, entered into force 21 October 1950) 75 UNTS 287 (Fourth Geneva Convention), Article 147.
[9]Rome Statute of the International Criminal Court (adopted 17 July 1998, entered into force 1 July2002) 2187 UNTS 3, Article 8(2)(a)(i).
[10] UN Human Rights Committee, General comment No. 36 on article 6 of the International Covenant on Civil and Political Rights, on the right to life, Revised draft prepared by the Rapporteur, Advance Unedited Version, paragraph 32.