Palestinian Families Evicted for Israeli Military Trainings
Palestinian Families Evicted for Israeli Military Trainings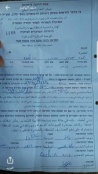 Abdallah Mahmoud Abu Al-Kabbash, Hamsa al-Fawqa, north of the Jordan Valley
Abdallah Mahmoud Abu Al-Kabbash, 35, is a farmer who lives in Hamsa Al-Fawqa, north of the Jordan Valley. Abdallah who was born in Hamsa Al-Fawqa, has lived there for decades with his family. In total, 27 people live in Hamsa Al-Fawqa, including 16 children.
On Sunday, 22 April 2018 at 9:00 am, an Israeli military jeep and a white jeep drove into the residential area, and soldiers issued Abdallah a military order, for the evacuation of his home. Abdallah later learned that all other families in the area had received this order. The Order regarding Security Provisions (Judea and Samaria) informed that the family must evacuate the closed area within hours or they would be forcibly evacuated from "the closed area", as well as being "forced to pay the expenses related to the confiscation mentioned above".
The following Tuesday, 24 April at 5:45 am, the two jeeps came back and soldiers forced Abdallah's family to leave immediately. Both Abdallah's family and their livestock were forcibly removed from their property, and escorted by the Israeli Civil Administration (ICA) for approximately three kilometers. They were left in an open area, without shelter. Eventually, they sought refuge under a tree to protect them from the heat of the sun.
"While we were here, we saw smoke rising near our tents and in the rugged mountainous area nearby, we also heard a loud noise which caused the smoke to rise. I was afraid for the baby sheep that were left in the barns. We refused to bring them with us because they cannot bear the burning sun."
When the family returned to their tent, they found shells on the ground, less than 100 meters away from their tent, and holes in the tent. At around 2:00 pm, Abdallah and his family were allowed to return to their home after the ICA vehicle came back to them. It should be noted that Abdallah and his family were issued military orders to evacuate their home two further times, on 1 and 8 May 2018. [1]
Legal Analysis
Palestinians in the OPT are regarded as protected persons under international humanitarian law, specifically Article 4(1) of the Fourth Geneva Convention. As such, the Occupying Power is bound by its obligations under international humanitarian law, as well as international human rights law towards the protected Palestinian population. Accordingly, the Occupying Power must respect the rights of Palestinians to enjoy their family life free from arbitrary interference, as guaranteed under international human rights and humanitarian law. Article 46 of the Hague Regulations (customary international law) demands respect for the protection of family honour and private property. Similarly, Article 27 of the Fourth Geneva Convention obliges the Occupying Power to respect family rights. The ICRC commentary to the Fourth Geneva Convention further provides that family home and rights are protected and cannot be subject of arbitrary interference. Meanwhile, Article 12 of the Universal Declaration of Human Rights (UDHR) and Article 17(1) of the International Covenant on Civil and Political Rights (ICCPR) states that no one should the subject of arbitrary interference in their privacy, family, and home.
In particular, the use of civilian homes and private agricultural lands for military trainings violates provisions of international humanitarian law protecting private property in occupied territory. Article 53 of the Fourth Geneva Convention protects private property against unwarranted destruction, "except where such destruction is rendered absolutely necessary by military operations". There is some provision in the Hague Regulations for the requisition of private property by the army of occupation, however in this case, the strict criteria for such requisitions are not met. Notably, Article 52 of the Hague Regulations states that "[r]equisitions in kind and services shall not be demanded from municipalities or inhabitants except for the needs of the army of occupation." This article establishes a stringent test, only allowing requisitions, narrowly for the immediate 'needs of the army', a standard which planned and anticipated military training exercises does not meet. Similarly, Article 53 of the Hague Regulations allows for requisition of private property for 'military operations'. However this standard is only met when there is an eruption of active hostilities. Resort to requisition of private property outside of these considerations amounts to an excessive requisition, and may amount to pillage, a crime under Article 8(2)(b)(xvi) of the Statute of the International Criminal Court.
---