UN Special Committee: Israeli practices aimed at "moving Palestinians off their land"
UN Special Committee: Israeli practices aimed at "moving Palestinians off their land"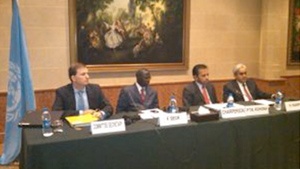 The Committee, established in 1968 by the United Nations General Assembly, is mandated to monitor Israel's respect and implementation of human rights law in the Occupied Palestinian Territory (OPT). In the conclusion of their annual field mission to the region, the Committee found that Israel "want(s) to block Palestinian development and expand [Israeli] settlements." The Committee also declared such Israeli practices to be "systematic" and that they are aimed at "moving Palestinians off their land." The Committee warned that these practices discredit Israel's claim of a commitment to "two States living side by side in peace and security."
Preliminary remarks by the Committee come in advance of their annual mission report, which will be presented to the General Assembly in November 2012 with more detailed observations and recommendations.
Al-Haq met with the Committee this month in Amman and provided a briefing on the issue of settler violence with a focus on "Price Tag" attacks. In its recommendations, Al-Haq urged the Committee to:
Exert pressure on the Israeli government to meet its international obligations to bring to an end all settlement construction and dismantle all existing settlements in occupied territory.
Call on the High Contracting Parties to the Geneva Conventions to uphold their obligation to ensure respect for the Conventions as established under Common Article 1, by taking concrete measures to pressure Israel to halt its violations of international law, including by banning settlements produce in European countries.
Provide full support, including by sharing information with the recently established UN Fact-Finding Mission to Investigate the Impact of Israeli Settlements.