Al Haq Statement to Diplomatic Representatives in the Occupied Palestinian Territory relating to the escalation of violence in the Gaza Strip
Al Haq Statement to Diplomatic Representatives in the Occupied Palestinian Territory relating to the escalation of violence in the Gaza Strip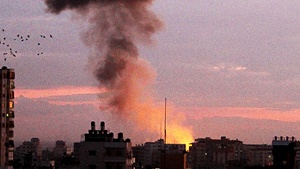 Thus, on Thursday 8 November 2012, when Israeli soldiers shot and killed a 13-year-old Gazan boy, triggering an escalation in violence that culminated in Israeli offensive 'Operation Pillar of Defence,' the Gaza Strip had yet to recover and the population was once again trapped, unable to flee or hide from the aerial bombardment. Over the following two weeks, until 21 November 2012 when a ceasefire was agreed, Al-Haq preliminary figures reveal that 173 Palestinians had been killed, including 113 civilians, of whom 13 were women and 38 were children. At least 1,221 Palestinians were injured, including 207 women and 445 children. The attacks have caused severe destruction to the already inadequate infrastructure, and left some 950 civilian buildings totally or partially damaged.[1] Further information collected by Al-Haq field researchers suggest a rapid decrease of medical supplies, severely affecting the ability of hospitals to cope with the high number of injured.
Civilian deaths are a common occurrence in the Occupied Palestinian Territory (OPT). Israel has continuously launched air strikes on the Gaza Strip throughout the period between the 2009 ceasefire and that agreed in Cairo on 21 November. Indeed, between January and October 2012 alone, 79 civilians were killed by Israeli forces, 68 of whom were in the Gaza Strip and 11 in the West Bank. On 19 November, two civilians were shot in the West Bank while demonstrating against Israel's offensive on the Gaza Strip, both of whom subsequently died. Furthermore, just days following the ceasefire, one Palestinian man was reportedly killed and at least 10 others injured by Israeli soldiers along the buffer zone between the Gaza Strip and Israel.
Yet the United Nations (UN) and the European Union (EU) have proven reluctant to take a strong position in condemning these attacks, despite their stated commitment to international humanitarian law. Statements by UN Secretary General Ban Ki Moon and EU High Representative Baroness Ashton calling for an end to rocket attacks from Gaza, at the same time, reiterating Israel's legally inaccurate claim to self-defence not only imply de facto sanctioning of Israel's violent attacks, but fail to recognise that the recent escalation of violence erupted in the broader context of the ongoing occupation of the Gaza Strip.
Moreover, the UN Security Council, as primary UN body responsible for the maintenance of international peace and security, failed to come to a conclusion before the ceasefire, a further failure to address the violations. Within this prolonged climate of impunity, perpetrators of the most serious international crimes, including grave breaches of the Geneva Conventions, go unpunished while their victims are denied their fundamental right to an effective remedy. Israel's recent refusal to cooperate with international human rights mechanisms, including the UN Human Rights Council (HRC) and Office of the High Commissioner for Human Rights (OHCHR), international monitors and UN Special Procedures, further undermines the prospect of effective legal remedy for Palestinians.
It is time for inter-governmental organisations and individual States to ensure that political considerations are not permitted to triumph over the fundamentals of the rule of international law and the pursuit of accountability and justice, upon which the maintenance of peace and security is, and must be, premised.
Though Al Haq welcomes calls for emergency assistance to the Gaza Strip and re-affirms the urgent need for a prompt response, it must be emphasised that international financial and humanitarian assistance alone is insufficient. Israel, as the Occupying Power of the Gaza Strip, is under the obligation to ensure that the occupied population living therein has adequate medical and food supplies, and must be reminded of such. It is unacceptable that the illegal blockade of the Gaza Strip continues to this day and that reconstruction and recovery are still denied.
We therefore call on you, as diplomatic representative of your country, to kindly convey the following recommendations to your Ministries of Foreign Affairs to:
Call on Israel to immediately and unconditionally lift the ongoing regime of military closure imposed on the occupied Gaza Strip, as an initial step to address the fragmentation of the OPT.
Call on Israel to comply with international human rights and humanitarian law, including the cardinal principles of military necessity, distinction and proportionality between combatants and civilians;
Call on Palestinian armed groups to comply with international human rights and humanitarian law;
Call on all parties to the conflict to immediately carry out independent, impartial, prompt and transparent investigations of alleged breaches of international human rights and humanitarian law committed during the recent escalation in violence. If any party proves unwilling or unable to carry out such investigations, the international community must provide for international justice mechanisms to be triggered.
Call on Israel to adhere to its obligation to respect the right to freedom of peaceful assembly and refrain from using unnecessary and excessive force against demonstrators.
Demand that Israel cooperate with international human rights mechanisms, including the UN HRC and OHCHR, international monitors and UN Special Procedures.
To exercise extra-territorial jurisdiction, including universal jurisdiction, to prosecute alleged grave breaches of the Fourth Geneva Convention committed in the OPT, in accordance with Article 146 of the Convention.
Note, see Al-Haq's Q&A for legal analysis on the escalation of attacks in the Gaza Strip between 8 and 22 November 2012.
---