Al-Haq Calls on the Minister of Finance to Pay the Salaries of Employees in Gaza
Al-Haq Calls on the Minister of Finance to Pay the Salaries of Employees in Gaza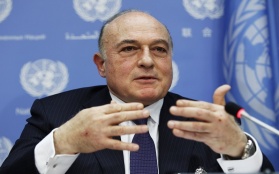 Al-Haq further explained that no official position was taken by the Minister or the Ministry of Finance in this regard. This measure can be interpreted within other measures taken, including salary cuts and depriving employees some privileges and rights, which could also mean the referral of hundreds of employees – civil and military – in the Gaza Strip to retirement. This could also result in the complete cessation of employees' salaries in the Gaza Strip.
Meanwhile, the Palestinian Authority's 2018 budget has approved 2,568 new jobs for recruitment and appointment, 2,467 new posts on a contract basis, and 563 new posts for daily-paid employees. In total, 5,598 new jobs were approved in the new 2018 budget.
The gradual measures, including the recent complete cessation of salaries for employees in the Gaza Strip, may be considered discriminatory on the basis of geographic location, which infringe on the human dignity of the employees and their families, and violate rights guaranteed by the Palestinian Basic Law, the Universal Declaration of Human Rights (UDHR), the International Covenant on Civil and Political Rights (ICCPR), and the International Covenant on Economic, Social and Cultural Rights (ICESCR), to which the State of Palestine has acceded without reservations.
The actions taken by the Palestinian Authority further exacerbate the catastrophic humanitarian situation in the besieged Gaza Strip. The measures may also involve a politicized approach by the State of Palestine, which is obliged to ensure, protect and promote the rights guaranteed by the international conventions to which it has acceded, as well as Palestinian legislation.
To read the letter in arabic , click on this link