Al-Haq Welcomes Visit of German Justice Minister of the State of North Rhine-Westphalia and Distinguished Delegation of German Judges and Lawyers
Al-Haq Welcomes Visit of German Justice Minister of the State of North Rhine-Westphalia and Distinguished Delegation of German Judges and Lawyers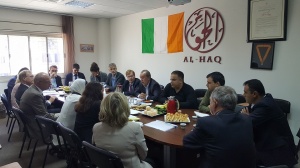 Providing a general overview of the human rights situation under Israeli occupation, Al-Haq's legal researcher, Rania Muhareb, highlighted Israel's discriminatory laws and practices against Palestinians and its intensified annexation efforts in the occupied Palestinian territory. She addressed Israel's continued expansion of settlements and the resulting threat of displacement for Palestinian communities, including in Khan Al-Ahmar, amongst other human rights violations. Mr Isam Aruri, director of the Jerusalem Legal Aid and Human Rights Centre (JLAC) attended the meeting on behalf of the Palestinian Human Rights Organisations' Council (PHROC) and underlined the inhumane conditions created in the Gaza Strip as a result of Israel's prolonged closure. He also highlighted the general frustration, especially amongst Palestinian youth, as to the lack of participation in public and political life and emphasized the need for presidential and legislative elections to be held.
Outlining the severe challenges facing the Palestinian constitutional system and the weakness of the judiciary, Dr. Isam Abdeen, Head of Local and Regional Advocacy at Al-Haq, noted this was the result of the division between the West Bank and Gaza Strip, the continued absence of the Palestinian Legislative Council, and the increase in Laws by Decree issued by the President in the absence of transparency. Dr. Abdeen stressed that Palestinian violations have increased since the State of Palestine ratified core human rights treaties without reservations in 2014, putting into question how serious the State is in enforcing its obligations. Finally, he outlined the challenges facing the Palestinian justice sector, including those threatening the independence and impartiality of the Supreme Constitutional Court and its decisions.
The presentations were followed by an engaged discussion with Justice Minister, Mr Peter Biesenbach, and members of the delegation, who showed interest in the human rights situation in Palestine and the state of the Palestinian judiciary in particular. During the discussion, the Minister was interested to hear more about the legal basis under the Basic Law to carry out legislative elections, while he also asked about the composition of the Supreme Constitutional Court. Members of the delegation expressed concern as to the overall shrinking of civil society space in the occupied Palestinian territory and asked how this affects the work of Palestinian human rights organisations. At the end of the meeting, Al-Haq thanked the Minister and the delegation for their visit and emphasized the importance of continued cooperation and partnership.