Palestinian NGOs Call on Irish Senators to continue their Support for the Control of Economic Activity (Occupied Territories) Bill 2018
Palestinian NGOs Call on Irish Senators to continue their Support for the Control of Economic Activity (Occupied Territories) Bill 2018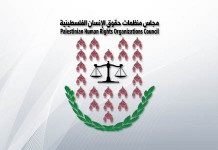 It should be noted that in 2016, the United Nations (UN) Security Council passed Resolution 2334 which called upon all Member States to "distinguish, in their relevant dealings, between the territory of the State of Israel and the territories occupied since 1967," considering the flagrant violations of international law that Israel's settlement enterprise constitutes. Besides giving effect to UN Security Council Resolution 2334 (2016), the Occupied Territories Bill 2018 demonstrates Ireland's compliance with its obligations under international law, including that not to recognize or give effect to Israel's unlawful settlement enterprise.
The Occupied Territories Bill 2018 is a historic step as Ireland will be the first State to implement their obligations under international law and prohibit the import of unlawful settlement goods. These obligations are enshrined in Irish domestic law under the Geneva Conventions Act, 1962 and International Criminal Court Act, 2001. Moreover, the Occupied Territories Bill 2018 will encourage business respect for human rights in all areas of occupation.
To read the full letter click here.